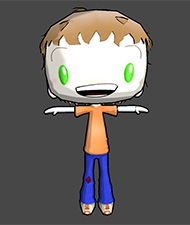 Extreme Hugtime Simulation Challenge is a fairly simple spectacle, relying more on a unique (but anime-influenced) art style rather than intensely realistic graphics. This allows the team behind EHSC to flourish creatively, which makes the game easier to work on and allows each contributor to take more credit for their work than perhaps they could if they were working with a development juggernaut.
It doesn't hurt that this philosophy lowers the cost of development, either.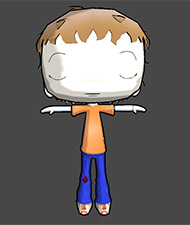 Featured on the left and right are two facial expressions for the male contestant. Thomas has been doing lots of work that can't really be displayed, such as rigging, so it's nice to finally be able to show something off! He's finished all of the contestant's expressions, so copying and pasting them to the rest of the cast of characters should be done soon.
Unfortunately, we're about to reach a huge hiccup in development. We still haven't been able to find a coder to replace Jeff as primary code monkey now that most of his time is taken by his full-time job. We just need someone who can code in C# and "throw it all together"; after animation, all of our art assets will be complete (exept for a few 2D assets).
So, if anyone reading this wants to contribute to EHSC, or knows someone who might, email Brandon. We can pay a meager sum, but it's better than nothing, right? Right!