Drumroll please... our first official gameplay gif: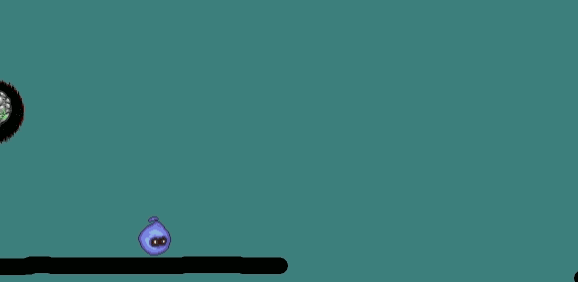 What is happening here:
1. Nearly all of that is programmer art except the player and the 'void'.
2. The black and red glitch is a "Hell Void". If the player touches one, he is sucked in and 'dies'.
3. The thing sitting on the void is a 'hellhound' named "Pain". He sits in one spot and tracks you if you're close and nothing is blocking his view. If you use an ability within his view, he grabs you with his vision and pulls you into the void.
4. The red flash and screen shake happen because the player tried to use an ability within the hellhound's view.
5. The art for Pain is actually just the concept art for him with a green arrow drawn on to show where he is looking.
6. The closer a player is to a void, the more it shakes violently, eager to send him back to hell. There will also be plenty of voids around levels without hellhounds on them, so the player will have to avoid those sometimes.
7. Lastly, in the final game, there will be an animation for the player where he is looking terrified and trying to pull himself away, sorta like being dragged away by someone. This animation will be used for being grabbed by hellhounds and being sucked into voids.
You know, making a gif was surprisingly easy. I remember it being way more complicated.