Edit 11/3/11
The prices on the Kickstarter rewards have been reduced. You now have a chance to purchase our last game Helena The 3rd for as little as $1. We've also lowered some of the advertising costs.
The team working on Ensign 1 would like announce that we now have a Kickstarter page up for people looking to be early supporters.
In addition to offering early access to the game, we're also letting users donate to put advertisements in our game. If you have an indie game you'd like to promote, and like the idea of seeing your game on a space billboard, then consider letting us help you out! We're also allowing supporters the chance to design their own rooms in one of the space stations which will be in the final game.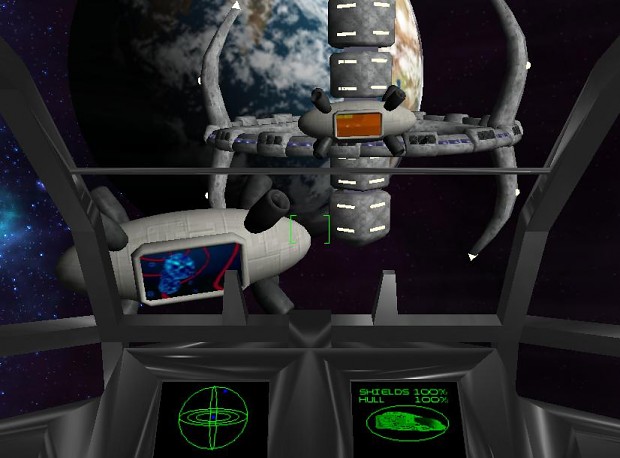 Game Updates
Game wise, a few things have been happening. I've been working on the game engine, making it possible for players to exit their ship and walk around larger space cruisers or space stations. I've made a lot of progress there. You can leave your starting ship, walk around it in the docking station, and look outside at the space scene beyond. Rustybolts, my level designer, has been hard at work making sure there is a level to walk around in, inside the giant space carrier Ensign. It isn't complete yet, but he's been making great strides.
On the graphical side of things, I've added a few new touches. The game now uses a skybox to draw stars and nebula, vs the GL_POINTS from before. We now have rotating planets with cloud cover, and a nice little sun to provide lighting. The interior levels have also been updated with improved lighting.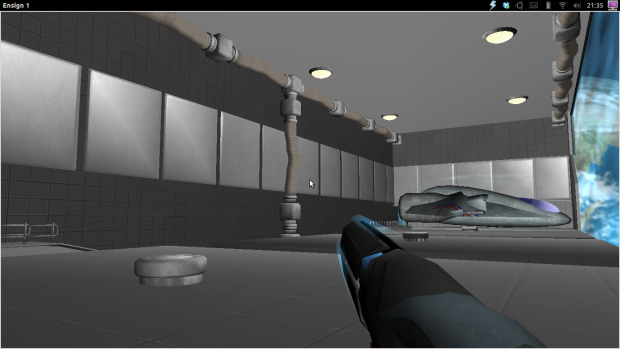 Although players can leave their ship and renter it, they still can't pilot other ships than the one they started with. That's next on the agenda, that and being able to combat other players inside of Ensign.
I'll also be slowly improving the graphical side of the engine, by adding features such as lense flare and halos around lights.
So while I'm working on those things, Rusty will be continuing to push out great new levels and models, hopefully by the next update the game will start to really be playable!