First let me just remind readers that if you want to see this project completed, kindly consider pre-ordering from our Kickstarter page! Kickstarter.com
I wanted to update my followers (plus hopefully gain new ones!) on the progress we've been having working on Ensign 1. On the programming side of things, I've been focusing on allowing players to actually pilot other ships, as well as carry any passengers they have on board. That part has been coming along, as you can see in our most recent video:
From the video, I'm able to see one of my friends, and he's able to transport me over to the other Ensign in the distance. Gameplay wise I'm hoping this would play out something like being able to carry a troop transport over to an enemy frigate in hopes of assaulting it from within. Anyway, players can see each other in FPS, but it's obviously still very early. I was just testing out the concept in the video, and haven't had time to finish the network code yet.
For future work, I'm looking forward to finally being able to pilot the Ensign 1, there isn't much more that needs to be done for that to happen now. I'm also looking forward to adding some turrets to the game. Imagine one person piloting a fighter, while two others take control of some turrets, and bringing that ship to a battle. Wouldn't that be cool? I think so.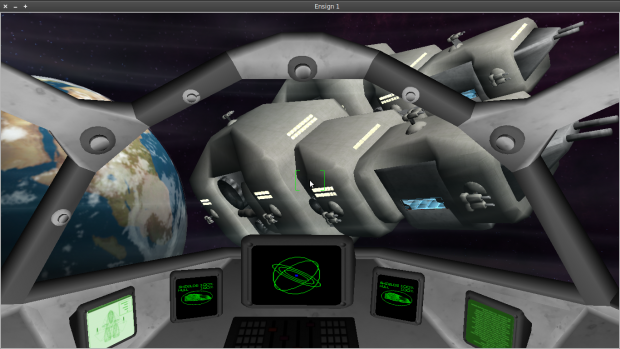 On the art side of things, Kevin Pears, a.k.a. "Rustybolts" has completely redesigned not only the fighter hud, but the entire Ensign 1 as well. It's quite a space fortress this time, nearly 3 times larger than the last Ensign. Up next for him I think is finishing out the interior levels so players can make it to the command room and actually pilot the bad boy. Hopefully in the next update will get to hear from his talent personally. Stay tuned!