Within the last few days we spent some time creating the characters and writing our story outline for the next "alphatest". Today we'd like to introduce our Dungeon Deities cast to you. Some of you may remember a few of them!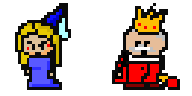 The monarchs of Blue and Red Kingdom (respectively)! They govern their countries and are grateful for every little bit of help. They both have the same goal - destroying the other kingdom uniting both kingdoms. To do that, they ask the inhabitants of their kingdom - our players - to steal loot from the other team. How exactly this helps uniting the kingdom is anyone's guess, but it does have advantages.
Their goals may be the same, but their attitude is quite different. Whereas blue players will hear from their queen that the evil King Red has done nothing but treacherous deeds, red players will hear the maybe slightly less believable rumor that Queen Blue probably burns little puppies for entertainment. Well... maybe that rumor is true?! You never know.

Let's ask Raphus to introduce himself: "I am the only postman in all of Violet Land! I have a monopoly on this, but I do it all for free, because I love to make people smile!
I love my job! I will do it until the day I die! No matter how gruesome my death will be! Even if the moon were to crush me!". And so, he delivers the mail in Violet Land. Every message you get or send will go through his hands. Which, we're sure, is delightful for both you and him. As he says, "Of course I'm not reading the letters I deliver! That would be unethical! But sometimes, I correct their grammar, which I consider another amazing service to my customers!". Whatever you say, Raphus. Whatever you say...

Violet Land is a country with an inexcplicable amount of gold found throughout. That hasn't stopped their inhabitants from using gold as the currency of choice, however! It appears in dungeons by sheer magic, which makes life pretty easy in this land. We're a little fuzzy on the details, but if the system works, who are we to argue?
All players in your team work together and use their pompous riches to erect gigantic towers that dwarf those of the other team -- and all players get a nice stat boost for it. Of course, amazing towers full of magic that boosts the stats for everyone in the country aren't cheap. But this fellow here,
Gérard, takes care of the Bank of Violet land, so entrust him with your money and he'll make sure it goes where you intend it to be. Be that the construction site for your new tower, or maybe the bank account of spies, who'll gladly destroy parts of enemy towers. Banks - the first place to go to if you intend to be a jerk to lots of people!

So, here's a scenario. You've created that dungeon, and suddenly, some jerk comes along, goes through it, and steals your orb. Imagine the situation. Picture it. Can you see it in your inner eye? Can you feel the anger, the hate, bubbling inside you? Do you realize just how bad you want to show this guy? Sure you do! Revenge is, after all, the sweetest thing. Rumor has it that sometimes, you're offered a choice to talk to this lady here. Konyak isn't an evil person, but she does specialise in the dark arts (presumably, that's where most money is made), and it does pay the bills. You go to her, and tell her to please put a curse on that other guy. And she'll do that, no questions asked!


Out of tiles? No problem! Go to the downtown shop.You cannot imagine tiles more cruel, traps more tricky, items more clever or events more horrible. It's all there in the shop, sold by the most considerate man in all of Violet Land. But everything has its price. When you are low on cash, try visiting the merchant's daughter Merchelle (reportedly, she's not too happy with the name her father graced her with). She searches her father's attic and cellar far and wide, collecting old tiles and puts them in her booster packs. For you that means you'll get more tiles for less money, but you won't know what it is you're gonna get. We hear she loves the element of surprise, and we hear that Gérard is equally fascinated by that element of gambling.

Aaah, an expensive suit. Well, that fits him. Lovely hat, too! He looks like the nice old man next-door. Raphus once told us that Senior Cosca always tells him the most incredible stories from his better times, which is why Raphus always enjoys delivering mail to this guy.
But there is a sinister side of this "nice old man" people don't know about. While he has no political intentions, and no desire for change in Violet Land, he is very interested in making money. Be cautious when you meet him next time - but he'll probably have a very interesting special offer, just for you. That might be difficult to refuse...
We hear he likes to spend his free time with good wine and friends, playing Irish Scrabble with Gérard, as well as archery.

Violet is our resident reporter. She appeared sometime during the last alpha, trying her best to inform players of all the happenings in the country. Sadly, she only found herself able to post in our forum, which might not have been enough of a platform. Things have changed, however. We're not sure how she did it - and we guess we may not want to know (we hear she can be reckless when pursuing her goals), but she has found the money to build a complete... TV-studio. So next time around, you'll be able to see "all the news from Violet Land!" by clicking "Violet TV" in the main menu screen. Hear her reports, and see her desperately trying to get the land to unite again. Oh, Violet, if only you wouldn't aim for disappointment all the time...
As a special treat, we have another video for you!
More happened besides the creation of characters. For instance, we've toyed around with camera settings to make things feel more dynamic. There's a different inventory-managment and orb selection menu, and status ailments have been introduced.
In the video you can see these (very work-in-progress!!!) features, most of them changed already, while we stumble our way through a pretty cool user dungeon. It's puzzly!
Please excuse the jumps in the video.
Credits:Hero Sprite by Antifarea via OpenGameArt.org
Music: "Come and Find Me", by Eric Skiff (glitchnyc.com)