Hey Guys & Gals,
We've been quiet for a bit but that's not because we are lazy or anything like that :)
So, today I would like to show you a couple of screens of one of the latest feature we've been working on.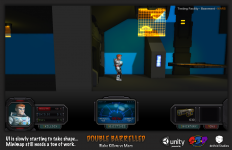 That thing which looks like the motion tracker from Aliens is the basic prototype of our minimap. It's still far from finished but the basics are there and working. In a few days we will get rid of the stand-in background image and hopefully put in one of our own.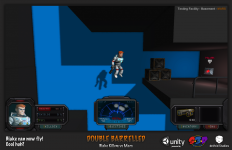 The map itself will not give players access to detailed layouts of the level or show precise locations of objectives and threats. Instead it will give approximations of the number of enemies close by and some other useful info.
Secrets and loot caches may have on screen indicators as well. Players will still need to explore the surroundings to find them. Hopefully this approach will strike a good balance between exploration and hand-holding.
There is more stuff on the way and we've got enough of it working. So, that video we've been promising for the last two months is not too far away now.
That's it for today's update guys.
We will be back shortly...Stay tuned!
- Alex