Just wanted to give you guys a little heads upon how we're doing on Steam Greenlight! We've made it to the top 100, currently ranking at 87! There's still some way to go until we get the official "go", but we're making good progress.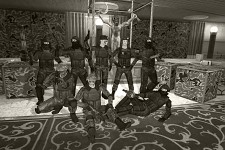 Remember to check out the Greenlight page and give your thumbs up if you already haven't! Spreading the word doesn't hurt either, we appreciate all the help we can get to land Demon Core to the top and secure a spot on a great marketplace.
Look forward to future updates!
-Apex Games team