There was a question this week about what resources are in DSS. Instead of just linking to my response, I'm going to elaborate on it here.
Resources and through them the creation of a local economy of supply and demand is integral to DSS. It's also what really sets DSS apart from other space strategy games. This is the reason why I like to describe DSS as "The Settlers meets Homeworld."
This research tree provides an overview of most(not all) resources currently in the game. There's going to be more as we add in more stations.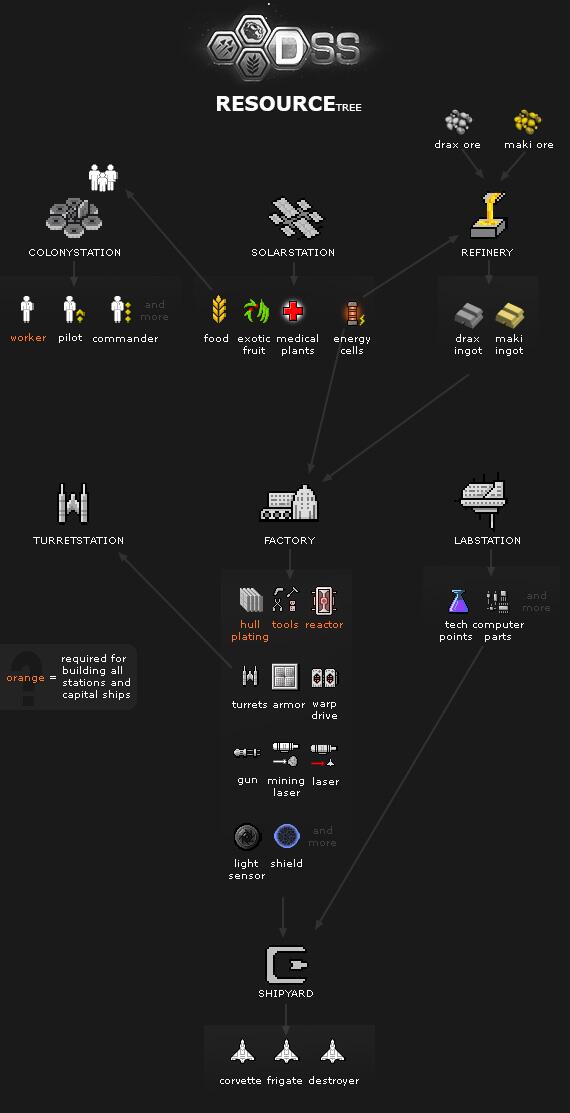 Refer to the image above, when you read the following paragraph.
Let's say you want to build a station. The resources you need for most building projects are: hull-plating, tools, workers. Once you chose a location for the new station, your transporters get busy delivering all you need and when all necessary resources are delivered the building process starts.
Your Colonystation has a few of the common resources in cargo to get your young settlement started, but eventually you will have to produce them all by yourself.
How would you do that? It starts by mining ore, specifically Drax and Maki ore. Both can be converted to ingots in the refinery using energy cells. So Drax ore + energy cell = drax ingot, etc.
Those ingots can then be used to produce for instance hull-plating at the factory station.
This may sound complicated written out like this, but it's very straight forward in the game. It works using a top-to-bottom approach. You don't need to pre-plan having enough ore or ingots to build hull plating. All you do is order hull plating at the factory station. Miners(corvettes with a mining laser) will then make sure there's enough ore at the refinery and transporters(any ship set to "transport mode" will make sure to bring enough energy cells over from the solar station.
If you want to produce something more complicated than hull plating, like say a corvette, it works the same way, but starts higher up. You go to your shipyard and order a corvette. Transporters will now make sure, depending on your corvette design, that there's enough hull plating, a reactor, an engine, a laser, etc. All of these are resources, produced at some station. All of the small ships you may have seen flying around our videos are corvettes set to transport mode. They take resources from where they are produced to where they are needed.
Watch this video again closely, preferably in 1080p, pause frequently :)
Here's a few screenshots going through most stations and units of the player faction, with a short description of what each does.
Let me know if you have any questions, comments or critique!