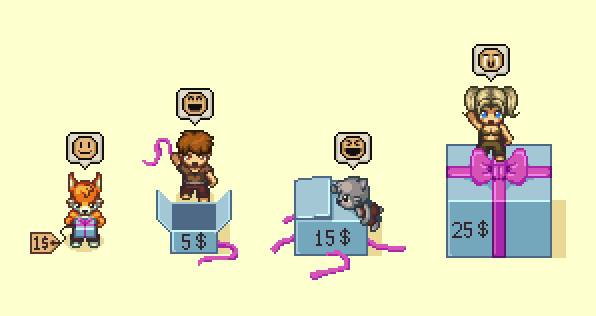 Hello players! :3, I know we've never asked for any donations and I've never put a 'Cash' system in the game before, I didn't felt capable enough to bring you a unique shop, unique items and rewards without keeping the game balanced. We still have a long way to go for that but I'm asking for your help, I know that if everyone gives their support we'll get far! :). The reason for this is that lately I've been spending a lot of money to improve DSO, besides everything we've spent on the servers we had before FULL release. That's without counting everything we've had to spend in these 4 years, what i'm trying to do is to get back some of the money I used to give you a better server and stability!. Every player! who donates a certain amount will earn a unique object in the Full version we've all been waiting for!. This promotion will only be avaibable for a couple months, after that another one will come so we can purchase licences. Donate anything you wish, even 1 cent is appreciated and I'm excited to bring the prices to every donnor.Every donation can be made by Paypal, in the 'Name' field you can put DarkStory, in the message you can tell us anything you'd like but please REMEMBER TO PUT THE ID YOU'LL USE IN GAME.
<1$
Your support is welcome!, a coffee for a programming night comes in handy, you'll get a big thanks in game.
>1$ - <5$
A big thanks and a little gift in the FULL version!, I'm looking forward to it.
>5$ - <15$
That would really help us with everything, you only have to wait for the FULL version to get a surprise gift!, Thanks a lot.
25$ o >25$
You have reached to top of the donation chart, you decide how much to donate :3, we are really thankfull for the support!, the surprise box is moving, I think it's something really special.
Donation account: darkdinoxd@gmail.com
I hope you can give us a hand!, if you can't donate then share this so we can improve our servers :') . Thanks a lot for all the support in the group, indiedb, everywhere! :3.