The development is moving steadily into a new stage
The social, dynamic and competitive aspect of DASH is slowly being unleashed! All in the while more streamers and users are coming onboard. Which is good. Because we need all the levels and runs we can get!! Join our Discord here to enter free during October (still +100 seats left - for Windows and Linux). You get the Steam key by writing !getkey to our key bot "botlife". Otherwise the awesome community will help you out. You're welcome anytime!
---
The DASH International has been launched!

DASH International is the early network of broadcasters from across the world who are dedicated to showing their creative and/or competitive skills to the world
Meet the DASH International: buenaventura

(live level creation and speedruns) ► Twitch.tv Twitch
concerned

(live level creation and speedruns) ► Twitch.tv Twitch
Astro

(DASH News) ► Youtube.com YouTube
Northernrabbit

(live speedruns with cam and comment) ► Twitch.tv Twitch
@TheDrDoggo

(live level creation) ► Twitch.tv Twitch
Mr. B-Magic

(live level creation and speedruns) ► Twitch.tv Twitch
babyduka

(dev streams) ► Twitch.tv Twitch
Here you can always find inspiration and someone to play with
Visit DASH W
RLD - the DASHers level forum: see all the created levels, high scores, plays and more!
NEW LIST SYSTEM
Levels are now read from the server as a cool list which the game keeps for reference for filtering and stuff!
Run sets of filtered levels directly from the game (default filter to start w: create date (find most recent levels or older levels) Lots of filters coming up. World mode (custom user filters) are on the board too.
Run the list and go directly into the next level without having to exit the game mode. Eternal run mode!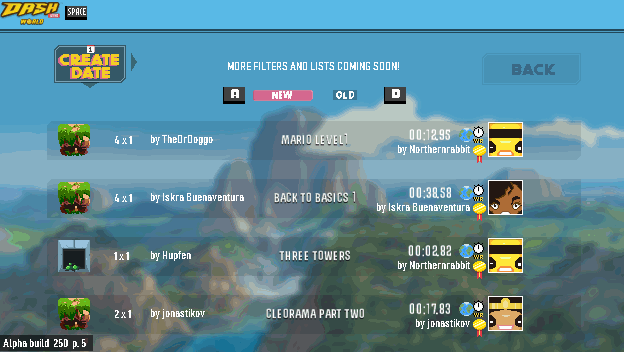 Filter by "New" or "Old" levels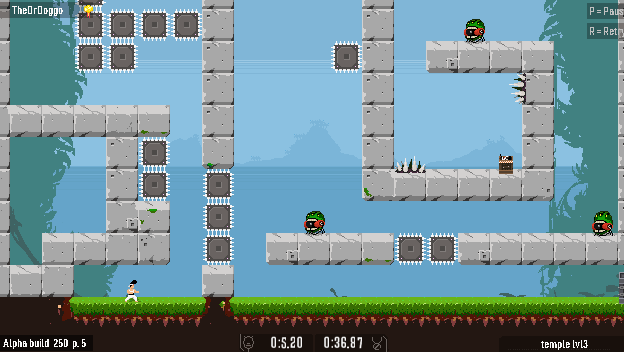 Change your Hero during Run mode
---
NEW AUDIO
We are giving a sneak peak of the broad audio design we are slowly implementing
New atmospheric menu and editor music to enhance your creative energy!
Music artist is incognito until more is revealed and tested!
New audio track by B Magic (the composer of the Urban Pirate OST)
We are looking at 4 different very exciting artists to sync w during the rest of 2018. More coming soon!
The goal is to have an ongoing DASH radio where contemporary artists contribute monthly with fresh tunes and profiles
---
PLAYER GHOSTS
Challenge yourself when running against your own world record (WR)
The player's ghost is saved when he/she beats a WR. This ghost can be displayed in the level if you go to Pause menu and toggle Ghost on
I fixed some issues with the way it stored the data + the ghosts would stay between levels so it would look very confusing if you had the ghost toggled on.
It also affected the performance. This is fixed and the ghost is now working properly.
The player's run is also kept in a file for future replays! More coming soon.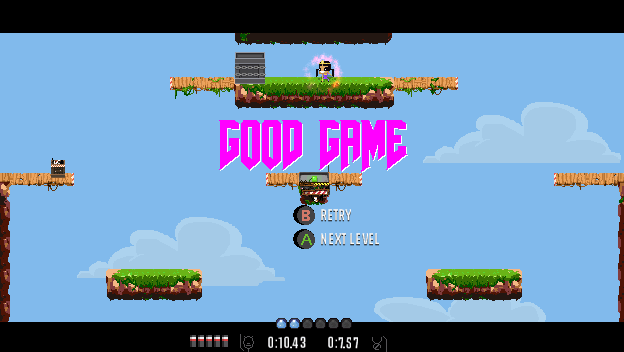 Player ghosts
FIXES & IMPLEMENTATIONS
Fixed missing buttons on dialogue boxes
The compression is still slow but safe. We're working towards a faster solution.
Limited the amount of tiles to place to 350 to limit size of compression
Now displays 'Saving & Compressing' string and sprite when saving huge levels to help player understand game is ok
Description now 33% longer
Polished Pause Game UI
New main menu design
Story tab removed from game
Toggle level slots a little slower and more tight
Change the Hero you are playing directly from the run menu to be able to do long lists of levels without ever having to exit
+ lots more which I can't remember or find as a note anywhere
Join our Discord to enter the free October alpha and have fun with all kinds of level makers and runners! We are only getting started and we need more levels!!




- Jake and the DASH team