Release
The first patch to Cry of Fear is now finally released! It should make the mod more stable and fix a lot of annoying bugs that we sadly didn't have time to fix because of our promise to release the mod in time.
Status
We've got a lot nice feedback from all of you, and most of it is so awesome! We are really glad that most of you enjoyed our mod! Even though there are a few people giving the mod unserious reviews like rating it 1, but oh well, that's what haters and trolls are for, isn't it?
Podcast17
On the other hand, we've been interviewed by Podcast 17. So if you want to hear an awesome interview and chit chat about Cry of Fear, please head over to this link!
Podcast17.com
Cry of Fear v1.0
For you who have not yet tried Cry of Fear, please download it from here down below:

Instructions for installing Cry of Fear v1.0
1. Make sure you have Half-Life 1 installed on Steam.

2. Download Cry of Fear here: Moddb.com

3. When you have installed it, launch the mod through the shortcut that automatically gets generated on your desktop.
Patch v1.1
This patch includes a lot of fixes that most people have been annoyed at. Here are the bugs that are fixed:
MAJOR FIXES
Fixed num_edicts crash in the sewers
Fixed save/load bug
Fixed coop "server is full" when empty error
Potentially fixed crash when shooting hammer monsters stuck to the wall by the tentacles
Potentially fixed crash when shooting spitting train monsters
Possibly fixed screen white-out in apartments
Fixed crash when dropping secret package
MISC FIXES
Removed buggy custom resolution from launch app until we figure out how the HL resolution system works
Fixed dropping items when dead in coop
Fixed picking up a new syringe while using your last one removing them both
Fixed dual wielding while in ironsights leaving you in ironsights
Fixed large icon in Steam
Slightly reduced monster attack distance
Fixed sprinting when underwater to make you move faster
Fixed being able to fall off the roof when given the yes/no prompt on the roofboss
Fixed level changes playing CD music if you have an audio CD in the drive.
Added missing voice chat key bind in options
Fixed cutscene repetition in some areas
Made it easier for players to see that you can jump through the bus window
Added dual wield support for the VP70
Slightly reduced book head monster attack distance and attack behaviour
Added option to disable black and white effect in options
Added option to disable camera/scope effect in options
Included the new donators
Fixed the bug where you could not open the gate close to the sawrunner
Redesigned the wooden sign in the forest in the co-op level
Instructions for installing Patch v1.1
1. Launch the CoF app program (the shortcut that generates on your desktop when you install Cry of Fear). If you don't have the shortcut, you can manually find the .exe in this directory:
C:\Program Files (x86)\Steam\steamapps\yourusername\half-life\CryOfFear\

CoFLaunchApp.exe

2. Once your launch program is up, simply click "CHECK FOR UPDATES", and it will download it and install it for you automatically. Once the install is done, restart Steam.
Conclusion
That's all I have to say to you now. I hope you enjoy the mod!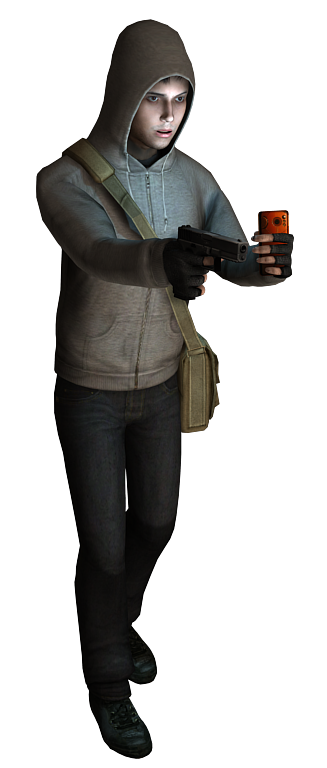 /Team Psykskallar