Hello and welcome!
It's finally time for a new version of CrossCode! And boy it has a lot of new stuff! We have menus, story, content and… Linux and MacOS versions in store! So let's get right to it!
The Story Continues
As promised the story of CrossCode will continue with the 0.5 release. After arriving in Rookie Harbor you'll now get a proper introduction into CrossWorlds and what this game is about:
You'll also get the chance to have a duel with a certain someone:
It's time to see who the better Spheromancer is!
Huh? What about Emilie? Ah! Of course we can't forget one of the biggest new features we added to CrossCode:
Party Members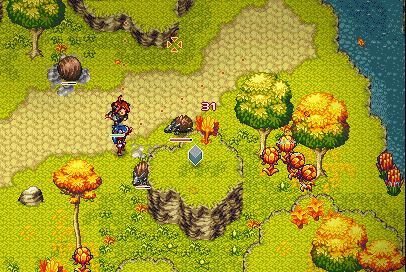 That's right! Emilie joins the fight as an AI-controlled Party member. And just like you might have guessed she will be using a lot of close ranged attacks combined with quick dodges. Now you can pummel foes with even more style! Perfect Guard an enemy and let Emilie finished the job, no problem!
We're really happy about this feature and we hope you all have a lot of fun with it.
But fret not if you think Emilie will steal the show! You can adjust her behavior by using the new Party Strategy Menu in the Quick Menu:
All party members will follow your lead immediately. So if you rather want to fight alone, you can still do so. Some parts of the story might require you to keep a party member for a set amount of time but you will be able to switch them out eventually. How, you ask? Why, through the Social Menu of course!
This menu lists all your contacts and let's you invite them into your party (which can consist of up to 3 people). You can also just contact them if you want to chat:
Speaking of menus, we also added a bunch of new menus that were long overdue!
Encyclopedia, Records & Monster Fibula
After a certain point in the story you will now gain the Disc of Insight which grants you access to 3 new menus in the Synopsis section.
Encyclopedia
The Encyclopedia is a compendium of all the lore in CrossCode, that includes your Story progression, Characters, in-game lore of CrossWorlds and Real World lore which covers topics like the M.S. Solar cargo ship or what company created CrossWorlds. Each entry can have multiple paragraphs and pages. The progress for each one is reflected by the completion percent on the right side of the entry.
Records
The Records Menu is CrossCode in numbers. Everything from "Total exp gained in combat" to "Number of times Lea said 'hi'" is included (Yes, we count those). You'll also get some nice percent view of your total progress in CrossCode via this menu. For as long as the Early Access is active these percentages might be off from times to times as we add new stuff.
Monster Fibula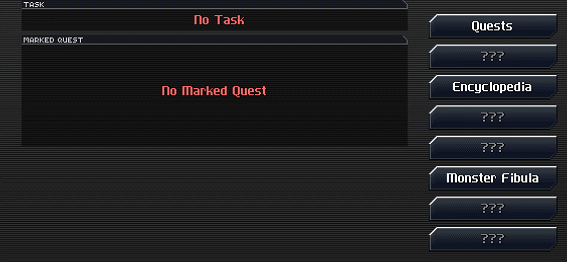 Finally the Monster Fibula. In this menu you find detailed information about every enemy you fought (and defeated). Once you defeated an enemy a certain number of times you'll unlock the second page which contains what we call Reports. Reports are information on an enemy you found somewhere. However, the first entry is always unlocked. Currently not all enemies have reports so expect more of them in the next releases!
Analyze Mode
Something we've planned from the very beginning has now found its way into the game, too! You can now analyze your environment!
Using the Scope button in the quick menu you can hover over points of interest to reveal their purpose. To tell them apart each point can have a different color. For instance violett stands for traders or shopkeepers while blue is for regular NPCs. Their are also special types like the red ones in the screen above! Those are for enemies. By Just opening the quick menu you can see the level of an enemy. Hovering over an enemy reveals its base stats:
Better watch out…
Quest NPCs will also be visible immediately once you entered the quick menu. This way you'll always know where you can find an important quest-related character. This also allows us to create interesting quests where you have to use the Analyze Mode to find something otherwise hidden.
Other Updates
Beside these big new features we also changed small things and worked on existing features and areas. One of those is Bergen Village which finally gets more crowded. It's not quite where we want it but still, it's an improvement:
As you can see Bergen now has it's own set of NPCs graphics! The Quest Hub in Rookie Harbor also got a make over and is now swarming with players:
Apart from this, there are smaller changes like the new Tutorials which will only popped once when you first took on a quest or learned a combat art.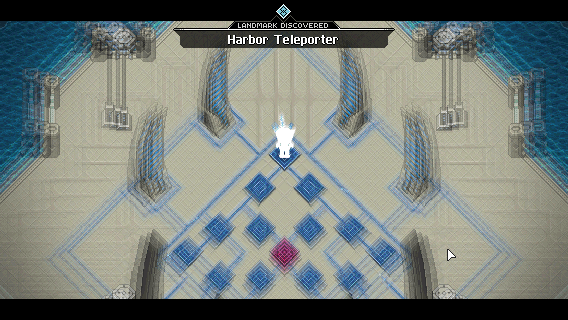 Also visible here are the new updates messages you get when finding a landmark. This will also pop up when solving a quest task. If you rather want to use the old style on the right side of the screen you can change the setting in the Options Menu!
Speaking of the Options Menu, since we added the Social Menu we decided to move the Options Menu to the Pause Screen to avoid having to much menu options in the main menu.
And last but not least we also have new sounds for various actions in CrossCode as well as a new theme for Bergen Village! Check it out right here:
Linux and MacOS Version
We finally took some time to work on the Linux and MacOS Versions of the game, or better the build process and getting it to run in Steam. With the 0.5 version we'll be providing a first build for both systems. However it's very much a work in progress and errors might occur. Hopefully everything will work right away!
—-
Phew~ Alright! That's all for the 0.5 Version! Or wait… there is one final thing…
AUTOSAVE!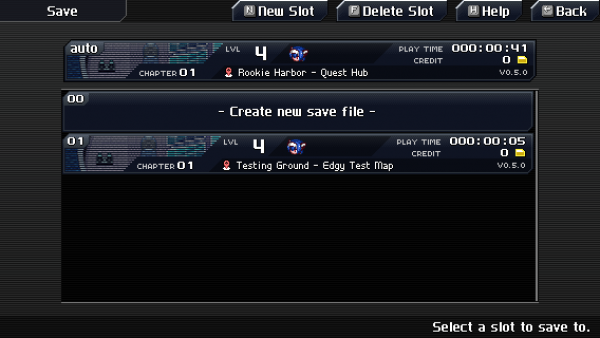 We finally added it! Who needs saving anyway?
—-
Okay, but that was really all we got.
Here's a link to the steam store page in case you need one: Click on Me!
Cross Week
Now to something else, the CrossWeek. Last week, right before the release some of us met and worked on CrossCode a whole week non-stop. We discussed a lot of upcoming stuff like dungeons, areas and monsters. Frececreated two new pieces of concept art for the heat dungeon and made a video of them:
We also took some tasty pictures of our endeavors:
Buying food for the week. Fun fact: all the healthy stuff is covered buy the junk food, money shot!
The future of CrossCode hangs in balance as we try to open cans without an can-opener.
Veggie Burger!
…
with bacon! #norules
Of course we brought our trusty mascot too! Over the time it gained more and more hats.
As always the CrossWeek was amazing for our progress and we'll definitely doing it again sooner next time.
—-
Alright everyball, that's it! We hope you enjoy the new version just as much as we enjoyed working on it! We're eager to hear your feedback (both good and bad). We'll have a follow up next week to tell you more about our milestone for 0.6 so stay tuned.
Until next time!