Follow us on Twitter :

or sign up to the official

for the latest news & updates.

Today I am going to be going over Corpses 'N Souls new "Online WEB API and Newsletter system". Some of the topics covered today will include the following:
random rarity achievement loot drops

Online profile
Activation system

view loot, stats, achievements, etc

Per session push and pull sync system
With the addition of an optional online component in Corpses 'N Souls it adds yet another layer of immersion and depth when in game or away on the WEB. When enabling the online component of Corpses 'N Souls you can stay connected even if you are not playing the game. While away from your game you can strategize your skill and loot load outs from the convenience of a web application. With the newly added online API that can communicate to the main game many new options and features can be realized.

The web API that has been integrated into Corpses 'N Souls brings many features like the new online achievements and email loot drops. As an example when you subscribe to the new official newsletter for Corpses 'N Souls you are given a special online achievement that can be redeemed. You can either redeemed the item manually by entering a code or use the more advanced online sync method. The online method allows you to redeem your achievement or loot with a click of a button. The next time you play the game it will do a sync to a online database that mimics your character profile. So spells, loot, achievements, inventory, etc are all synced. The method used is similar to a cloud save and will add your newly earned online web achievements, loot, etc to you in game character profile.
In the example below we have a email response from activating your newsletter request to Corpses 'N Souls. The online achievement embedded in your email acts just like a loot drop in Diablo or any other ARPG. In this sample the achievement actually has a random rarity when you receive the newsletter activation confirmation in your email. You can get up to five different grades that uses the real loot engine of Corpses 'N Souls but it is embedded in a email response or could also be in a web application.
The activation button in the picture is a easy way to redeem your online achievement or loot in game. The next time you start the game the game will automatically check if you have the online features option enabled and will do a sync to see if you have any items etc waiting to be added.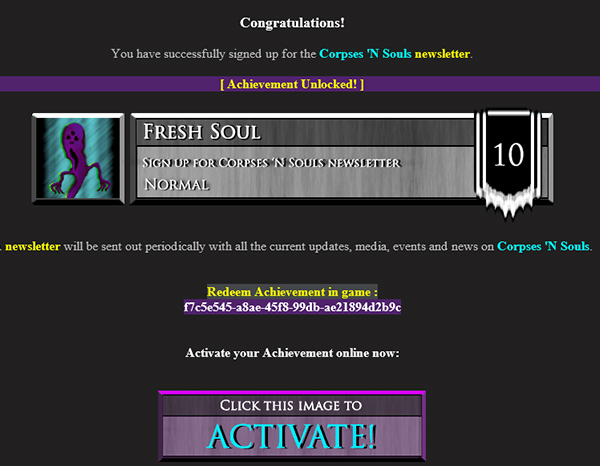 Here is a sample of all the five types of achievement grades of the "Fresh Soul" achievement that you can earn when you subscribe to the Corpses 'N Souls newsletter. Make sure you activate you newsletter subscription in the first email that you receive to get the "Fresh Soul" achievement. Tweet me @SideScrollSTUs if you got a rarity higher than normal.
Normal:

Special:

Rare:

Epic:

Legendary:


A newsletter sign up has been added to the main Corpses 'N Souls web site for those that want to stay up to date on any new news and updates.
The newsletter is the central portal of all the things that are happening with Corpses 'N Souls. So if its a new Indie DB article, YouTube video, Tweet, news item, released screens, important announcement or anything else to do with Corpses 'N Souls it will be in one easy to access location. The benefit is to be able to easily find the sources and links to those important news and media releases. The newsletter is your one stop portal bringing all the information together to your finger tips.
Just click on the newsletter icon to sign up now:

Here we have a picture of the main Corpses 'N Souls web site and the web app for requesting the news letter subscription. Simply enter your email that you want the newsletters sent to and press the register button. Note the News menu item has the link to the location of the newsletter.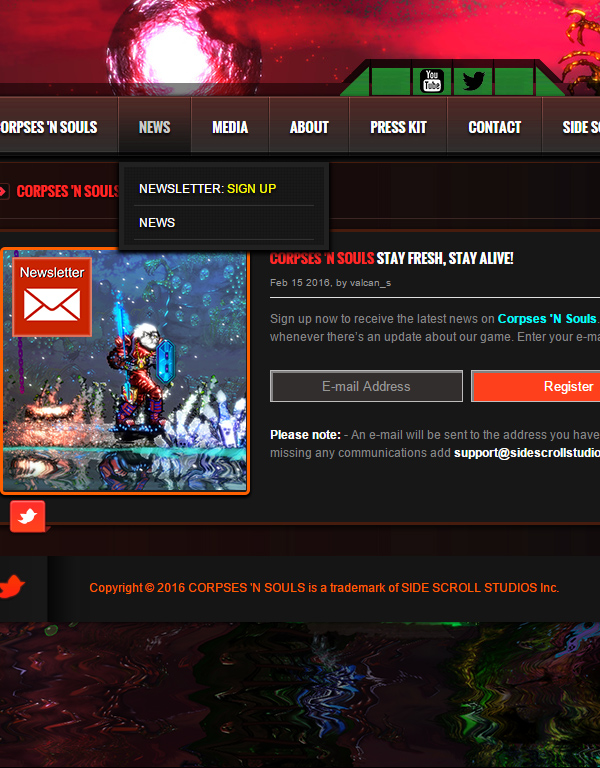 If you have entered a valid email and pressed the register button you should see the following screen next. A email will be sent shortly to your account that will ask you to verify if you want to subscribe to the Corpses 'N Souls newsletter. Make sure you add the support email to your safe list in order to receive the emails correctly.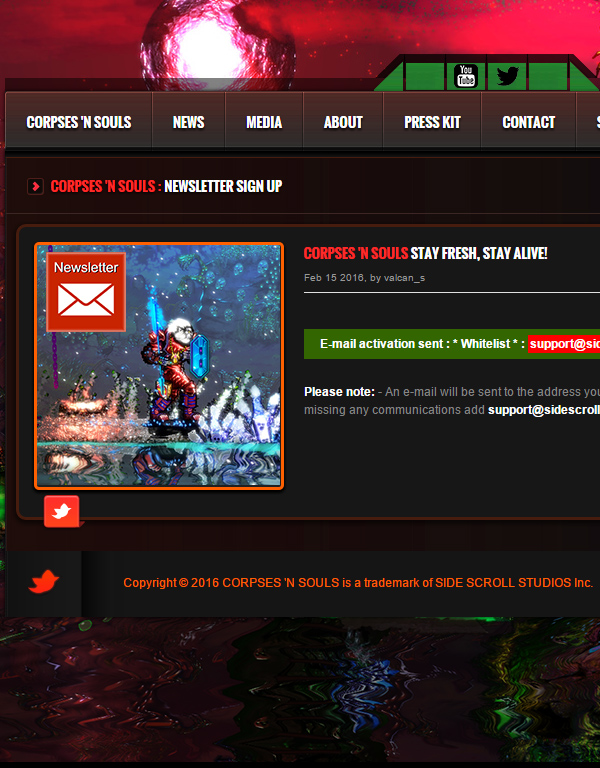 This is the first email that you will receive that will ask you to verify that you want to activate your Corpses 'N Souls newsletter subscription. Just click on the activate button and you will receive you "Fresh Soul" achievement in your email from the games core loot engine in the new online API.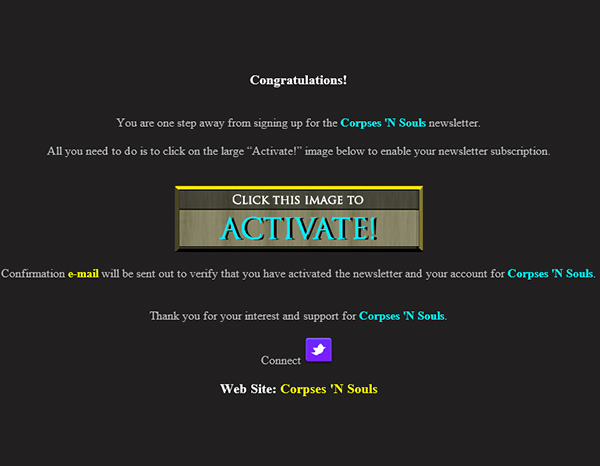 After you click the activate button you will be redirected to the main Corpses 'N Souls web site and receive the following screen. Congratulations! you have now subscribed to Corpses 'N Souls newsletter.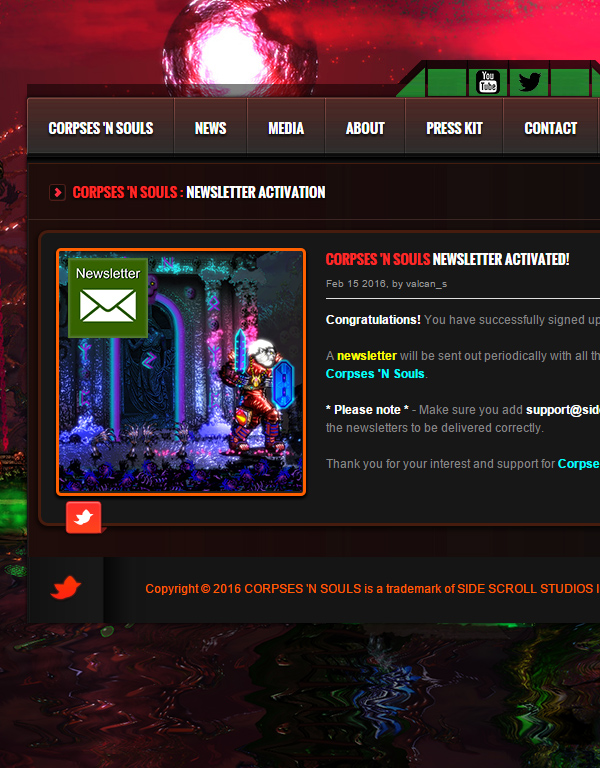 Below this picture is a screen of the newsletter confirmation email that activates your newsletter. Also here is what your first achievement looks like for Corpses 'N Souls, it can only be gained by subscribing to the newsletter.
The API will randomly roll a certain grade of the achievement for everyone that subscribes to the newsletter using the Corpses 'N Soul loot engine. At this point you can already activate your achievement online by clicking the activate button. Each time you launch Corpses 'N Souls and online features is turned on it will sync your online profile once and retrieve any achievements, loot, etc that have been changed or added.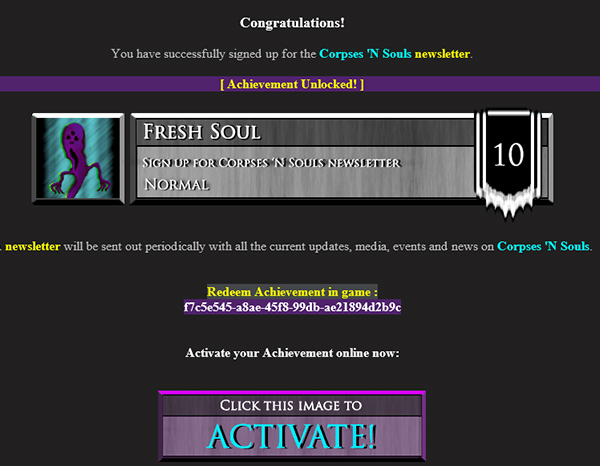 Since I am big Diablo fan(and into ARPGs in general), a active D3 player and past WOW player I have always wanted an online profile system for your character to be a feature in Corpses 'N Souls. Well this is exactly what I am adding to Corpses 'N Souls and it will even take it a few steps further(will discuss that at a later date).
With an online profile system you will be able to view your stats, loot, skills, achievements and other components through a web app just like one my favorite ARPG. Here you can view stats, strategize loot and spell load outs and always be connected to Corpses 'N Souls if you want to. I always love to look at my loot, achievements, and spells that I have acquired while not in game and I am sure others will too.
* all screens are wip and do not represent the final product or layout, more info in the coming months. *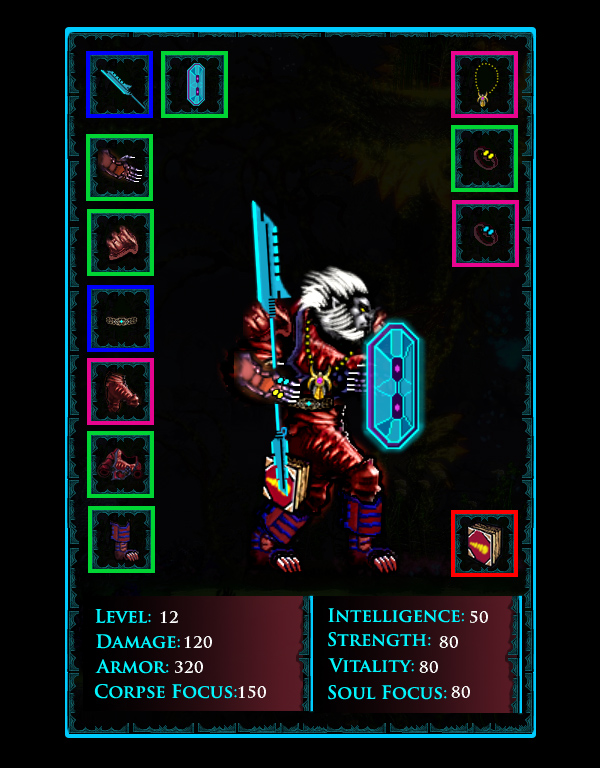 Not only will you be able to look at your currently equipped skills, loot, books, and achievements but I am also allowing you to look at your current inventory. Many times I have wanted to do this in other ARPGs on-line profiles but couldn't, in Corpses 'N Souls this feature will be a reality.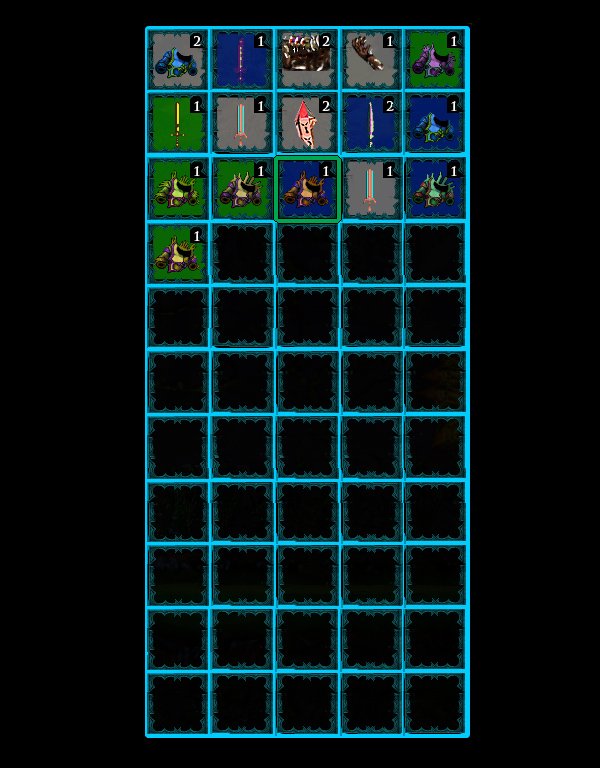 As for the other features those will be disclosed at another time, let just say they will be very cool. Again I just want to stress that the online features are totally optional you don't have to use them what so ever. If you have a internet connection then definitely turn on the online features they will be worth it. * Note * The implementation is a sync mechanic so you are not forced to be always online since I don't believe in that model. When you play Corpses 'N Souls it will do a sync one time and that is it. After a session in game like wise you can do a push to place your new data online in the cloud to re sync from your session in game.

As the title implies Corpses 'N Souls online features are based on a sync mechanic and is not a always online constant real time update system like MMOs and other always online tittles. As I have said above the online features are purely optional and enhance your gaming experience.
So what ever you do on the web application and online profile will be synced the next time you start Corpses 'N Souls if you want to. If online features are enabled you would just do a sync(aka a pull of data) which needs a internet connection and after the sync pull is complete you can remove the LAN cable or disable your network adapter and you can play Corpses 'N Souls offline as long as you want. Once you are ready to sync back up your progress you simply do a push of all your new progress with a active internet connection and your back in business. A online database keeps a clone of your progress if you choose to use your online features which acts as a nice cloud back up system for your master save file(what extent of your games data will be saved is still to be determined, I would like it to be complete if possible).
Here are some loot items that you will be able to preview on your web profile or in the game. The data will be the same and look the same. All fellow loot junkies know we love our loot stats :) and have to take a sneak peek all the time for we are obsessed with it. With the web profile you don't need to get in a panic attack LOL :) it will always be available as long as you have a internet connection, browser, and the server is online.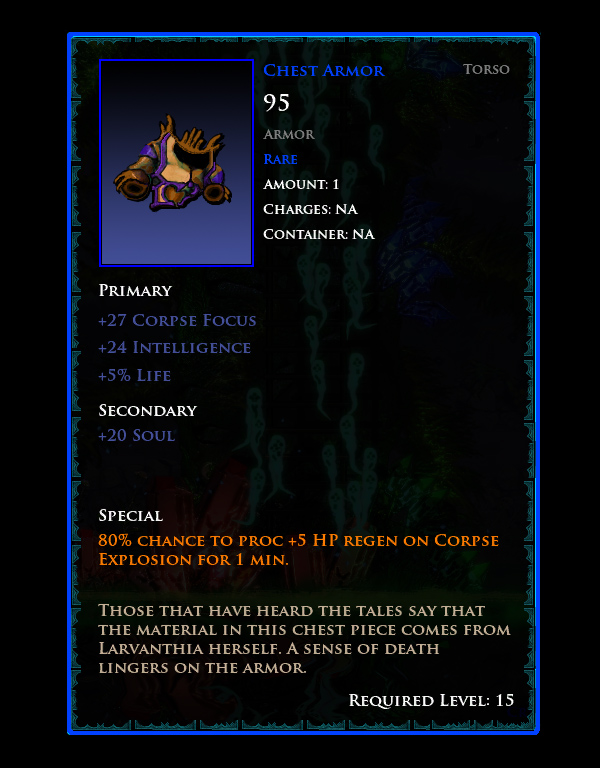 A cool sword: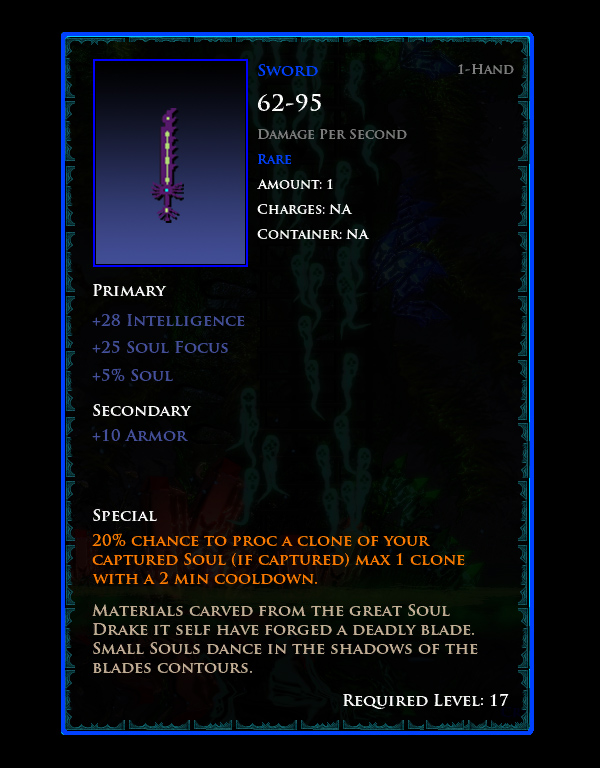 Well this concludes the Online/WEB API & Newsletter article for Corpses 'N Souls. I hope you enjoyed the article and it gave you a brief inside look at some of the back end systems and technologies that I am working on and is powering Corpses'N Souls online features. My goal is to have cool online features that are not forced down your neck and don't hamper your gaming experience, those points are key.
Till next time, I can hear my Wolf form calling me as it gets closer to completion. Remember to stay locked to Indie DB, Corpses 'N Souls web site and @SideScrollSTUs for the latest info on Corpses 'N Souls.
Follow us on Twitter :

or sign up to the official

for the latest news & updates.