Hello! We're taking some time to bring you up to speed about the current state of Corona's development, or at least help illuminate some of the things we've done and are planning to do. Actually, let's get the most important part out there right away! The new version of Corona will be released as a completely, utterly and absolutely free game, with no ads or money-making models. We just want people to have fun playing the game, and to hear how much people like to play it! At least we really really hope people will like to play it...
Ah, but err! We have a lot of new exciting things designed!
A New Campaign
The biggest and the most visible thing is that we've expanded the main story to cover two campaigns. The brand new campaign, Shadows of Vaniria, features a new main character complete with her own set of skills (the weapons that the player can purchase and upgrade) and all-new gameplay mechanics.
The new campaign has six new stages, containing some of the coolest environments ever planned for Corona. Lots and lots of new monsters have also been designed, with exciting (and devious) ammo patterns and ways to make the player's life a living (bullet) hell.

Shadows of Vaniria also has a thrilling storyline, with a huge crew of new, interesting characters. (I made sure there are lots of bishies around now. But shh! Don't tell Snowduck -Killerchibi) We'll be going through the content and differences between the two campaigns in detail in a future article, so look forward to that!
So far, we've got the design down for the large outlines of the new content. We know how the structure of the different stages should be like, what kind of monsters they ought to have, and how the story should progress between the stages. We also know how each of the characters should fit into the story, and what kind of personality they possess. For the most part, we've designed the new campaign and character-specific game mechanics as well.
Therefore, we're currently focusing more on the details, such as what the actual ammo patterns and monsters waves should look and feel like, how to make the boss fights more epic than ever before and what kind of dialogue we need for the story to progress smoothly. We're also working on player skills and their different levels, so people can choose play styles that work best for them. There might even be some other interesting side effects with the skills...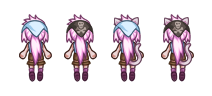 Work, work and work
While the new campaign is clearly our main focus, we're also adding and updating some features to address some shortcomings the Windows Phone version had. First and foremost, we're adding much-needed sound effects to many many parts of the game, especially to boss fights and other major events. Even more importantly, we managed to procure some pieces of yummy Japanese voice acting for the main characters of each campaign to truly liven up the mood! With the platform focus changed to PC, the user interface is also undergoing some upgrades along with some quality upgrades. Finally, there was some trouble with the difficulty levels (especially the easiest setting still being so painful) so we re-created the difficulty setting kit to include setups for everyone from people who just want to casually stroll through the story to hardcore bullet hell enthusiasts.
Unfortunately, the design workload is next to nothing compared to the amount of programming and content creation that's ahead of us. Our poor old engine was pretty much exploding to pieces, so we had to conjure up a new one that could actually support the vast amounts of custom content that Corona requires. This sadly means that pretty much all the content we had in the previous codebase is completely unusable... Ah well, we don't want to get stuck making all that old content right away though, so we're focusing on the stuff for the new campaign.
Something to show (off)
To not disappoint everyone who didn't have the chance to play the original Windows Phone 7 game, we'll be aiming to release the latest, completely unreleased Windows development build of Corona! Curious how it looks like? See for yourself!
PS. When capturing the video the first time, I ended up playing too well... I got so many skill levels that all the monsters were dying nearly instantly. There were sooo many effects on the screen I felt it became too confusing, so I had to do it again. -Snowduck