Hello, everyone

That was a busy month. Somehow I'm in position where loads and loads of stuff is done, but there is not so much to show off. Anyways, the progress is nice.

There were a couple of iterations of player's skills recap. Had to remake them a bit to add a fix for a connected system.

Here I implemented some sort of fatality - enemy finished off with a charged hit is knocked back for a longer distance, leaving a blood trail on the fly.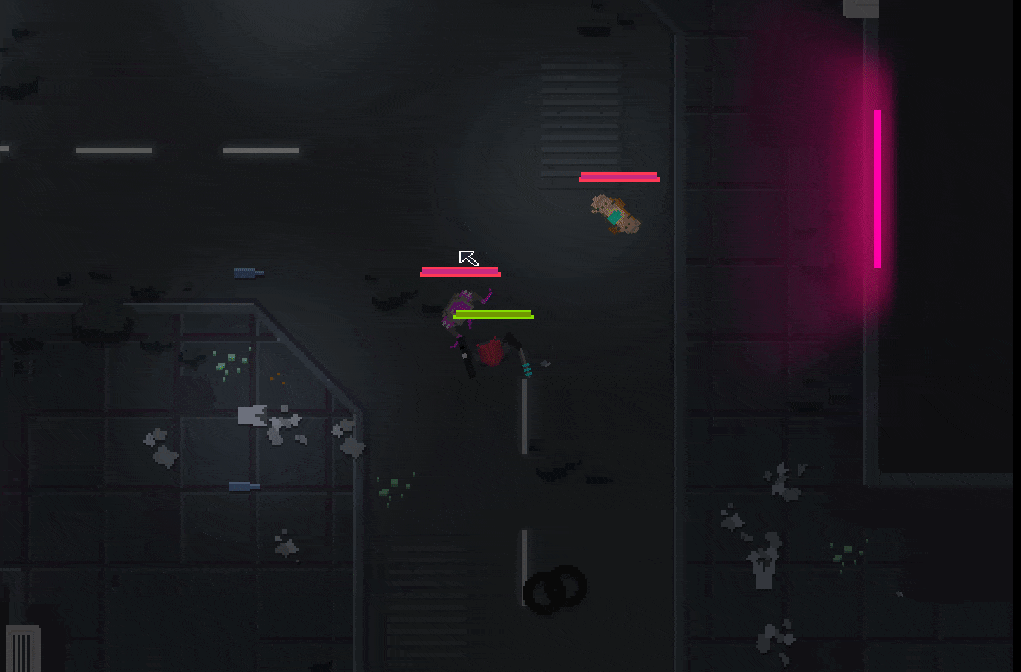 And here are some visuals for skills. I try to get rid of placeholder graphics, updating them with pixel art effects.

At that point i realized that my gifs are sort of dark. All that sci-fi cyberpunk streets with thugs aesthetics is cool, but "realism" should never obscure players vision. It's not some crappy horror game, after all.

The DEMO level that I shared couple months ago was played more than 1000 times (which is, obviously awesome). And I got tons of feedback.

For the more striking note - is that the demo boss roll-in was updated:

Here you can have a better look, without flashes:
While there are some things happening behind the scene - which are way too early in the works to show, some effort was put into act 2. I shared a sneak-peek last article, but here is a better view at it: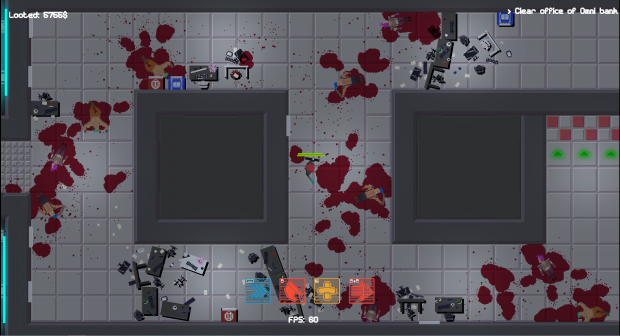 White, sterile tiles. Open-spaces overrun by goons. Flipped computer tables all over the place. Things you expect to see in an office taken over by criminals.

In the end i would like to mention #Loveindies week. I literally stumbled across that event on twitter and joined. In short - all sorts of people were honoring indie games and promoting them. Developers were discounting their games, streamers played, players reviewed what they liked. It was awesome and felt very heart-warming. Since for the most time, small indie devs are all alone. With little to no kind words about their work. That event was very good. It didn't impact my sales a lot, but was very inspirational and motivational.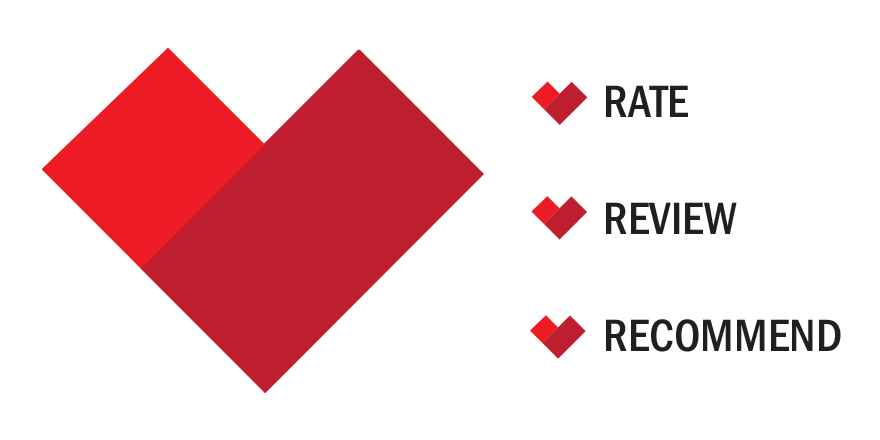 I think that's enough for today. As always, I'll summ up another article when there is more to show. Maybe I'll make a whole article about bugs i encountered and fixed on my way.

Thanks for reading it - means a lot to me.