Hello, everyone

TL;DR: scroll down the article to see an awesome level design timelapse video through blood decals updates, issues and bugs encountered.

I've got some useful feedback on my game recently. Apart from some small magic touches here and there, my attention turned to blood on floor. The core gameplay is focused on, well, spilling blood. Since some people will surely see it on YT if i want it or not, i've decided to put some more effort into blood visuals. I didn't plan to do it from the start, so i had to dive into my game's core, which resulted in extremely boring, but rewarding work.

Here, check it out (it's clickable - have a better look at the original):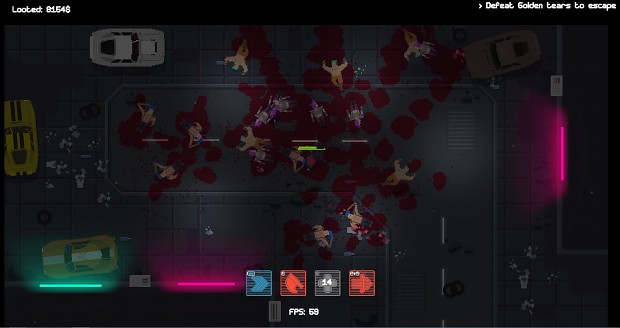 Awesome, isn't it? >:)

For some pretty obvious reasons, people tend to compare my game to HM. It's not just my game. Any top-down game, with bloody scenes is a victim, and it's fine. I try hard and put a whole lot of efforts to distinguish my game from HM. If i learned anything about gamedev it's the fact that nobody likes clones. Nobody. At all. Any cloned game is fated to fail.

What i really hated in HM is the fatalities system. Yeah, sure - all that gore and sounds were cool, but they totally tore apart the action and adrenaline of a battle. Not mentioning that you could easily die butchering some enemy, since his friends come around carrying some serious firepower to put you down for good.

You have a variety of active skills in Cold.Shell. So i decided that finishing an enemy with a skill (like charged hit) will reward you with not only increased damage but will also send foe's corpse flying. Leaving a blood trail while it goes. IF everything goes fine I'll TRY to persuade my artist to create different death effects/animations for different skills.
Also I've added an unnecessarily huge amount of blood droplets and scattered them around on hitting an enemy. You can spot it captured at screenshot above and here's a small gif: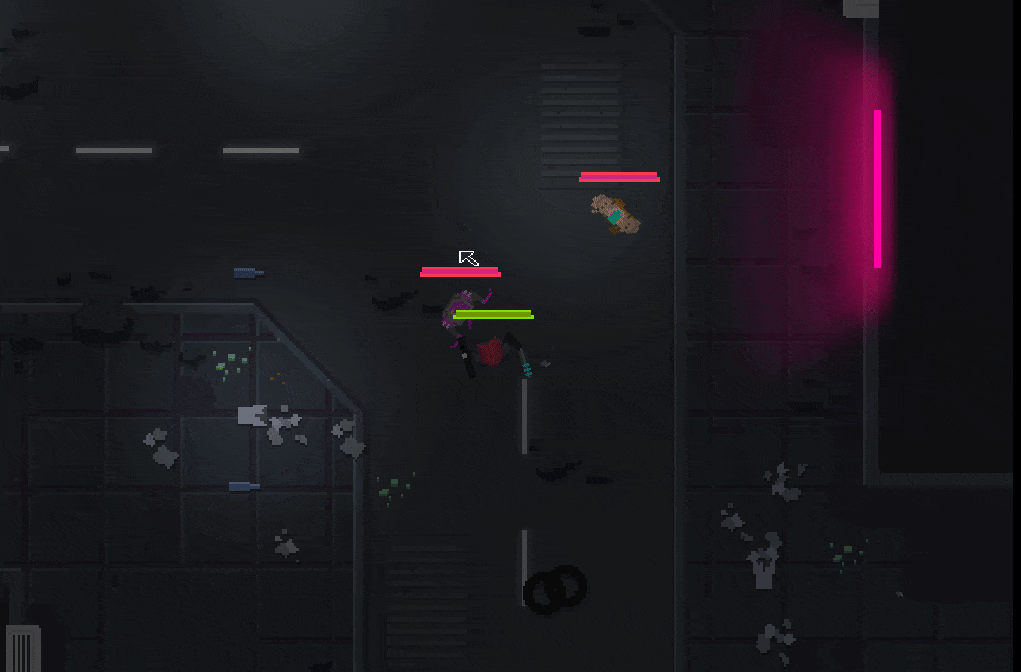 Coming up next is a question that troubles me a bit.
Recently i've implemented a jump-to-side AI feature. When there are enemies around you, one of them can suddenly decide to jump aside. I did it to space the chase a bit, but it first caused some bugs (which i fixed) and also was not as satisfying as i hoped. If I'll meet the need to cut something out of the game that's the number one on my list. Should i throw away a possibly fitting feature from my game if personally i dislike it?
Imagine all the headache it caused me: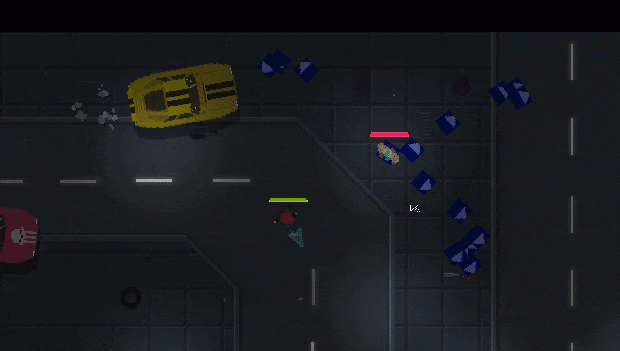 Nextly, i had a good mood and created a challenge level. In-game it will pop up after you beat act 1, be optional, but will provide a reward that will be hard to decline. (btw act 1 is mostly done by now, i'm still not satisfied with the boss - it will take some lots of time to polish him)

In my editor it looks like that: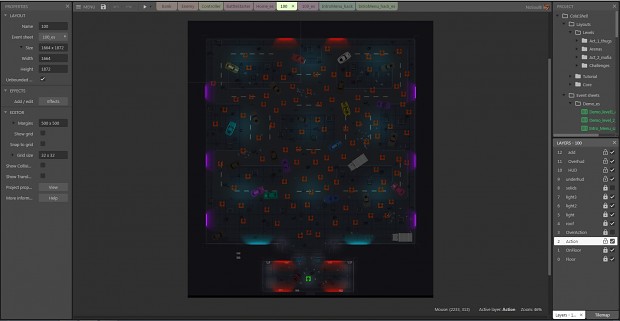 I bet it looks pretty complex even from here :)

Can you imagine the possible amount of work to create it?
It took me 1 hour of very, very focused work to bring it together.
And as a treat to you for reading this article, here is a cool timelapse video of it! 1 hour in 2 minutes, check it out - it's totally worth it :)

WARNING: turn the video volume down! For whatever reason it can be sort of too loud on IndieDB. Apart from it - enjoy :)

I think it's enough for this article. As development goes on and gets more complicated i start to think that partnering with a publisher is not so bad as people say. I self published Molten Armor on my own and it was a trip to hell and back that i'm totally not exited to run again. If, by any chance, you have something to say on that - feel free to PM me here or DM me on twitter (it's linked right side from the article).
Thanks for reading it - means a lot to me.