The base concept of this game – sophisticated and realistic business simulation. And marketing is one of the most complicated modules of CoffeeBiz. In upcoming Alpha 1.2 marketing are getting a huge update and in this devlog, I'll try to describe how it will work.
Basics
Base element and point of sales are a coffee kiosk; it has three base parameters – visibility, attraction, and popularity. And if everything is done correctly, clients will decide to buy coffee and spend their money at your kiosk. More satisfied customers, more sales, more money. But there are different customers with different needs, different locations with different challenges and competitors, who also want to sell their coffee. I want to make marketing module work in such a way, so there can't be a single most effective working marketing strategy, and the player must always adapt to market and new situations.
Customers
Customers walk, notice kiosks and decide where to buy a coffee. Customer starts looking around for coffee kiosks to serve his demand. He will compare all visible kiosks and know kiosks, even if they are far away. After making a list of potential kiosks, customer compares their attraction value and goes for coffee to highest offer. At the kiosk, he checks out current kiosk clearness, line length, chosen recipe availability, prices. Only if satisfied with all these factors, he will order coffee. Otherwise, he will leave.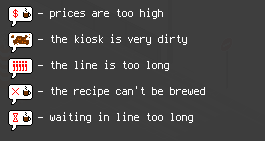 Each customer type has its demands preference. For example, a student almost doesn't care about kiosk clearness and service time are critical for office workers. Right now its only 4 type of customers, but new updates will bring new locations with new customer types to investigate.
After coffee brewed, the customer pays and evaluate its taste (0-100), customer service bonus and kiosk clearness bonus. Based on that total satisfaction are calculated. But that's not all. Coffee can be awful, service low and kiosk extra dirty. But if you pay for it only 1$ - it's become a good deal. So customer resulting opinion of the kiosk is based on satisfaction/price table. For example, full students chart below.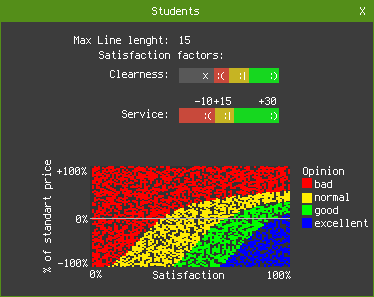 The chart is filled gradually, and the full chart is visible only after hundreds of sales. Notice that only barista with >1 service level can catch information about customer type – higher service level, higher chances. Increase the barista service level, brew lots of coffee and you will learn how to deal with each type of customers. Also, the barista service level increases chances to sell extras – toppings, drinks, and snacks.
Promotion
The well-known kiosk can get much more customers because customers will evaluate it at any position on location. Especially if there are no competitors. Some popularity kiosk is getting from client – after buying a coffee, even unsatisfied, he will remember kiosk. Also, some percent of passing by clients can notice and remember kiosk, even if they not ordering any coffee. Same way the outdoor advertisement works – its adds some popularity to kiosks and can force the customer decides to buy coffee immediately. Another way to get some popularity – pay for an advertising agency. To monitor clients, who know about kiosk and who don't - in kiosk marketing tab "highlight clients" can be clicked.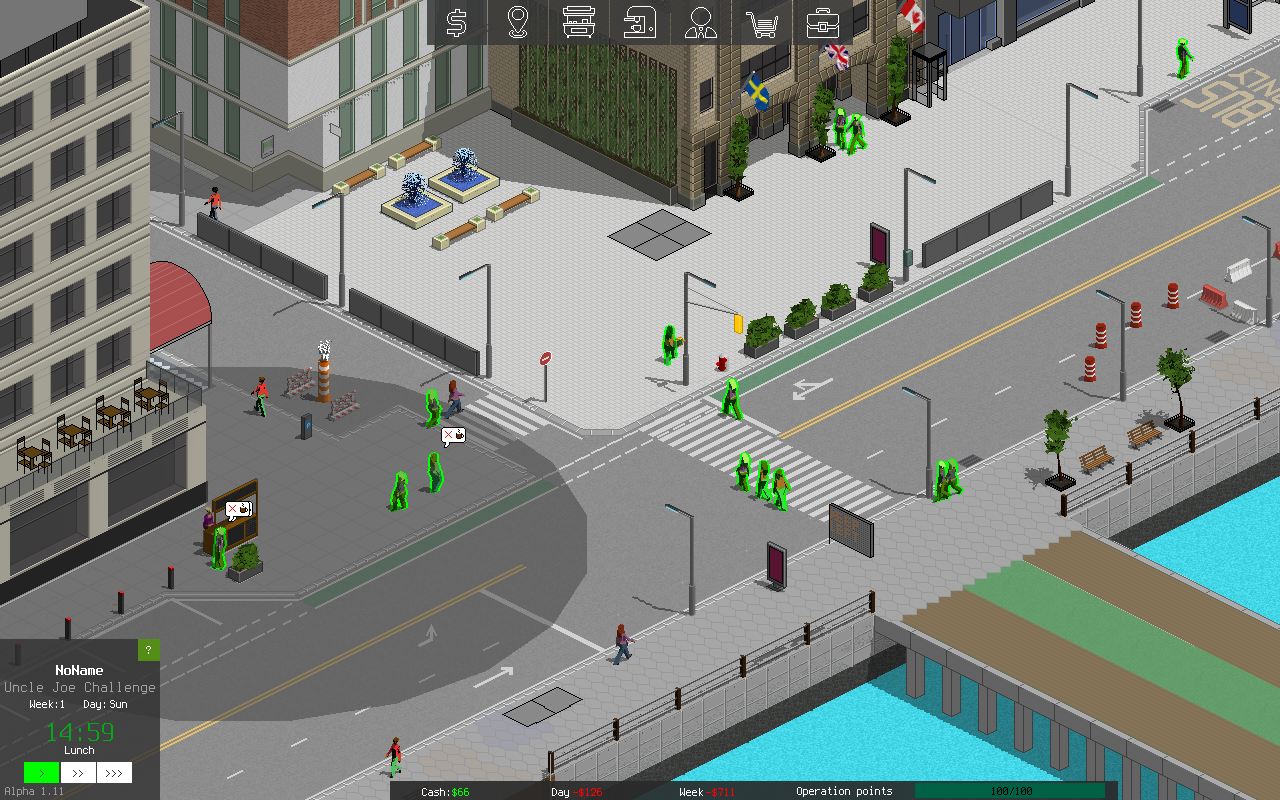 Some features in development (coming in Alpha 2-3).
Branding – create and promote brands specialized in different marketing strategies
Marketing guidelines – create advertisement guidelines to improve outdoor advertising
Custom menu – create specialized menus with accents on some recipes or extras
New adv types - a man in costumes, draw on the floor