Hi everyone!
Soo I finally made a page for Chronicon here on IndieDB. I realize I should have done this a lot sooner - this place is great!
I figured I'd start making weekly updates on here on what I am working on, & provide screenshots and gifs when possible. So let's start with that right away!
Devlog #1
This week I am working on adding mouse support to the interface, player movement, & interaction with the world. It's not the most fun or interesting thing to do, but it needs to be done at some point. I have been procrastinating this for quite a while as I was working out a lot of design details with the interface. Instead, I just wrote the gamepad code, which basically works the same at all times, no coordinates to keep track of and such. This way I could focus on gameplay & content over adding boring mouse stuff.
Here's a gif of the inventory navigation when using a mouse (and a sneak peek at some of the better [and rarer] items). Pretty simple!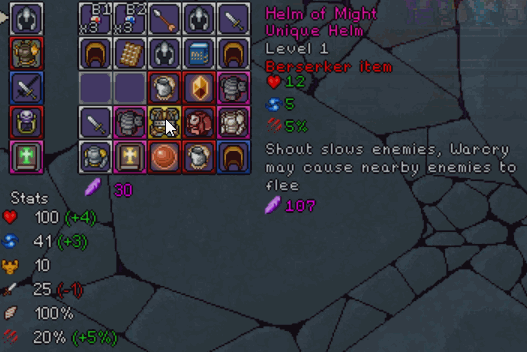 I'm also adding in a more classic way of movement as an alternative to the standard WASD movement - the click-to-move option. Similar to what you'll find in games like Diablo & Torchlight. I think this type of movement will be more popular, especially to the old-school gamer, and I'll probably make it default to that. In addition to that, I've been adding a few different options to how targeting is handled - particularly if they should be "sticky" (target remains even if you move cursor away) or not.
I have a few more core things like these to finish up this week & possibly during next, then I move on to much more interesting things: the second chapter of the game with fresh new content.. and a whole new world.
Stay tuned!
Oh, and don't forget to check out the Greenlight page!
Steamcommunity.com