Game Beats
A lethal virus has infected Treasure Island,San Francisco and it is up to Captain Winter, a U.S. Army soldier working with the Center for Epidemic Research and Control (CERC) to stop the mysterious and deadly Pangu Virus from spreading to the mainland. The Cepheus Protocol is an independently developed top-down RTS inspired by XCOM, Company of Heroes, and Parasite Eve.
In Cepheus Protocol you will make decisions that will force civilians to either rally behind you or attack you outright. How you decide to combat the virus is entirely up to you. Will you fire bomb and leave no trace of human life behind or will you try and save everyone at the cost of your squad's safety. The game features a full day and night cycle and will adapt over time to make the Infected more dangerous as the days go on mutating and adapting to combat the player at every turn.


Tentative Steps Towards our first internal build #2
This weeks blog post i will highlight the progress we've had over the week. Across all the various divisions we've had a good amount of progress as we work towards our first internal build.
Animation
Philip has been working on getting all the gameplay animations implemented and situated from radio call ins for some units special abilities to establishing blend-spaces and ranges of motion for all the various weapons. All still WIP
Concept
Now let me introduce the first special class the deadly Spitter class. Spiting acid at its enemies to melt through metal and flesh alike. They will be a huge adversary to your troops, when your units are placed to tight and for armored cars. Their razer claws make them just as worthy as an assassin in close range, they are a special class to be feared in mid-late game as the mutation worsens during the game as the days carry on.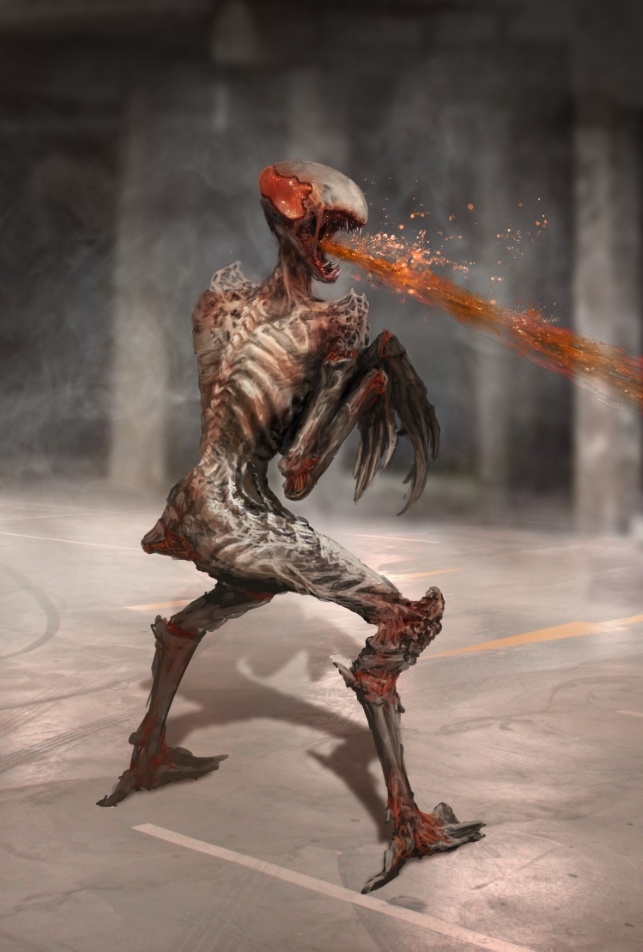 Bongani
Worked on setting up some mood painting for the level designers and to help establish lighting and overall feel. Still works in progress but they are coming along.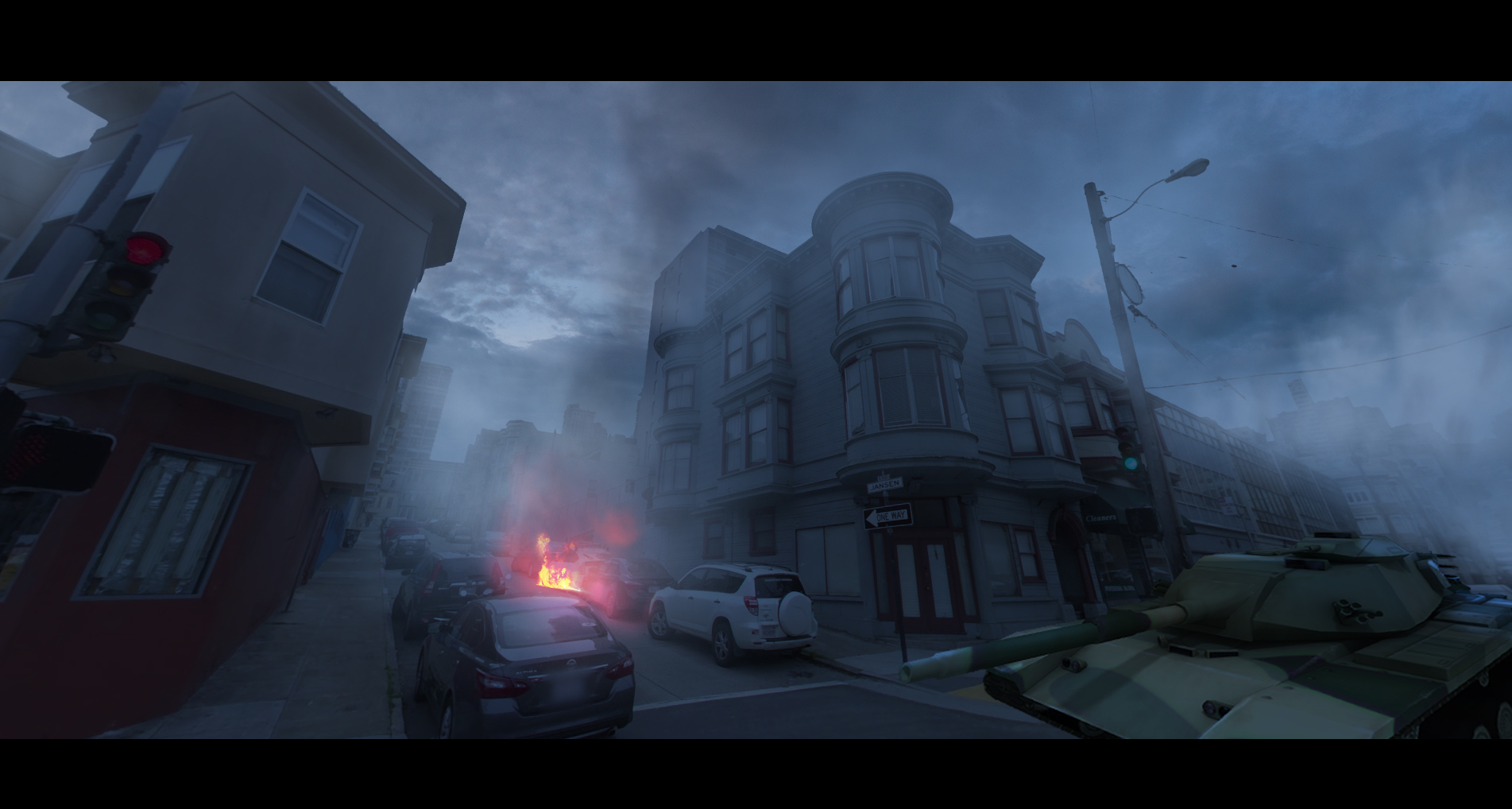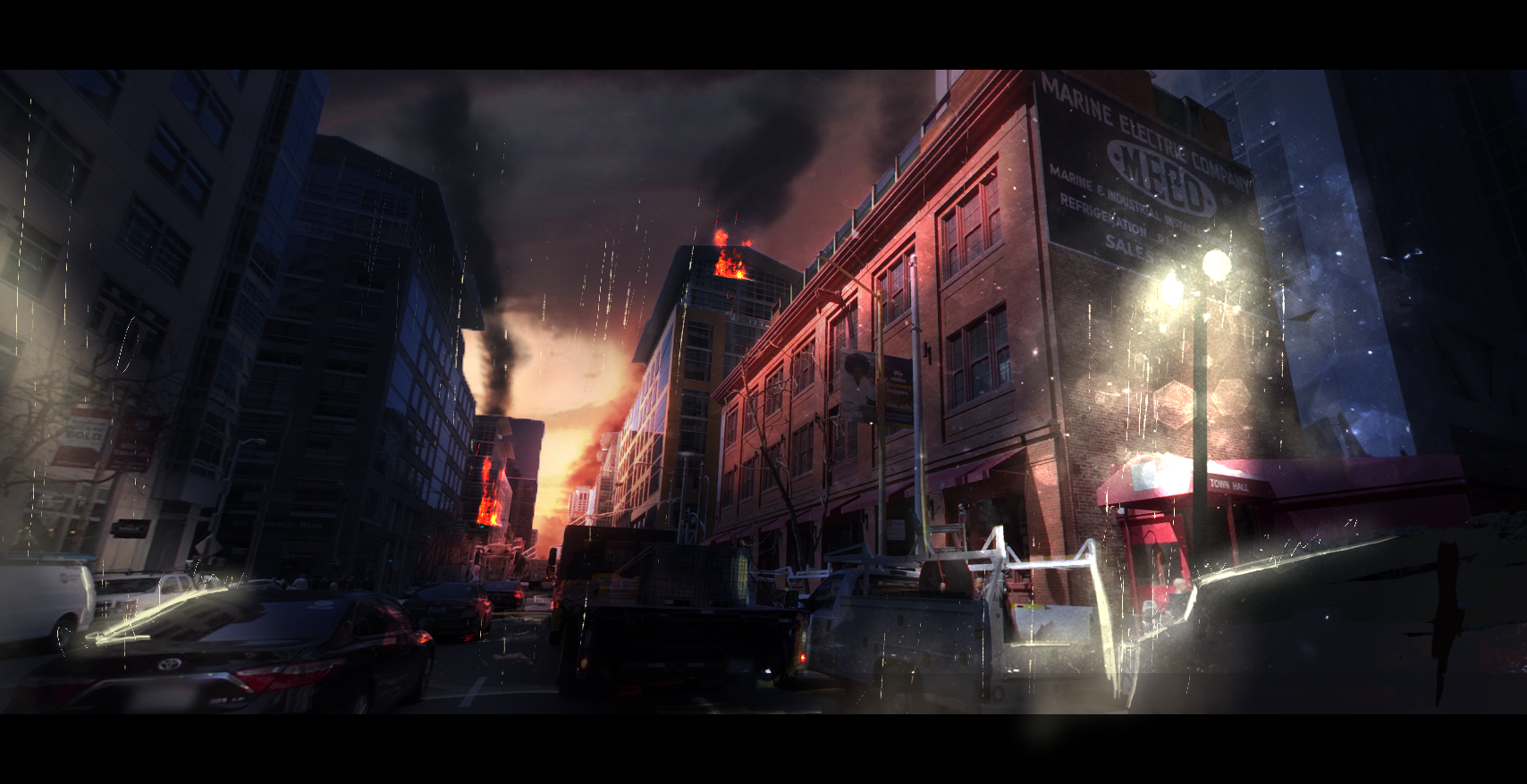 Modeling

Dimitry
Worked on the Barracks structure and continued planning and working on the other structures.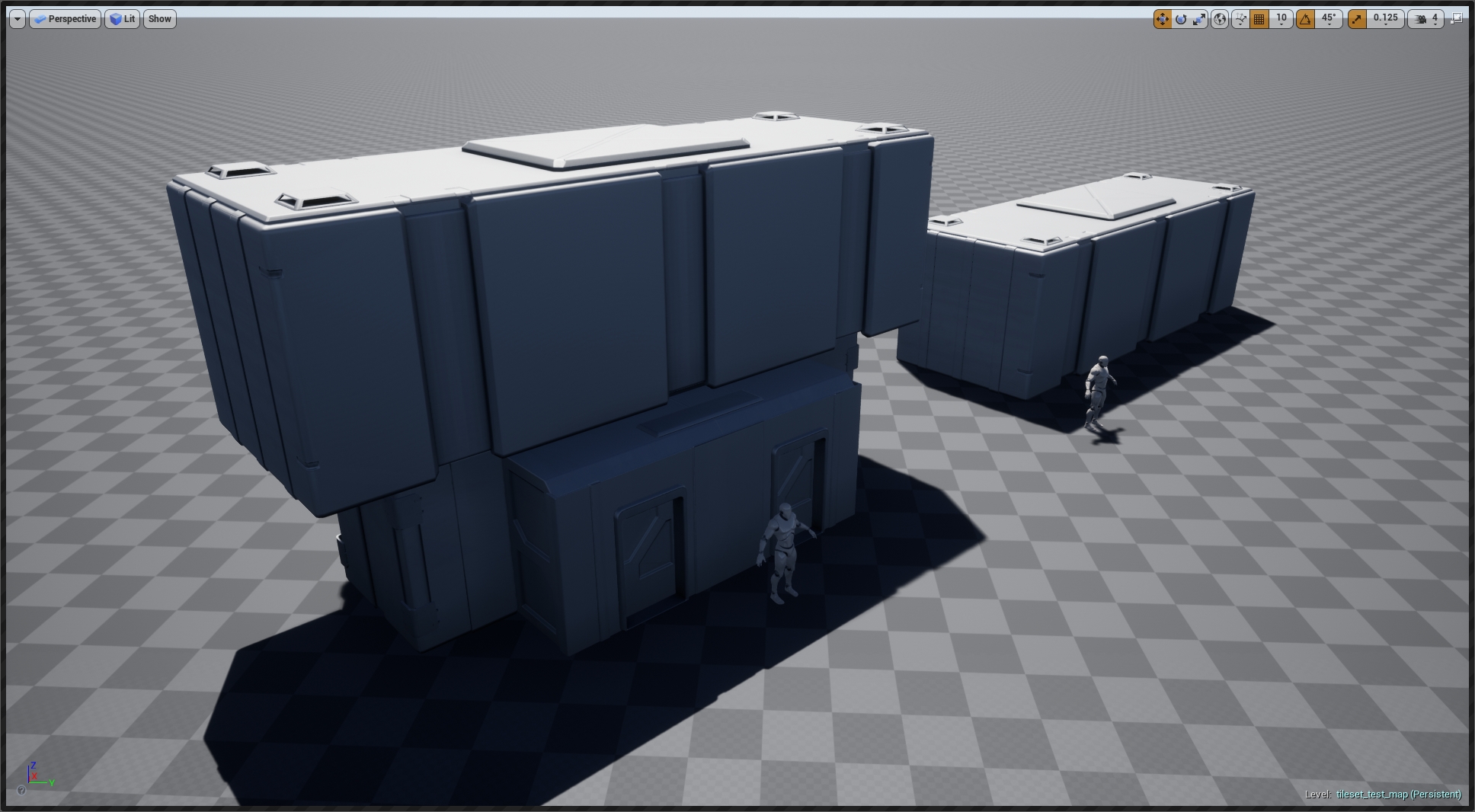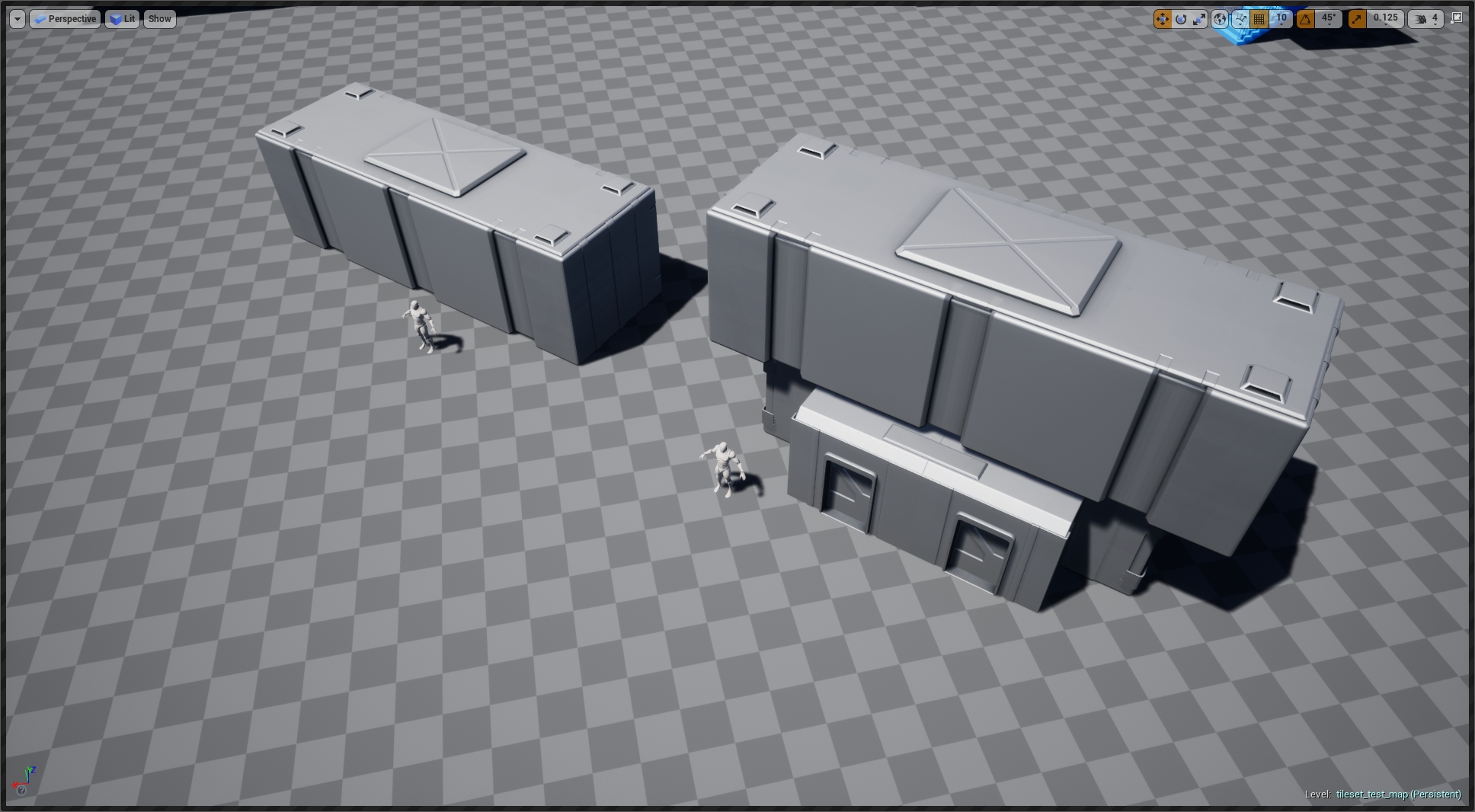 Rich

Blocked out the Striker and started on blocking out the Blackhawk blockout . After that we'll start to do final texture passes on all the vehicles.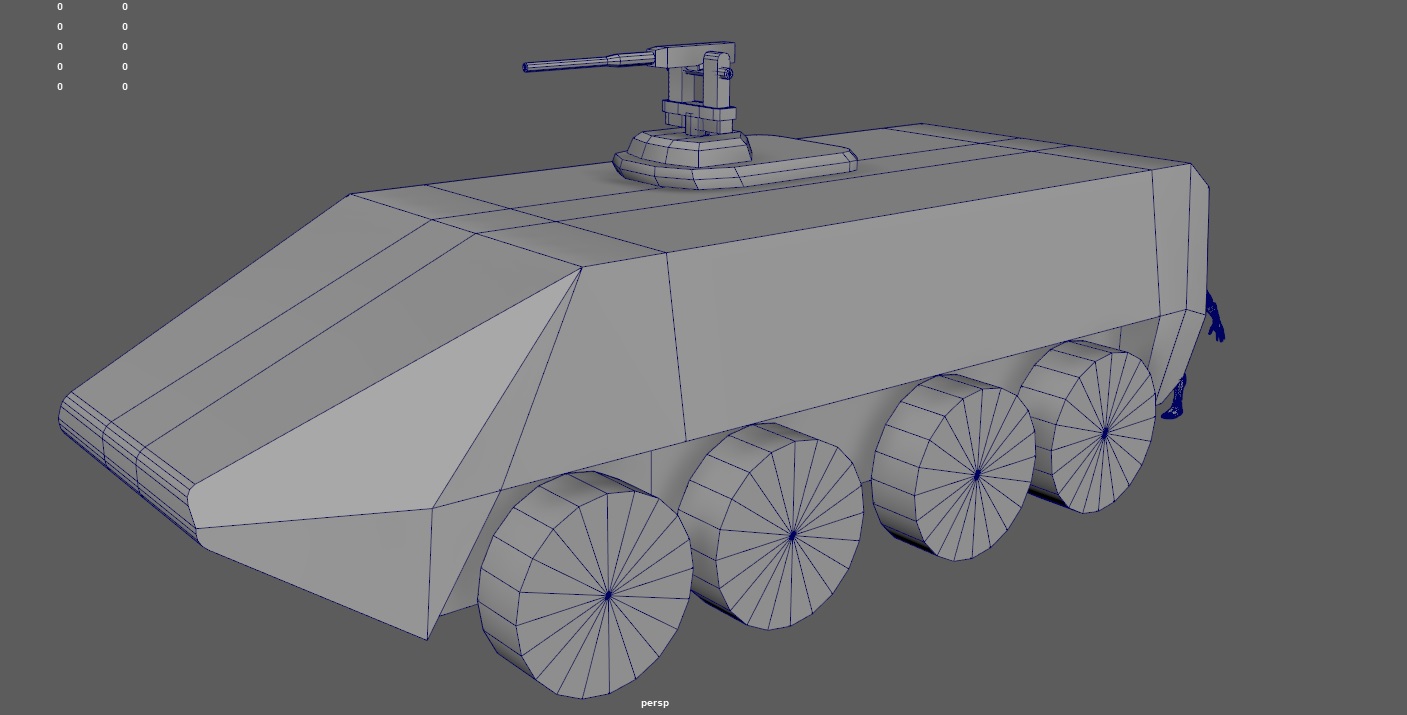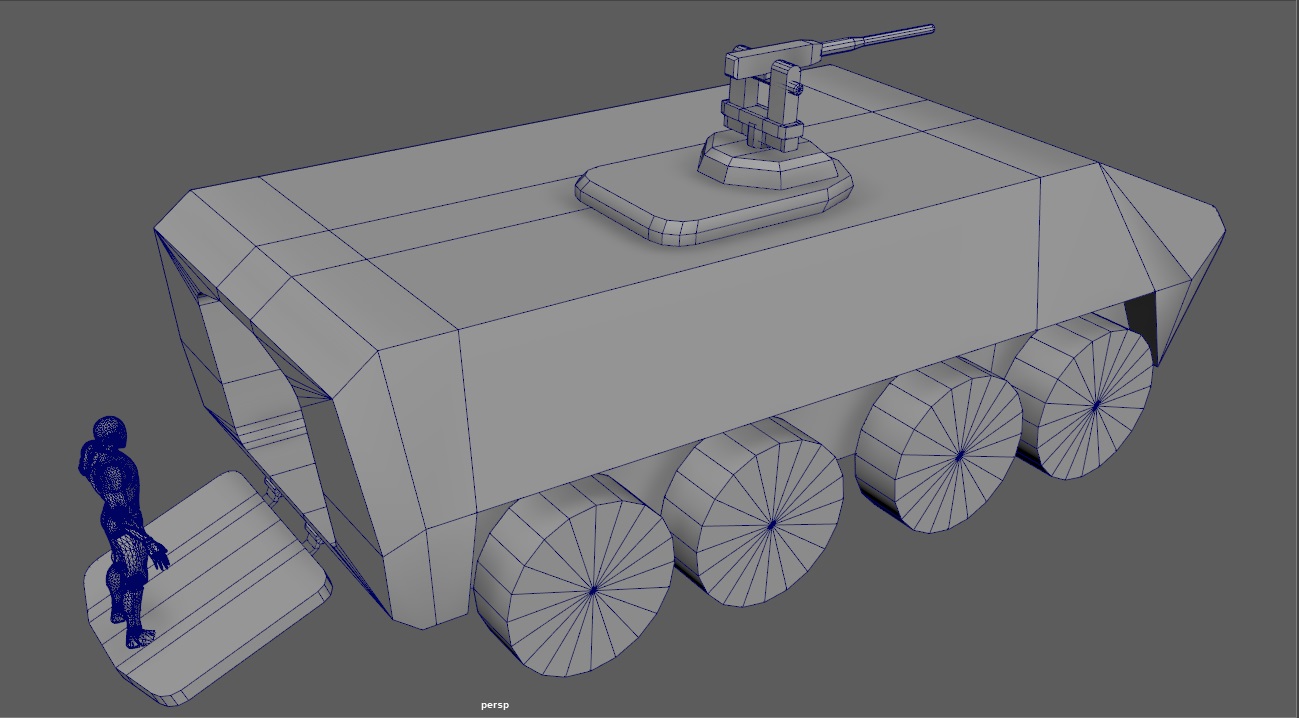 Elfrain
This week we decided to show a bit more of the currently planned 11 weapon types. As you can see we have a lot of different weapons. Some like the .50 sniper will be good for taking out special infected but in-practical in urban combat environments when being massed. They will basically be your best weapon for targeting and taking out special infected before they can get a jump on your men. Larger weapons like the Machine guns will be attached to your guard towers you will erect around your bases like the Browning Machine gun. Smaller more squad base machine guns will operate in terms of crowd control when things get hairy. Bullets will have a penetration system that will allow hits to penetrate through several infected at times depending on the caliber of the weapon shot.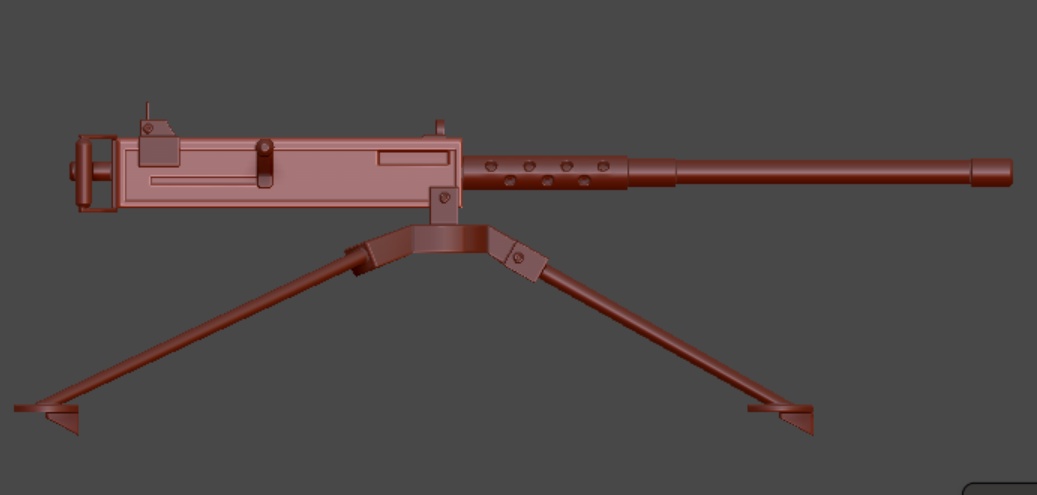 Level Design
Jacob worked on catching up on his planned blackouts shown from last week and we continued adjusting and tweaking as necessary. We ended up scaling Jacob and Antons section to make it more uniform with Joel's right island. We also worked on setting more standards internally of minimum road widths to ensure they complied with the GDD.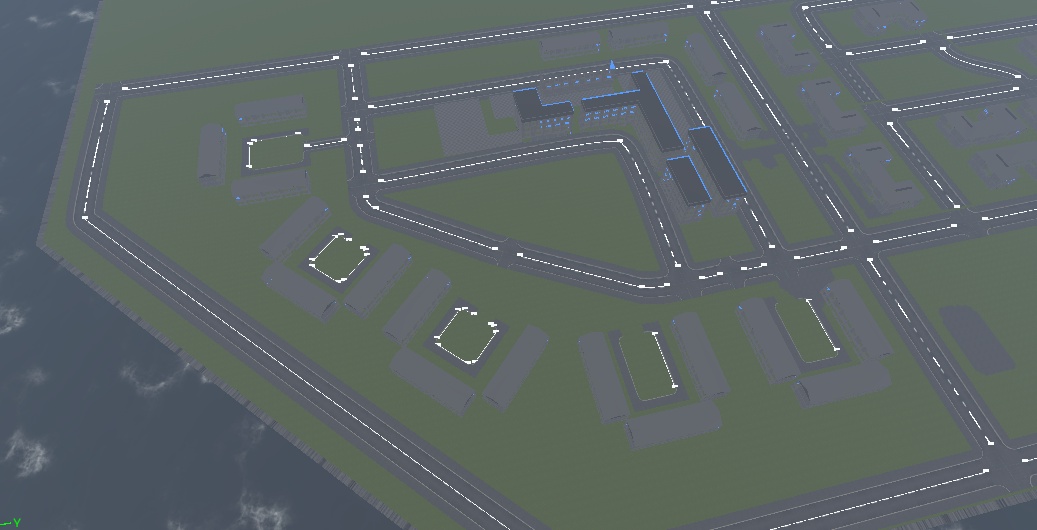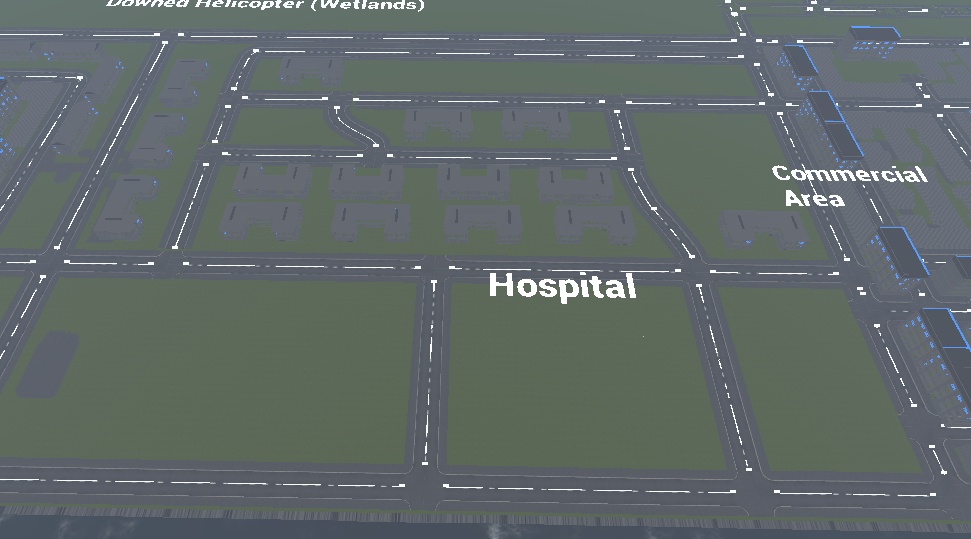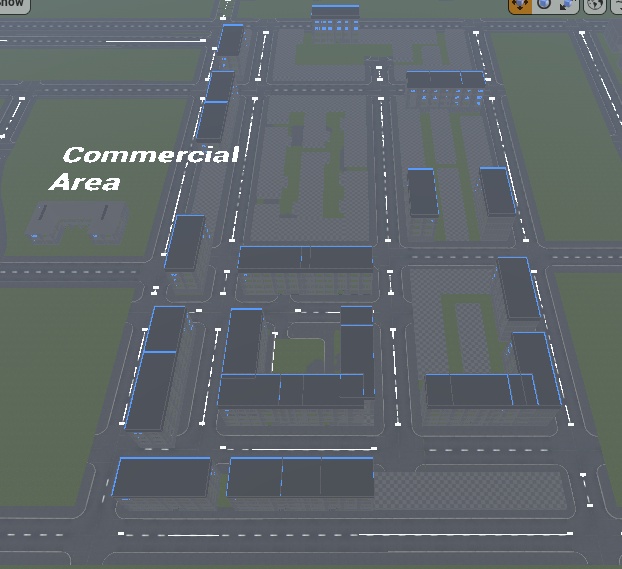 Jacob also worked on mission breakdowns and planning for our first internal build getting everything situated internally so things are properly planned out for when we transition to blueprinting and scripting for player missions.


Joel
Worked on further tweaking and placing the player starting base, and after further discussion we're adjusting and tweaking this area further, to better facilitate the gameplay we want for this player starting region. We will detail and show more of this areas progress as we proceed. It should be noted these areas are still WIP and will be changing as we work on them.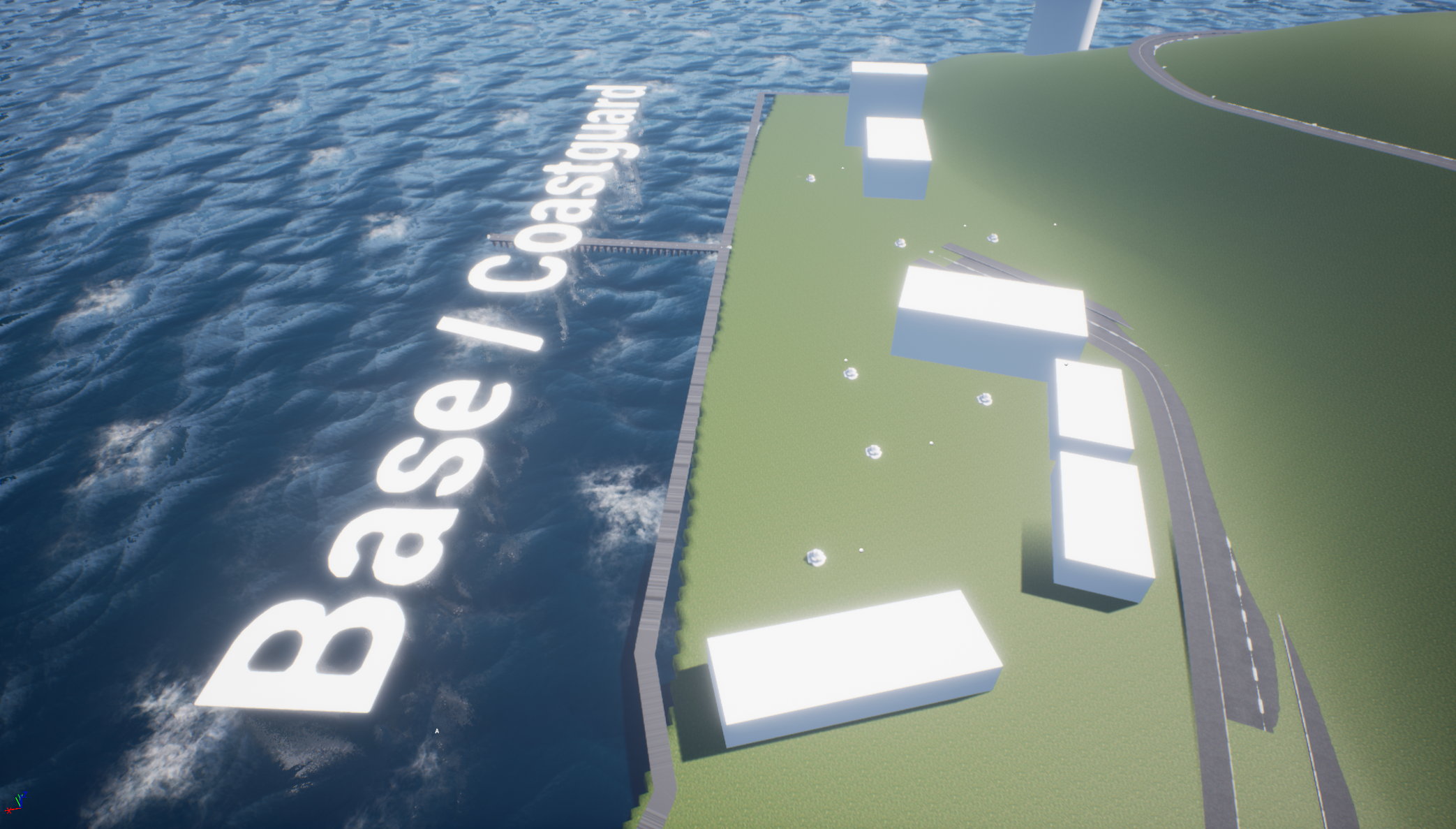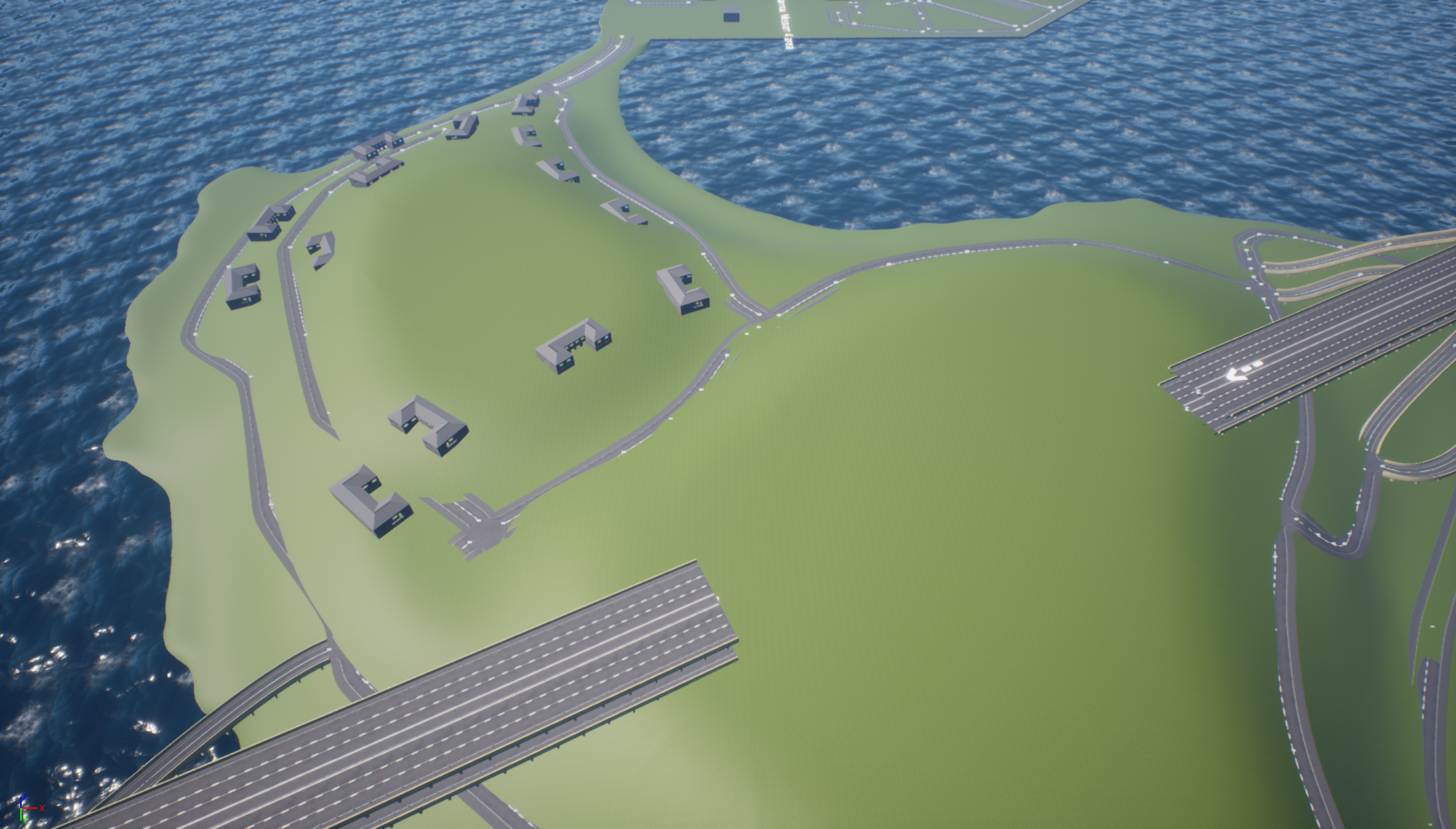 Antons
Figured out building placement and got the roads situated for his section of the island.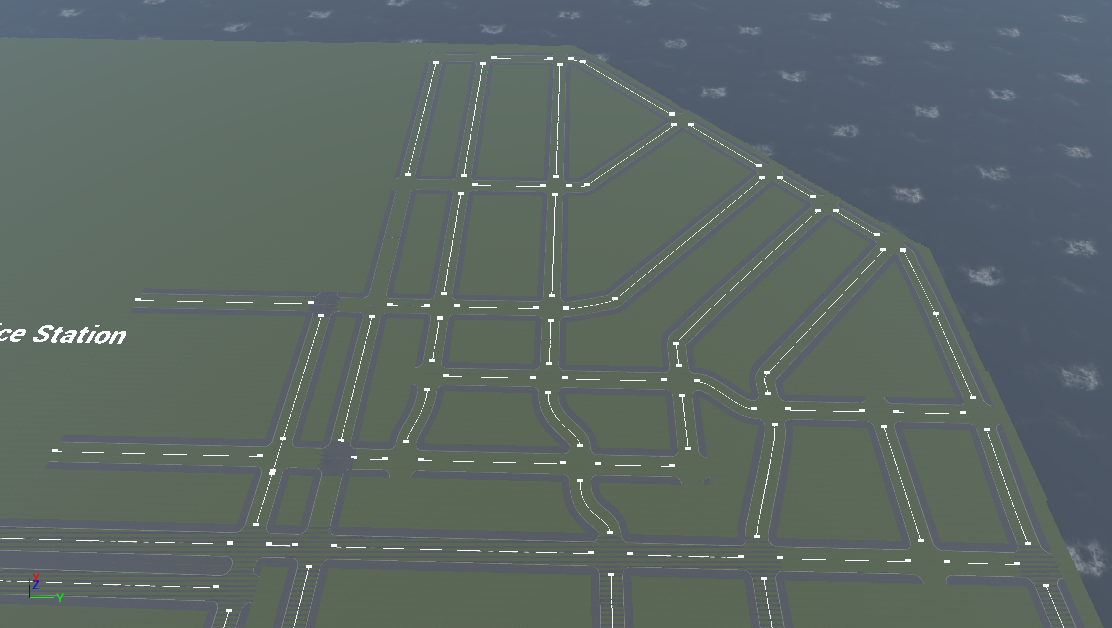 Programmers
Free-look was fully implemented as with Right and Left Rotating for the player camera.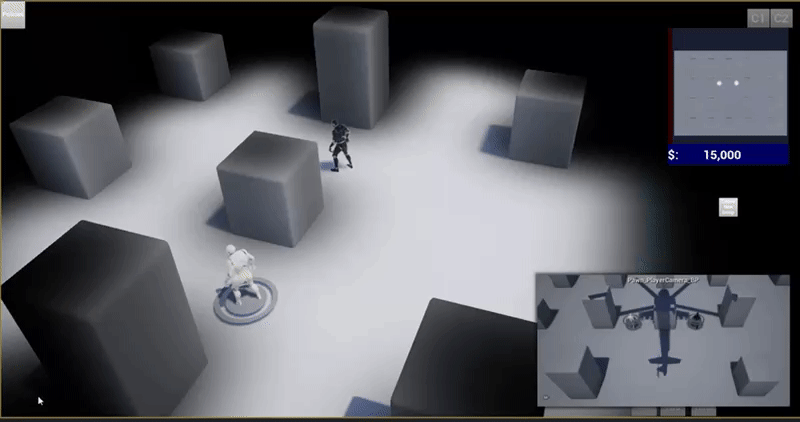 Derek
Implemented the base Fog of War System and Tighten up squad formation and Loosen up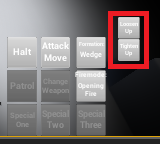 In later version we will be switching the more average fog of war system to one directly based on their peripheral vision. I.E Any area you dont have a unit actively looking at will result in a gray area appearing. Making it extremely important that you actively move in formations or staggered positions to give you units proper line of sight to ensure nothing sneaks behind you.
Recruitment
Currently we are seeking talented individuals in the following roles. It should be noted the project is post launch compensation and we are incredibly willing to work with any individuals schedule that might be interested. Feel free to send me an example at with your reel.portfolio and/or website.
Animation
Prop Modeling
Character Modeling
UI Designers / Concept Artists
Email : recruitment@halcyonwinds.com