Finally, we're here with a new content update for you guys. First of all, I'd like to apologize for our complete absence. Fear not, the game is progressing well :) On the programming side Candle is mostly done on its core since January, and we have even been running some optimizations as well, on both computers and WiiU. However, the watercolour graphics are slower to produce than we expected, so it's taking longer to have new sprites, that's why we are now trying not to rush updates as before. Each new full scene (main zone, backgrounds, items, animated objects) is taking us around 2 weeks to be fully painted (many of them even more), and there will be around 25 scenes in the final game, so you can do the math. And that's just for the levels, so add some extra time for every character and all their animations (we have, literally, more than 200 watercolours painted, mostly on frame-by-frame character and in-game object animations). This is an insane process and we've been working like slaves lately, but it is such a rewarding experience that we barely noticed all the time we've spent on it!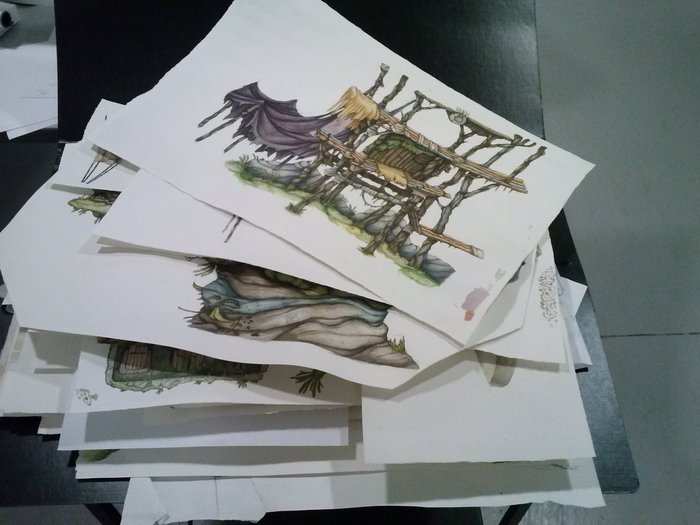 Tons of new content
So, what exactly have we been doing all these months? The thing is that we've been interviewed a lot in the spanish media and podcasts, so spanish people have been reading news about us much more regularly. International media and podcasts are not as interested on Candle (yet!), so if someone out there wants to interview the team, just contact us through our web mails!
Now about the game: coding is not the big deal anymore, so the team has been focusing on having as much new art as possible. We now have several more scenes, items and characters working, and we've made a lot of improvements in our UIs making them finally functional.
Here you can see a plethora of new content, just for you! (we're not showing them in-game because we want to keep the game as much spoiler-free as possible for you)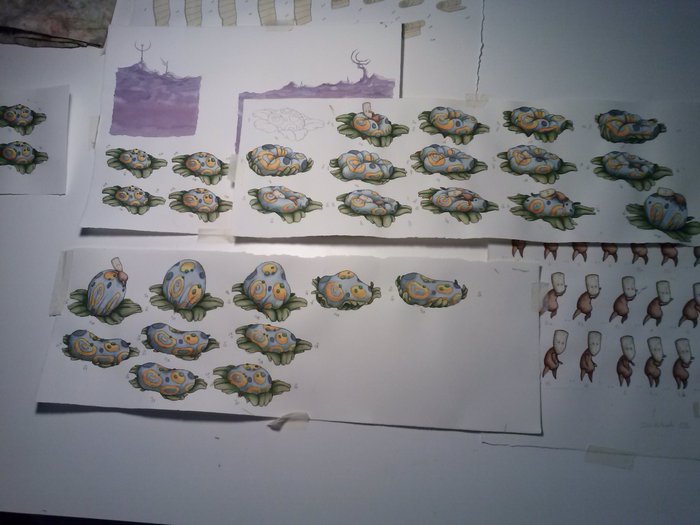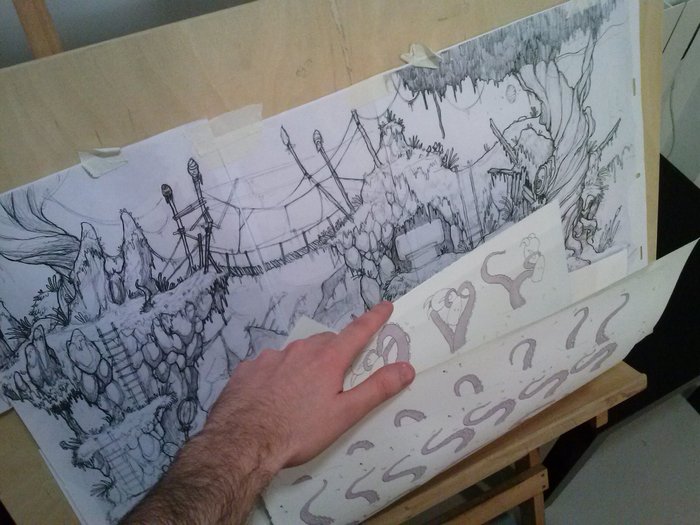 The UI system for Candle has also experienced a huge revamping. As always, since a screenshot is worth a thousand words...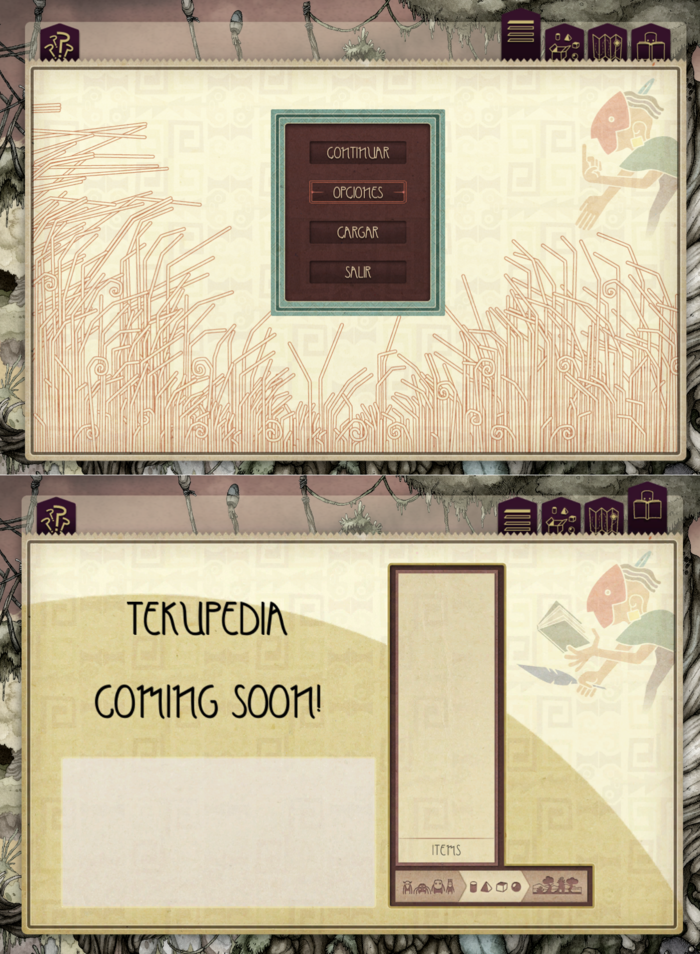 As Elena was designing all the interfaces and menus, we realized that a handmade approach wasn't what the game needed. The UIs felt odd and out of place and we wanted something more clear and distinctive, so she decided to go all-digital. You can see the results above. The menus feature the classic Options and Inventory panels, as well as a Controls panel (as a reminder) and the Tekupedia, a place where you can check for info on everything you discover through the game (new characters, places, animals...).
Speaking of which, we've also been working on some pop-up minigames. Through the game, Teku will find several interactive minigame panels to solve, for the sake of diversity. Not every gameplay mechanic is based on the candle, as there will be many items to pick up and use, the pop-up panels, etc. We're designing every puzzle and minigame in Candle so you need to pay attention to details. Often, you will get stuck somewhere until you do some exploration. We want Candle to be a very visual experience, and so the scenery is filled with subtle clues that will help you solving the puzzles. A tribal painting on a rock, the looks of some sculpture... Details are key, so pay attention to the environment.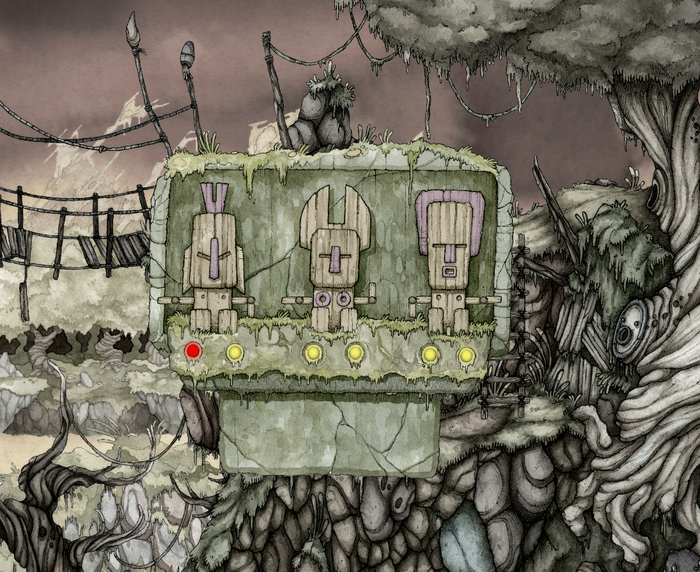 Enemy AI
Possibly our biggest step forward in the development. As we told in our campaign, Teku isn't the only dude out there: Candle features two rival tribes, the Atipax and the Tumayku. The members of the Atipax tribe, the Wakcha, attack Teku's village at the begining of the game and that event drives the entire plot.
span>Since Teku can't attack, the gameplay with the Wakcha will involve some stealth sections to avoid being detected (trying not to make any noise, turning off the candle if it's at night...). As for killing them, Teku is not able to do that by himself, but there will be numerous ways to get rid of them, like traps to capture them. However, if Teku isn't successful... well, guess what.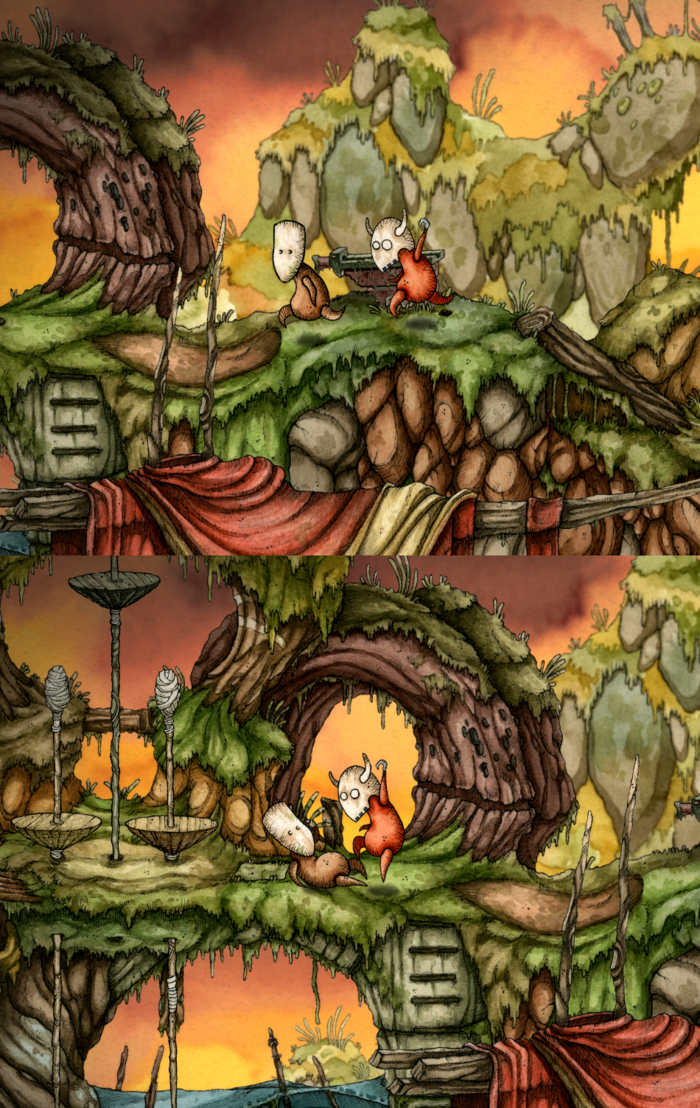 Audio and voiceover
We have also added a key element in making a game feel like it's a game: audio. We're making the first music tests and two more people joined the team to take care of the SFX design, and we are now throwing in lots of effects for basically anything that sounds (all kind of steps, ambients, sounds for particles, etc.). Now the game really feels like a compelling experience, rather that a silent character in Silentworld, and that helps us feeling excited when replaying some scenes for the thousandth time, which is nice.
Also, we are working on having awesome actors for the narrator voice throughout the game. Since we couldn't reach higher stretch goals during the campaign the voice acting will only be in english and spanish, but it will be top-notch, promise. We can't reveal anything for now, but the answer to 'who will make the voiceover?' will be a nice surprise for you when we talk about it.
The Beta
Candle's private Beta will arrive soon for all those who pledged for it. We will send you the first big zone (AKA "level") of the game, which will be up for 1-2 hours of regular gameplay. Then, as we make new scenes we will be updating it to the testers so you can give us enough feedback as we build new areas and puzzles for the final game. We want to send the first Beta builds around May, hope that we make it on time!
The Beta will only be available for PC, Mac or Linux. We will send you a survey very soon.
The future
'So, what about an estimate on the release?', you may think. Well, we first promised January and we couldn't make it, and although the development is progressing well, the watercolours are incredibly slow to produce and, as I wrote at the beginning of this post, everything is taking way longer that we initially expected. We can't reduce the level of detail of the paintings since that would be a huge downgrade for the game's quality, and we can't make digital sprites either because that would be pointless (Candle wouldn't make any sense without the actual handmade process).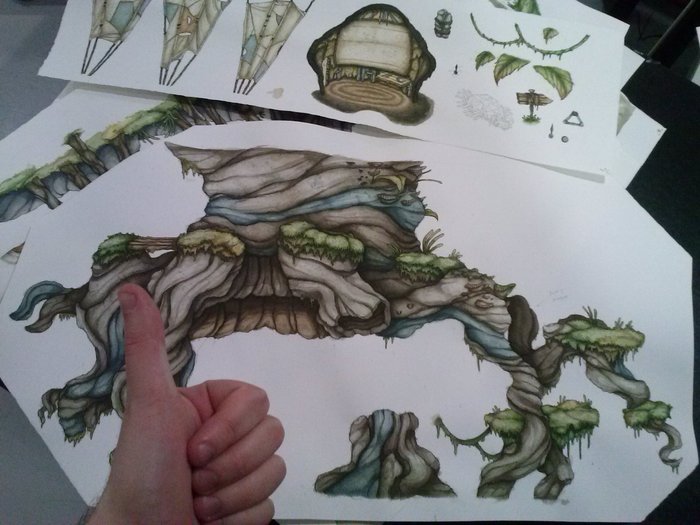 That's why we must announce that we don't have a firm release date anymore, even we can't know it for sure right now, so here it goes: When it's done. We still want to release Candle this 2014, but if we do make it you should expect a late release around Christmas, definitely not before.
On the bright side, we will now write updates on a more regular basis. They will still take some weeks to be posted, but we won't keep you wating another 3 months again. In the next updates we will introduce some characters, maybe show some new zones (although we really don't want to spoil anything). Lots of things!
Cheers,
-Mike