Hello trackers and readers!
Today I will show you a new gameplay mechanic - the "Finger Enchantment System"! ... Because it
is good to have fingers... right? ;-)
First you should know that you can find different kind of consumables in this game. For example potions and enchantments. Enchantments could be magic effects or bullet types which change your magical or physical abilities.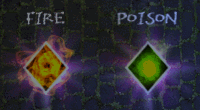 If such an enchantment drops and you touch it, it will pop up a big animated hand which shows you how your shots are spread to each of your fingers. So the hand is the real hand of the player. It also has the same skin color like the player.
Now you can choose which finger you want to enchant with the new magical power.
For example: You found a fire enchanment and you want to enchant the little finger which is connected to an earthball. You press the button "B" on your controller or "D" on the keyboard and then the fire effect is applied to your shot. Now the earthball morphs into a fireball.
Later you could morph it into a poisonball if you find a poison enchanment or into a fire skull shot if you find a skull shot enchantment. The possibilities are endless.
For each enchantment you set stat points for your character too. Each finger has it's own strength:
Little finger: + 1 damage
Ring finger: + 0.2 Speed
Index finger: - 0.5 Time
Thumb: + 0.5 Range
Wait... these are only 4 fingers !? Yes, because the player has only 4 fingers :)
That's the reason the player has 4 regular shots. Later it will be extendable but I don't want to tell more this time.
There is one important rule:

You can enchant your fingers how much you like, but you can't enchant 2 of the same enchanments on one finger in turn! So if you enchant fire on one finger, you can't enchant fire again on this finger. But if you enchant poison on this finger you can enchant fire again. Same rule applied for physical enchantments like skull shots. It's easy.
But enough talking. Time to show this game mechanic in action! In this video you will also see some fighting scenes after some enchantments.
Have fun!
And remember to track this game to be always up to date. In the next news I will introduce the physics based damage system! And some extra stuff for fun!
Have a nice day.
-sqrMin1