Firstly we'd like to thank you again for our success to date, with almost 70,000 bundles and over 350,000 games sold in less than a month. We're proud to debut our third bundle -- including five top PC indie games, available at IndieRoyale.com right now. (Those with preorders can download or redeem keys at any time.)
The 'Really Big Bundle' is led by the title that gave the bundle its name - Boss Baddie's crazed space shooter Really Big Sky, packing a whopping 12 game modes and local 4-player coop into its beefy, feature-filled frame.
Also now revealed as part of this bundle is Dutch developer Mystic Box's underappreciated Runespell Overture (also available on Mac for bundle buyers), an RPG twinning collectible cards with poker-based combat in extremely playable and innovative fashion.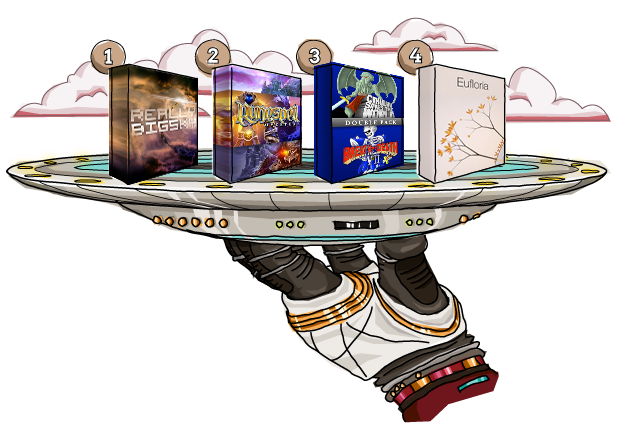 Additionally part of the bundle is the the PC version of Independent Games Festival finalist Eufloria (formerly known as Dyson), an acclaimed 'ambient space exploration' title that's been a staple of independent game showcases over the past couple of years.
And finally, Zeboyd Games' cult indie RPG duo Cthulhu Saves The World and Breath Of Death VII - twinning Lovecraft-ian spoof with Japanese RPG pastiche of the finest sort - complete the five titles in the 'Really Big Bundle'.
Those who preordered, as well as those pay more and get a 'Star' to drop the price during the bundle will also receive a bonus 'thank you' in the form of Fez composer Disasterpeace's chiptune concept music album 'Rise Of The Obsidian Interstellar'. (In addition, all Bundle buyers should check back towards the end of the bundle for further bonuses from the creators of the games included in this pack!)
Once again, thanks for caring about some of the emerging titles we're taking the time to showcase here - please contact us if you have an questions about anything to do with Indie Royale.
And don't forget you can follow us on Twitter, Facebook and via Widgets + RSS for breaking news and info about this and other Indie Royale bundles.