Dev Video Update 9
We make new developer updates every 2 weeks, updating everyone through our Newsletter on our site here
Updates Featured in this Build
Core Focus
The focus of this update was increasing immersion and reworking remaining "mobile-lite" features to be more PC friendly.
Teo Added into Town
Teo now appears in town, spawning in from the location that you came from as well.
He runs to all NPCs and locations you click on to go to. (He doesn't have a non battle Idle/Run yet, but that'll be coming up to help him appear more friendly in town)
Dreamland Rework
Teo also added into Dreamland, he runs to all materials, and swings his sword to break them.
Dreamland harvesting system modified from simple spam clicking to destroy materials, to using a precision meter that puts some timing and skill into rewarding for more materials
Auto Loot
To avoid having to spam click all items that drop, in both dreamland for materials and battle for loot, loot now auto collects after dropping.
New Victory Screens
The victory screen went from a very simple "3 stars" that were reduced only by death for your total reward. Revamped to show 2 screens now.
The first screen is a loot screen, showing all loot, icon and quantity that you collected from the battle
The second screen is a grade rating screen, based off of how many deaths, how many hits taken and the time it takes you to kill the boss, you earn more rewards and a higher rank.
New Battle SFX
SFX added throughout battle
Teo's attacks, and charge ups all have SFX now
Teo's shield uses a low pass audio filter, which creates a bubble type effect, lowering the audio from other sounds and music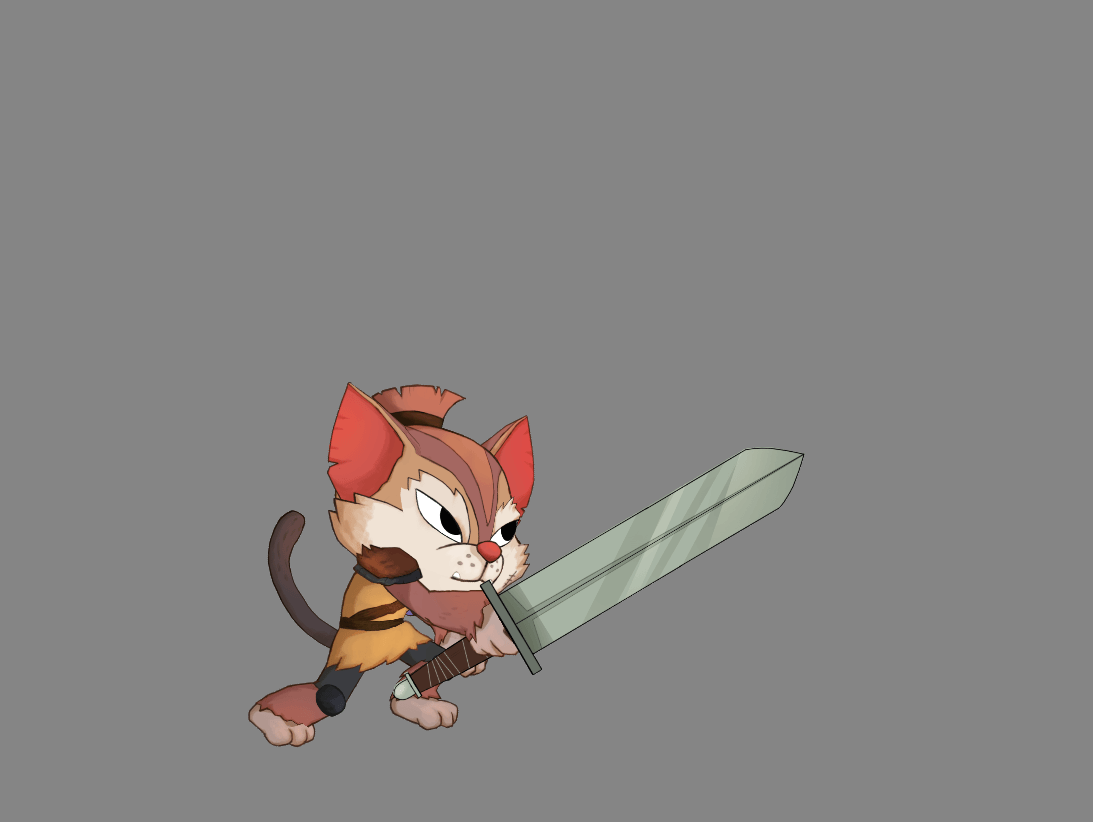 Upcoming Update
The next update will focus on bug fixing, polish and implementing animations as they come in.
Along with more minor feedback suggestions that have been building up. (Some things like allowing the player to change back directions when running, speeding up the time to charge up attacks).
Animations are very exciting at this point. We have Gallow with a few more of his animations almost ready; Attack 1 and 2. Teo has a bunch of his VFX as well being added into his animations. Hopefully in this next build we'll be able to show off more of these. Once Teo's VFX are done, our second animator will work on the second boss Skullako. And pretty soon we'll have a third animator beginning on the third boss, Mittux.
More Art
Showing off our last boss for the demo, Mittux. This boss contains a main form as a mouth and minions as eyes that revolve around him.
This image shows off his early concepts (Top left), Roughs (top right), some attacks and abilities (bottom left) and his finals (bottom right).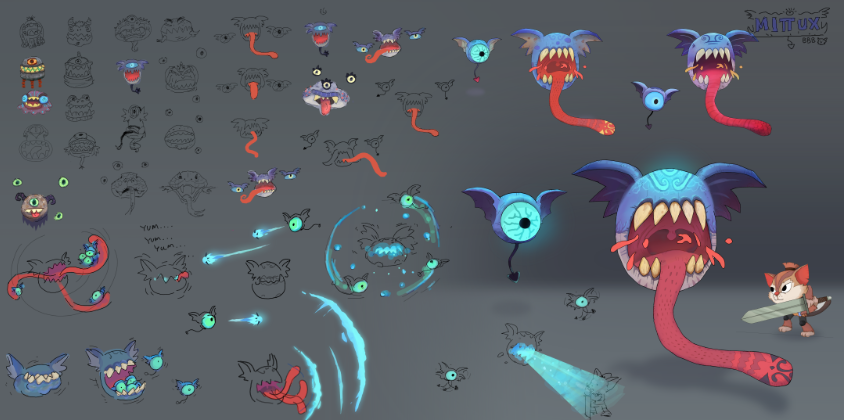 Follow us!

We're aiming to hit Kickstarter in 2019, and we'll need all the backers that can help us!

Subscribe to our Newsletter
Join our Discord to talk directly with us
Follow on Twitter
Check out art on Instagram
Wishlist on Steam