You know what is really scary? Spiders. So naturally we did the most logical thing, we amassed a large collection of very scary and very poisonous spiders for review by our art team. While they are now refusing to leave their rooms (until we manage to find the spiders that escaped), we did manage to get a pretty rad enemy out of it, meet the Skitterbot.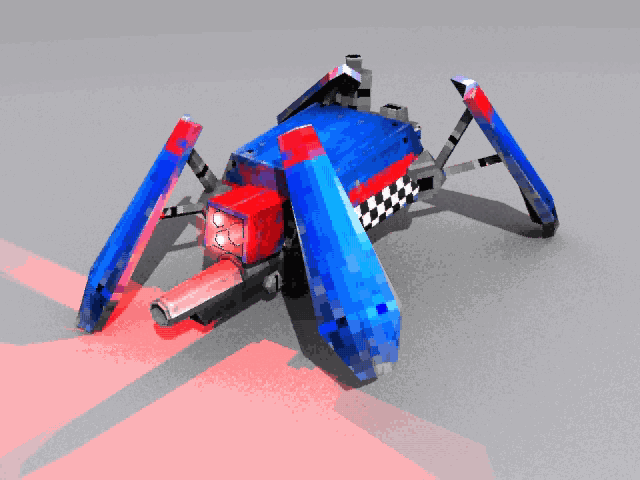 A bug on a mission...
EIther spawning on their own or deployed by mechanically-minded enemies, Skitterbots, for lack of a better term, skitter around the map in search of unwitting players, looking to approach and strafe them outside of their line of sight. The Skitterbot will always try to keep a good distance from you however, seeing as low health doesn't exactly lend itself to durability. Should its sensors detect that the player has gotten too close for its metallic comfort, it will jump away from the player, forcing them to track it down again.
Because of their small size, Skitterbots are a hassle on the field, easily capable of doing as much damage as a Grunt while being much harder to hit. They can use shotguns, machine-guns, grenade launchers and both Green category weapons, so you never quite know what you'll be facing; like a Black Widow spider you can check their markings to discover what sort of poison they're slinging. Fortunately, they are very fragile, and the bright lights of their sensors and clatter of their legs mean they won't be sneaking up on you.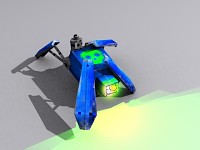 This one, for example, is extremely venomous. And has a flamethrower.
While regular updates will continue, covering new weapon and enemy categories, gameplay information may be a little scarce for the next little while, as our programming sector chugs away at the final version of our level generator. Watch this space, however; soon after it's completion we plan on beginning work on our Kickstarter effort and bringing out the first gameplay alpha.