Now is the time to introduce the next character of the game: Sean. Sean is a good detective with a little problem: he drinks too much. But now he's a bigger problem: his sister... Ava, a young reporter. She went in the quarantine area a few hours ago and now she could be in danger. He has to find her.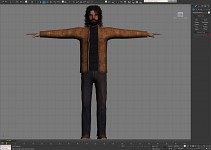 The model has been made using 3D Studio Max using a large number of polygons ( over 30000 ) and normal mapped textures:
Hair has been made using a technique which allows us to make them moving.
Next step: animation.
Remember our links: XeniosVision Facebook Twitter