Hi
Progress is going smoothly with the game (sadly, my sleeping schedule is paying for it but it'll get better) so here's a few things I've been working on:
Interaction:
Outside of the combat, the game functions in a very similar way to other RPGs, you move your character with the mouse, you open loot containers and talk to NPCs. That's why I needed to get this core feature ready soon, you can see it working in these videos:
Starting dialogue with a NPC
Opening a loot container
New monsters
There are 3 types of monsters at the moment: common, rare and unique. The unique monsters are a central element of the story so of course they are the most powerful and detailed, you can see two here:
Abaddon, a legendary monster that many have tried to capture or kill without success. He rules a volcanic dungeon. Named by the Empire's Church and considered the embodiment of evil.
Samael, a monster recently discovered and considered a miracle by the Empire's Church. Captured by the Wild Walker (a major character in the story).
I also worked in a few common monsters like these (unnamed at the moment) bug monsters:
In this video I'm using them to test different elemental attacks that will have temporal status effects for their targets (hopefully I'll have that feature ready during this month):
Story
I'm currently wrting a script and I have a general idea of the story of the game. What I can say at the moment is that the game tells the story from the point of view of a narrator, in this case an old man telling a story about beastmancers to his grandson:
Interface
Of course, the UI work keeps going, there's no way around it, a game like this one must have several different panels and controls to deal with inventory (for items and monsters captured) and for the character skills and data.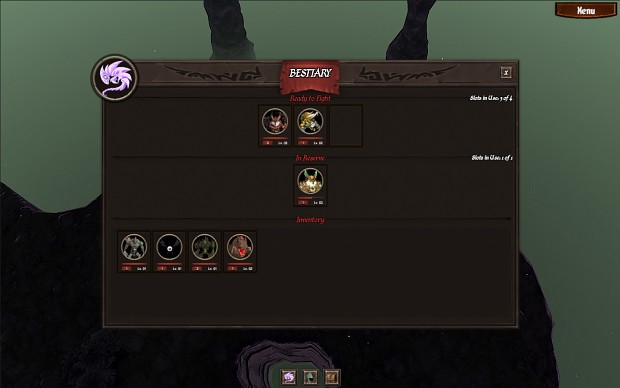 Bestiary: this is your monster inventory, where you can assign them to your battle formation, reserve or just store them (I had another version of this panel but I think this one looks better).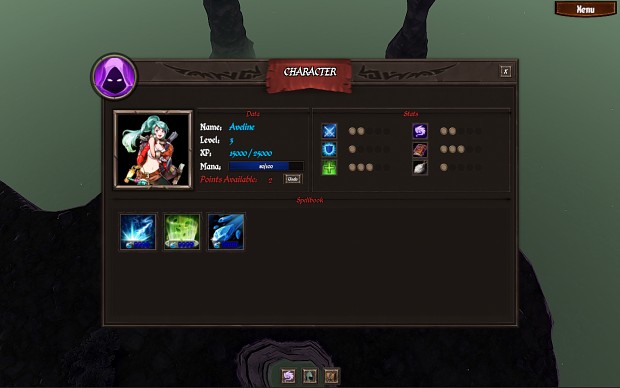 Character Panel: here you can check your spells, your character's data and assign points to your stats when you level up (at the moment your stats are attack, defense, health, control, magic and luck and they all affect your monsters stats and attacks/spells).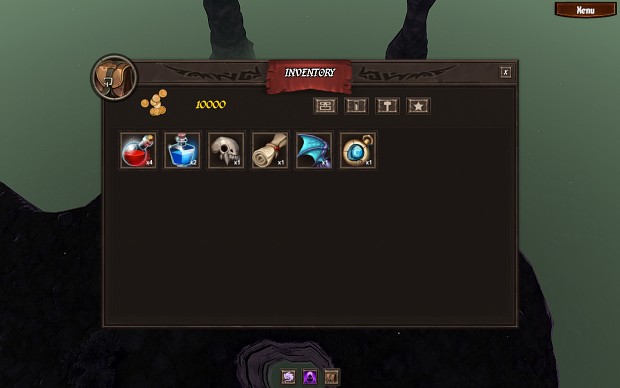 Inventory: this is pretty self-explanatory, I can only say that you won't have a weight limit for items but certain items (like ingredients) may be capped at a max of 100).
Plans for this month:
My current objective is to have all the core features ready during this month. Its an ambitious objective but I need to do it because my budget is not unlimited so I need to start creating actual levels and dialogue as soon as possible (and since I want this RPG to have a decent length, making content is what will take most of the time). Making a game faster is also the best way to reduce costs and increases your chances of having a profit (that I'll need if I want to stay in the industry and hopefully make bigger games).
I still need to make some improvements to dialogue, looting and interface. I also need to make a trading system (because a traditional RPG needs a way to barter) and implement the reward system after winning a battle (also if you defeat an enemy Beastmancer, my idea is to give the player the choice of killing him, letting him go or any other option that fits the story, I'll talk more of this feature in a future article).
Well, that's it for now. As always, your feedback is welcome and thanks for reading.
Regards,
Jorge