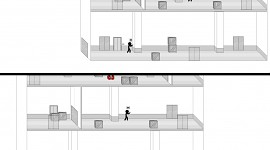 Two new videos are now available on the Ballistick homepage.
The first video is the first of a biweekly developers diary. Listen to our Producer, Owen, talk about where Bomb Shelter Games has come from and where they are going. Learn about the behind the scenes work of Ballistick and how it is possible to create a 2D game in a 3D engine without being able to code! Check it out below:
Our second video is an in-depth look at our proof-of-concept. Producer Owen will walk you through how exactly to beat the demo and point out many of the features that you may have missed. Watch the video below, and if you haven't already download the demo, download it here:
PC:

Mac:


And don't forget to leave comments!
Thanks!
Bomb Shelter Games