As I developped the various dungeons which the player would be visiting during his journey, it occured to me that I was ending up with a lot of caverns. Although I had forests and mountains available, somehow caverns always seemed to spring up during development. I don't take issue with it, but it still has the potential to end up a bit redundant for the player, which meant that if I wanted to keep all those caverns, I needed to find a few hooks.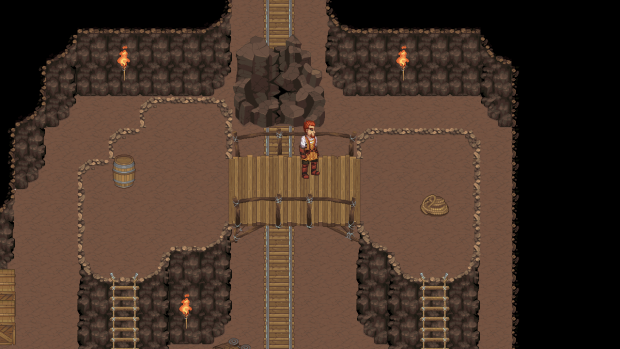 In a way, Arelite Core's design identity brought the answer to making the caverns stand out: interactivity and lots of it. I tried to make sure that every cavern would have a sort of theme to it, to have the layout changing and recognisable, but I also ensured that the player would be doing different things from one cavern to the other. For instance, the Arreal mines has Karden moving mine carts along in fairly tight environments, while in another cavern I crafted a bunch of bridges which the player can rotate, adding a level of interactivity to the whole journey.
Additionally, I made sure to include story elements throughout the various dungeons, rather than keeping them at the end. By keeping a steady flow to discover, I'm hoping to increase the player's interest despite the environment tileset being the same. In the end, characters will go a long way to gripping the player's interst, especially the memorable reoccuring vilains I have in store.
Yet another cavern? Maybe, but they don't have to be of the bland forgettable brand. With a bit of interactivity and story telling, I'm confident any environment can stand out.