Late last year, Arelite Core was selected to be a part of the Indie Megabooth at PAX East 2016, in the minibooth section. Leading up to the event, I made two posts covering the prepartion of the demo, as well as the marketing material I would require. In this article, I will provide the highs and lows of the trip as well as what presenting at PAX means for Arelite Core going forward as well. Also, for the interested, I made the playable demo I had running at the convention available in the download section.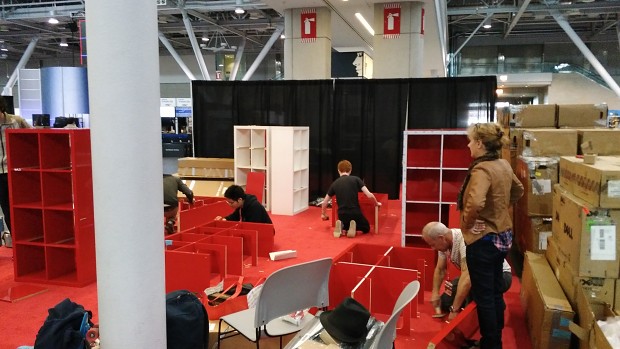 Setting up the Minibooth on Thursday
What went right
1. Preparation
Going into the convention, I read a lot of other developer's post-mortems, where they faltered, what issues they encountered and how they dealt with it. I made sure to have a lot of hand sanitizer, throat lozanges, granola bars, as well as having a highly stable and tested build of the game far ahead of the convention. I brought my development computer with me on the trip just in case, and did use it on the first evening to solve a very specific issue I discovered while testing, but otherwise I wanted to avoid last minute and on the fly development as much as I could.
2.Indie Megabooth Meet and Greet
Presenting my game for the first time to such a large amount of people was amazing, but the best opportunities I've gotten came after closing hours, during a meet and greet organised by the Indie Megabooth. A large number of executives were available from most of the top companies like Playstation, X-Box, Humble Bundle, Twitch, Oculus and so forth. Meeting and talking with these professionals gave me quite a different perspective on my opportunities and has shaped some of my upcoming development. I even have a meeting set up to discuss prospects, which wouldn't have been possible otherwise.
Meeting industry professionals is probably the single most important aspect of an event like PAX East, it's good for the game, it opens opportunities, and it's long term planning for upcoming projects. All I had to do is be forthcoming, confident in myself and my game, listen carefully to the advice of others who have been in tough situations and in the end, I came out with a lot just like that
3. Four years of development
JRPGs are a niche genre nowadays with a saturation of throwaway titles. When I started Arelite Core, I knew that I wanted to replicate the level of quality and scope of a Final Fantasy VI and a Chrono Trigger. Having spent so much time trying to stand out amongst other games really gave me a leg up. The great graphics always managed to bring fans in and once they started playing, they could discover the different systems battles has to offer, the combos, the stun, the blitz moves, having a defend option which is instrumental to battle strategies. I only had about 3-4 minutes with each player, meaning the demo had to make a quick impact on all fronts and because of the quick pacing, it succeeded in that.
Regardless of the event where you're presenting, there's no substitute to having an outstanding game, and considering the amount of competition out there, coming to the table with something so memorable ensured that Arelite Core could find a place in player's hearts.
Bonus: Always early
I like to arrive early to various events, which is why I made sure I was always there early during the three days of the convention. I found that it was a good time to meet with people I otherwise wouldn't have time to, and have given some business cards during that time. You never know when opportunities will arise, and I do feel that being present early in thay way can give a leg up on other devs. And if not, it's just a great occasion to mingle with your fellows, which is tougher to do later on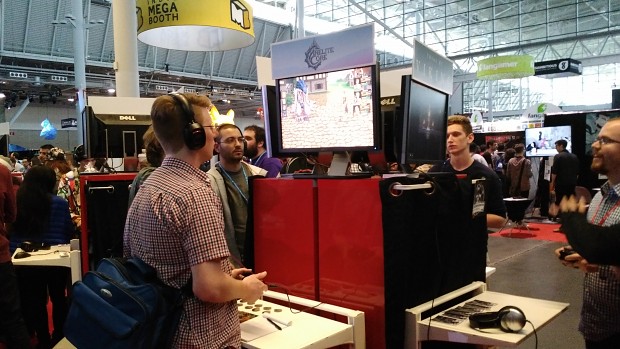 One of hundreds of players enjoying Arelire Core
What went wrong
1. Press meetings
I knew long before I even got on the show floor that getting press interested in my game would be a struggle. I think Arelite Core is a very well crafted game, but JRPGs and especially traditional ones are very niche. Although I have gotten some interest in the past, few of my regular contacts were going to PAX and fewer still responded to the e-mails I sent a month ahead, which made it difficult to get a lot of exposure. Perhaps I could have done a more personal approach in general, but the curse of the solo dev is that at some point, there's just not enough hours in the day to do everything, and not enough money in the bank to get someone else to do it right.
2. Solo dev
I hesitate to put this one in this category, because it didn't have any real consequences, but being a solo dev on a project does mean a lot of long hours during the convention. I always arrived early on the convention floor, I needed to stand at my booth for the entire 8 hours and once that was done, I had meetings to attend in the evening, leading to going to bed around 1 or 2 am. During convention hours, I only ate 2 granola bars over 3 days, it's all the time I had to do. It also meant that I couldn't have a second person roaming around, trying to get people to notice the game, and that might have hurt slightly. I would not recommend this method for people who can avoid it, but at the same time I capitalized on every opportunity so I don't mind that much.
3. Steam meeting
There was a meet up on friday evening with people from Valve, where they did a brief presentation on the lesser known features of Steam, but was mostly just an occasion to mingle with people. Sadly, I ate a jalapeño pepper during that time which absolutely floored me. Add to that a long day of exhibiting and less than 4 non continuous hours of sleep the night before and I was forced to get back to my room. I did learn a bit from their presentation, but I still do feel like I missed an opportunity there.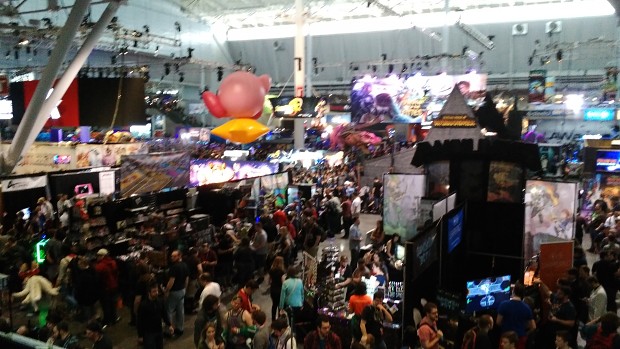 Costs
Here is a breakdown of all of the costs I incurred associated with the convention. To give a bit of context: I am the solo developer on Arelite Core, and I live in Quebec City, about 7 hours from Boston. I came down by car, so I saved a lot of hassle which I would have had to deal with by plane. Also, because I was part of the Minibooth section, a lot of gear was made available outright by the Megabooth people, including computer, monitor, controller and headphones.
Megabooth application: 40$
Non refundable application made in November.
Minibooth space: 1250$
The space included all of the gear needed to run my game, including an alienware computer, monitor, headphones and game pad, along with 3 exhibitor passes for PAX. Note that I had also brought my own headphones and I used my own controller because I prefered wired to their wireless.
Travel: 100$
Gas, that's about it
Hotel: 1250$
5 nights, from Wednesday to Monday, at 250$ a night, at the Hyatt Recency Hotel. It definitely felt overpriced for the offering, but it was the cheapest I could find at that time.
Buttons: 140$ for 350 buttons
Promo postcards: 100$ for 1000 cards
Business cards: 50$ for 250.
I wrote an article detailng for the design process of those elements
Food: 150$
This is an unfair category, I could have costed about half of that price if I needed to, but I went out to one or two nice places during my stay.
Throat lozanges, granola, gatorade, red bull, hand sanitizer for three days: 15$
I had these on hand for the duration of the convention
Total: 3095 $
Conclusion
Considering the low amount of press I got during the convention, and the few prospects I created on that front, I don't think I will make back the investment through increased sales. This did not really come as a surprise for the reasons I enumerated above, and although it would have been nice, sales was not quite the point of all of this. The actual point was to meet with people who can help me move ahead in general, not just on this specific game. That point I've definitely accomplished, thanks to the Megabooth setting up meetings with the right people.
Before PAX, I wouldn't have considered publishing Arelite Core on the Playstation or the X-Box, but now I've discovered that it wouldn't require an inordinate amount of work to do so, and there are people who can help me get through that process. I also have other opportunities which are still in their earliest stages of pre-production, but the right people could help me push those forward.
Arelite Core wouldn't have been possible without the hard work of dozens of great artists, who will never get as much as they deserve for their dedication. But ultimately, it's always been a solo project for reasons often outside of my control. After the PAX weekend, I don't feel like I have to tackle everything on my own quite as much, I have resources I can turn to. And the great thing is, having those resources will only help ensure greater and better games in the future.
For now though, I still need to finish work leading to a successful launch. Stay tuned this fall for the grand unveiling of Arelite Core!
To find out more about Arelite Core, you can visit the following links:
Website: Arelitecore.com
Facebook: Facebook.com
Twitter: Twitter.com
Presskit: Presskit