Arguably, one of the most important decisions to make when crafting any RPG is to determine who the protagonists will be. The choice of the protagonists will determine the direction of the story, but also the pacing of battle and sometimes, even features for the game itself.
For Arelite Core, I knew I didn't want to set up a large cast of characters, partially because of the costs involved but also because I feel that the more characters involved in the story, the more difficult it becomes to make them feel integral to the plot. In the end, I settled on six main characters, three of which have already been revealed. In this post, I will explain more about why I chose those three characters to be playable, and in a further post will elaborate on the other three. But before that, some generalities about what I wanted to avoid.
A lot of JRPGs set in a medieval setting tend to have similar heroes, the traditionnal young main character who wants to throw himself in danger's way and save everyone, the larger character who's a bit dumber but has a warm hart, the annoying « cute » character who seems there for marketing purposes. Even when it comes to the choice of weaponry, everyone ends up wielding a sword. I have nothing against swords, but for this project I felt that breaking out of the mold would be for the best.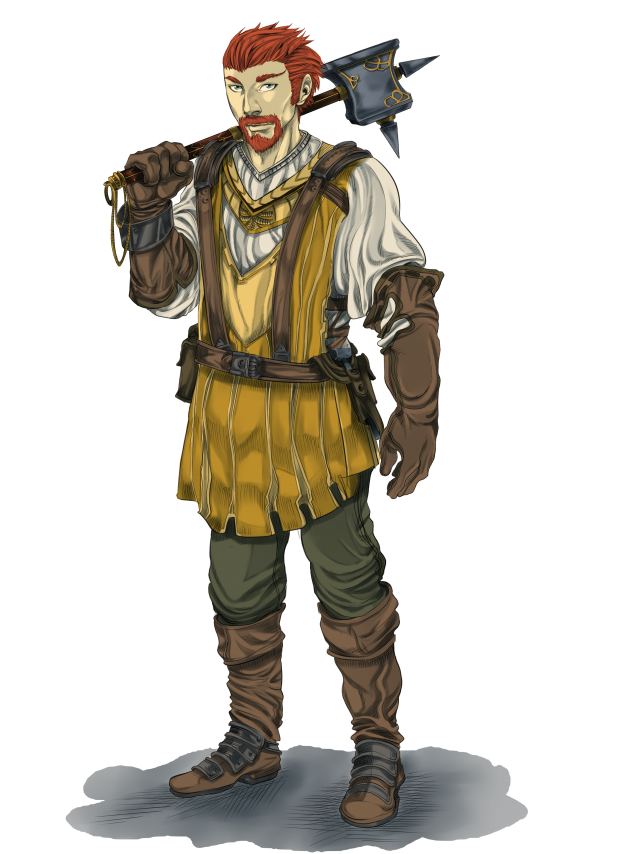 For the main character of the game, I knew from the start that I wanted to avoid the trope of a soldier or other typical hero character. I ended up settling on Karden the blacksmith for a few reasons. I wanted the character to skew a bit older than those tend to be, a bit more mature, and by being a blacksmith I could give him a hammer as his main weapon. Additionally, once I decided to use a blacksmith as my main character, I could add the smithing feature, having the player find ore and craft his own weapons. It opened up a plethora of possibilities which the traditionnal hero does not permit.
Where most JRPGs tend to have a bit of a coming of age story, Karden is already a man, and in fact he is already well known for his craft. Nevertheless, that doesn't proclude him from having space to grow. He has lived all of his life in the forges of Arreal, content in simply becoming the best blacksmith he can be. That in turn encourages him to leave his hometown, discover the world beyond and perhaps learn from other blacksmiths. Soon after, he finds himself confronted with some powerful foes and forced to either fight or flee.
That's another point I wanted to take care when conceiving Karden, as many heroes tend to be very reluctant and whiny about their place in life. Karden doesn't ask « why me », he instead tries to make the best with what he has. Knowing that he is not a fighter, he decides to turn to the king for help. The goal was to make him a kind of warm, fatherly figure who becomes a hero in his own manner.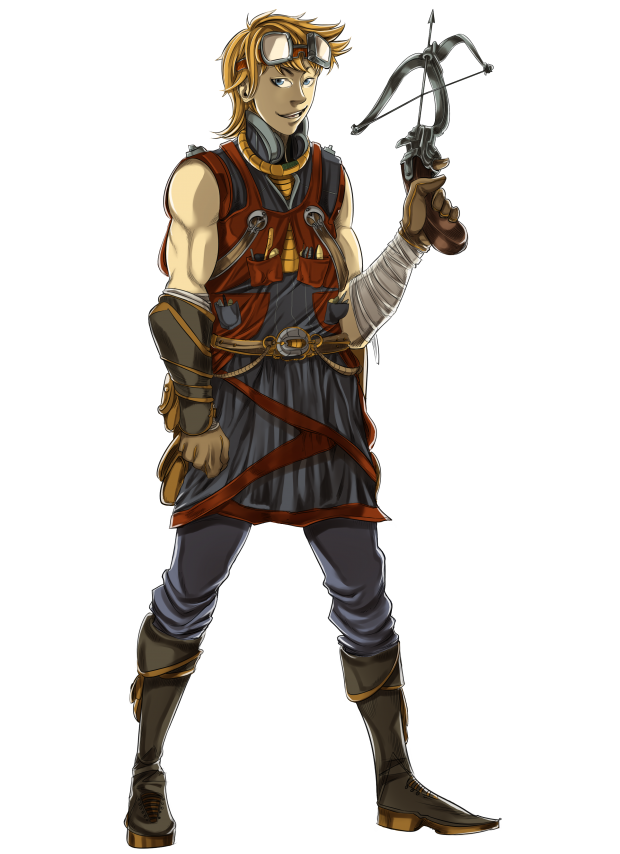 Accompanying Karden is Baeme, which is one of the characters who evolved the most during the development process. Baeme is the « younger brother » figure, filled with energy, a bit more daring than Karden and in that sense becomes a complement in personality. Since they begin their journey together from Arreal, he started as a younger blacksmith who isn't as good and doesn't have the same kind of passion for the craft. In battle, he would have used two smaller hammers, which would complement Karden's big hammer. That approach didn't really work however, as Baeme wasn't really coming into his own until later in the story and I felt that he was being a bit underused in the early portions of the game.
I then decided to change him from a failing blacksmith to a successful engineer. In a village where blacksmiths were the norm, he became the one who stood out, which fit his personality well. In battle, he now wields a crossbow which he crafted himself. Baeme is a very jovial character, happy go lucky. In a way, he has lived a sheltered life and doesn't quite have the maturity to face the darker aspects of life. He is meant to have high highs, and low lows. In that sense, Baeme is really the one who wants to be the hero in fairy tales, but discovers that it's not as glamorous as he might believe.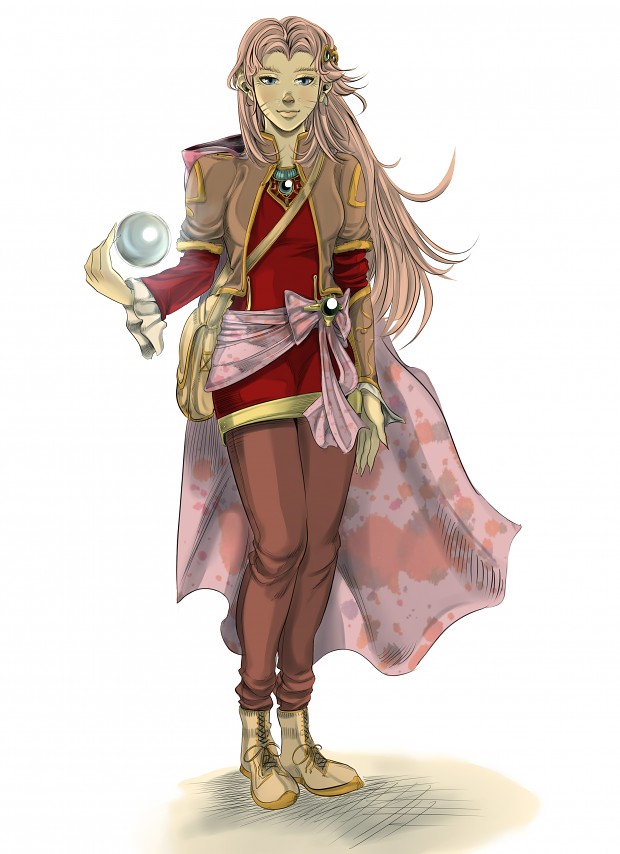 Lleana was created for battle purposes. After Karden and Baeme who were both damage oriented, I needed someone to heal the party. I didn't want to make her the typical sweet cleric however and instead made her more of an adventurer type, a nomad travelling around the world on her own and who needed to be able to take care of herself, hence the healing skills. Lleana is very independant, she doesn't rely on anyone to fight her battles and isn't one to break down when the going gets tough. Likewise, she has a lot of difficulty trusting the people she journeys with, since she is such a solitary person.
When I created the character, I knew that I wanted to have different species within the game rather then only having humans. For the spacii, I wanted to do something a bit magical. I gave them a floating orb with which they have an intimate connection, as well as the ability to teleport across short distances which would surely come in handy during level design. Physically, the spacii were the most difficult race I had to make since I didn't quite know what direction to go with them. I had to work a lot with the concept artist to eventually come up with something with feline like features, while avoiding the typical cutey cat, ears, tail and the likes. When working on her sprie, she distinguished herself by looking a bit more asian than other characters, which was a pure happenstance which worked well to make her look just different enough.
These three characters are found very early in the game, and in fact in game with between 20-25 boss battles, they are all joined before the second. In a later post, I'll finally present the other three characters who I hope will manage to stand out just as much against the conventional archtypes, through their personality, character development during the game and of course, physical presentation.