Arc Vector is an action arcade game with a hint of flight simulator inspired by various classic 1990s Archimedes games, in which you pilot a stolen alien ship in a rebellion against their invasion across the archipelagos of your home world.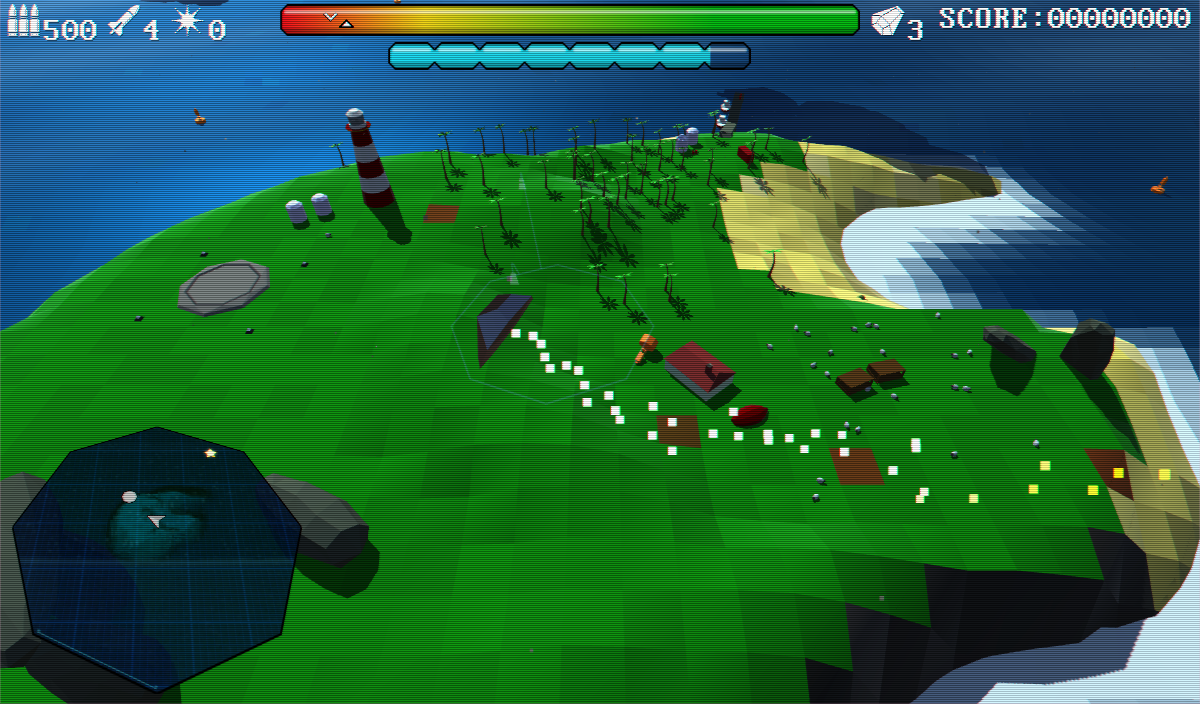 You are a lighthouse keeper on the planet of Melos, a small world rich in oil and gas, home to a small population of industrial workers, fishing fleets and sheep farmers, scattered across the Melosian Archipelagos. ("Melosian sheep are famed for their genetically engineered Kevlar-like wool" - Melosian Tourist Board).
Melos has been invaded by the Archronites, a warmongering species fighting their way through the local galactic sector. The Archronites have started to colonise Melos to exploit its natural resources, driving the native population from their homes. When one day you discover they have even invaded your tiny home island, you are forced to act.

Together with your trusty navigation droid, DFX-9T, and after an enemy pilot had "apparently met an unfortunate fate on the rocks" you commandeer their vessel and take to the skies in the fight back against the alien colonists. One by one, you must capture their airbases and destroy the infrastructure they are putting in place. Beware, however, Archronite Commander Veilos will be out to stop you! You will come up against his forces in Arc Vectors - a devastatingly powerful attack ship, and Arc Fighters - a stealth-like fighter aircraft and numerous other defences. Fortunately, the ship you have stolen is also an Arc Vector!
Arc Vector takes inspiration from a game on the Acorn Archimedes called Zarch (also known on the Amiga and other formats as Virus) and also from other Archimedes games, an arcade spaceship flight sim called Starfighter 3000 and a more realistic flight sim called Interdictor.
Arc Vector is due for release on major PC stores in early 2020.
Arc Vector is being developed by Olly D of Overwound Entertainment, who previously worked for The Bitmap Brothers (Z2, WWII Frontline Command, Speedball 2100) and Kuju Entertainment / Headstrong (Battalion Wars + BWII, House of the Dead: Overkill).