Version .22 of Apocalypse Not is now available and brings several much needed performance improvements and graphical changes. Among these are a changed zombie model with new attack animations, and less detailed video options. The game also now features 2 new items and 2 separate map sizes
Previously the game had several rendering issues that were causing a lot of frame dropping, and this has been a large problem. It has made the game much less enjoyable and for some, unplayable. As of this release, those issues have been for the most part eliminated. Several code, rendering, and modelling issues were meticulously corrected to make the game run as fast as possible until the full engine is in use.
Also two new items, the GPS and Map, have been added to the random spawners. The Map will allow you to view the map, and the GPS will give you the added benefit of tracking your position.
The zombie model was replaced with a green tinted survivor model, and now makes use of an attack animation to show the player that they are being hit. Hit boxes were also corrected and the AI received an overhaul for smoother gameplay.
The game can be downloaded from either the Official Website or the IndieDB page. Below is a list of the added changes, and a view of the new zombie model.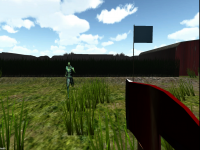 Newly Added:
· Map item pickup that provides use of the map
· GPS item pickup that shows map and current position
· Changed Zombie model to a green shaded survivor
· Changed detail levels to improve performance
· Added attack animations to Zombies
· Major Performance Improvements
· Added map size options
Recently Fixed:
· Zombie collider correction