Hey everyone, so in the area of less game-related things, we've begun preparing for making a page on Steam Greenlight, and also getting ready for a submission to Desura, and other places. The way you can help out is by either watching Anodyne's IndieDB page, commenting on this page, or sharing this page with friends to help more people hear about Anodyne. And when Greenlight rolls around, give your stamp of approval over on our Greenlight page!
**Update (8-28)! Today I got AIR and resolution-switching to work - meaning you can now play Anodyne in full screen, and on any platform that supports Adobe AIR 2.6 (Most Linux, Windows and Mac!)...and possibly mobile :)
We want to have a very polished demo and trailer before those submissions, of course! The trailer I've planned out the song and things for, I just need to make it. Hopefully tomorrow. I think I can churn something out with decent quality, but we'll see. As for the demo, more on that later.
So, as touched on in the last post, we had begun the process of making a lot of animations. Well, it turns out a TON of animations have been finished - the majority of common enemies, and even a few bosses!
Putting in placeholders was a miserable and tedious experience - at least for me, programming the placeholders in, dealing with really old code. Maybe it was more pleasant for Jon? But now a lot more of it is done, so it's fine. This GIF I posted on Saturday - at the bottom of this post - shows a few of the first sprites we implemented the animations for. You might notice that the enemy's upwards facing wide slash is backwards - that's been fixed! We've got a lot more, but can't spoil it all! (Maybe this Saturday??? Who knows...)
We've also been redesigning the first two dungeons - the tutorial and the "first" dungeon, which are playable in the demo from 8-11.This is primarily to make the game a more immersive and well-designed experience. A LOT of that demo is outdated, our next demo will be released when we have a final product version of what that demo should be - so with story, title, better menus, all sounds, etc. A lot of it is already planned out, we just need to take the time to put it into the game.
Speaking of menus, we also have new menus and headers planned. That's not the most exciting news, but needless to say this will make new players have a much easier and clear time learning controls and navigating the menu. Making menus is absolutely boring work, but it's good for you, the player! So be happy!
I guess I sound sort of negative with saying this work has been boring/miserable, but I'm quite happy when it's finished. And I think it will be worth it when people get to play the game...I hope!
(and I've been able to work on some music, too - finally - maybe I'll post one of the songs sometime...)
That's all for now. Make sure to to follow @AnodyneGame for occasional short updates, or follow me (@seagaia2) or Jon (@JonathanKittaka) on Twitter for other updates, sometimes related to Anodyne.
Or, if you're feeling up for it, even give us a like over at Facebook... :).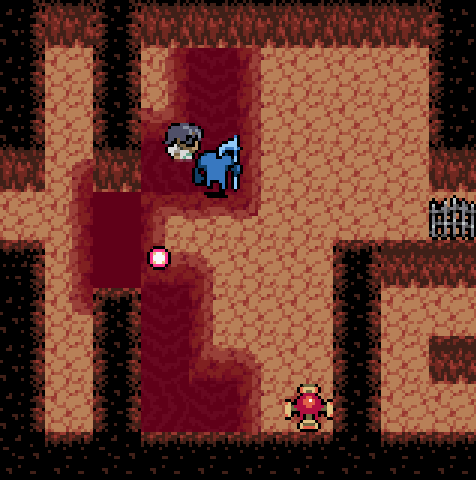 See you later,
-Sean