Amp, Watts & Circuit - Super Update Sale!
The Amp, Watts & Circuit update is finished and ready to go, with 50% off this week only!
Let's take a look at what this Super Update is bringing to the game.
AWC Network
The AWC Network is an online level creator, allowing you to make your own puzzles, share them online, and earn experience completing other users' puzzles to be the number one user! Let's take a look at the interface.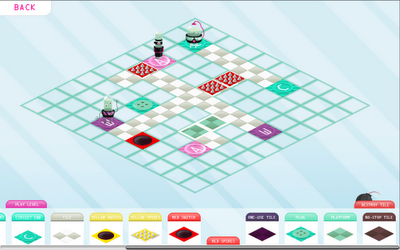 As you can see it is super simple to use, just select the tile you want to place from the menu at the bottom, then click on where you want it to go! You can come back and edit them later, give them a play yourself or submit them to the network.
Submitting to the network is even easier than making your own levels, all you have to do is click on the submit button from the main menu, then complete your level. Then it will be submitted and you will earn yourself some experience points!
Colour-Blind Features
It is now a lot easier for colour-blind players, as each start and end point is labelled with the first letter of each robot's name.
Hotkeys
You asked for them and we listened, you can now press 1, 2 or 3 to swap between Amp, Watts and Circuit. With this new addition there is no reason not to get three bolts on every level now!
We are really excited to see what challenges users new and old will come up with on the network, and to see who will come out on top as the smartest automaton in the world!