Hello Hello!
It's Mike here again with another Devlog update on Alder's Blood.
Some time ago, we mentioned some changes coming to Alder's Blood. We're excited to show you what we've done so far!
Keep in mind these are just some of the changes that we have in the works, there's plenty more to come as we work to transition more things from prototype to production for the project.
One of the first things you might notice is new graphics. We've got the new UI, which has slightly changed from the last version. It has been adjusted so that we can keep the same UI design when porting to other platforms.
Two of the first enemies are already in the game, each with a full set of animations and are relatively polished and are ready to tear apart our hunters. They are still pretty dumb, but we're working to make them smarter. 😉
We have some of our weapons classes ready as well, there's four that you can check out so far; an ax, a greatsword, a blade, and a rifle. We'll be doing another Devlog about weapon classes later, in which we'll delve into the strengths and weaknesses of each.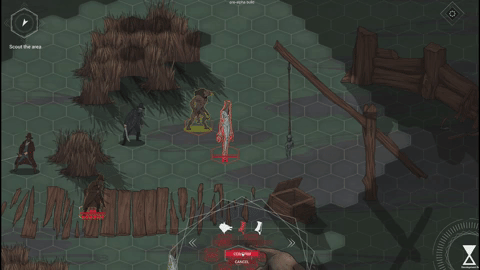 We've changed the way firing a ranged weapon works, now after clicking on the ranged attack icon, you will enter a ranged combat mode, with its own UI. The camera will be locked on your current target, and you'll be able to switch between available targets. You can also see how the shot will affect the enemy. When you're ready, click confirm to make the shot.
We have lots more in store, that we can't wait to show you so stay tuned for the next Devlog, and be sure to check out the Vlog below!