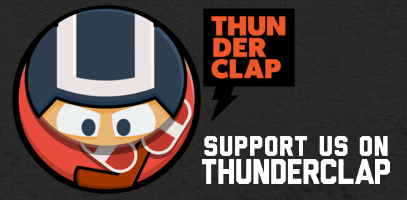 ThunderClap is a great way for indie developers to gain exposure through social media and can be used as a free powerful marketing tool. How does it work you say? Well, its really quite simple. Think of it as a kickstarter for a social media that allows a signle message to be mass-shared, flash mob-style; if you reach your sopporter goal. Just like with Kickstarter, your campaigning goals must be met within a given time frame for your campaign to launch.
When the Campaign successfully launches, THUNDERCLAP! All at once your supporters will automatically post your campaign announcement message to each of their linked social media channels (Twitter, Facebook, Tumblr).
When a person supports a ThunderClap campaign, they have to authorize the app access to post to their social media profile. ThunderClap and Campaign Organizers can only use a supporter to post once, and only if the Campaign they register for is successful. Some people may shy away from supporting a campaign if this isn't made clear to them.
With each new Campaign supporter, that supporters total connections are added to the Social Reach counter. This number represents the power of your ThunderClap Campaign and effectively shows how many people your Campaign will reach!
Support our ThunderClap here: Thunderclap.it
Across The Table - Hockey is out a day early! Check it out:
Itunes.apple.com