Well we're almost ready to launch Across the Table – Hockey! We're just in the process of adding a couple of new bells and whistles, and will (hopefully) have the game in the App Store on Thursday, June 26th.Over the next 30 days we'll be posting a new fact, tidbit or piece of trivia about the game on our blog (www.acrossthetablegames.com/blog) – keep an eye out.
Hopefully by launch time you'll know a lot more about the game, have some insight on our thought process behind our game design choices, any maybe even get to know us a little bit more.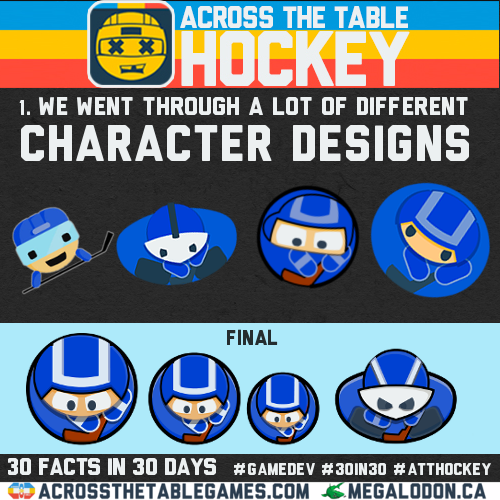 So let's start off our #30in30 campaign with something everyone can appreciate – characters! We went through a whole slew of character designs before settling on the ones we have now. There are too many to show but we've included four concepts in the example above:
- The first guy on the very left was our very first concept. Initially we thought the players could hold their stick horizontally and simply "cross-check" the puck. While it made things simple, it didn't really make sense in terms of hockey.
- The 2nd and 4th guys were part of the same set. The inspiration for these guys came from Bomberman and Megaman – it's pretty evident in the eyes and helmet. We used these concepts a lot while designing and demoing the game in the early stages. It wasn't until we received some great advice and recommendations from Terry, Chief Visual Officer at Nine Tail Studios, that we decided we had to up our game and create better looking characters.
- The 3rd guy was our first attempt at creating a "cool" looking character. This was mostly inspired by Japanese mascots and anime. While he had a cool shaped asymmetrical head, he didn't quite make the cut.
The bottom row is our final set of characters. We think they turned out awesome, and as you can see they're made up of pieces from the concepts that came before them. The stubby arms stuck from the beginning. The general shapes for the players and goalie come from the 2nd revisions. And the eye types, arm stripes, and stick colour came from our 3rd concept.Well that's in for now – don't forget to check back tomorrow for our next #30in30 post!