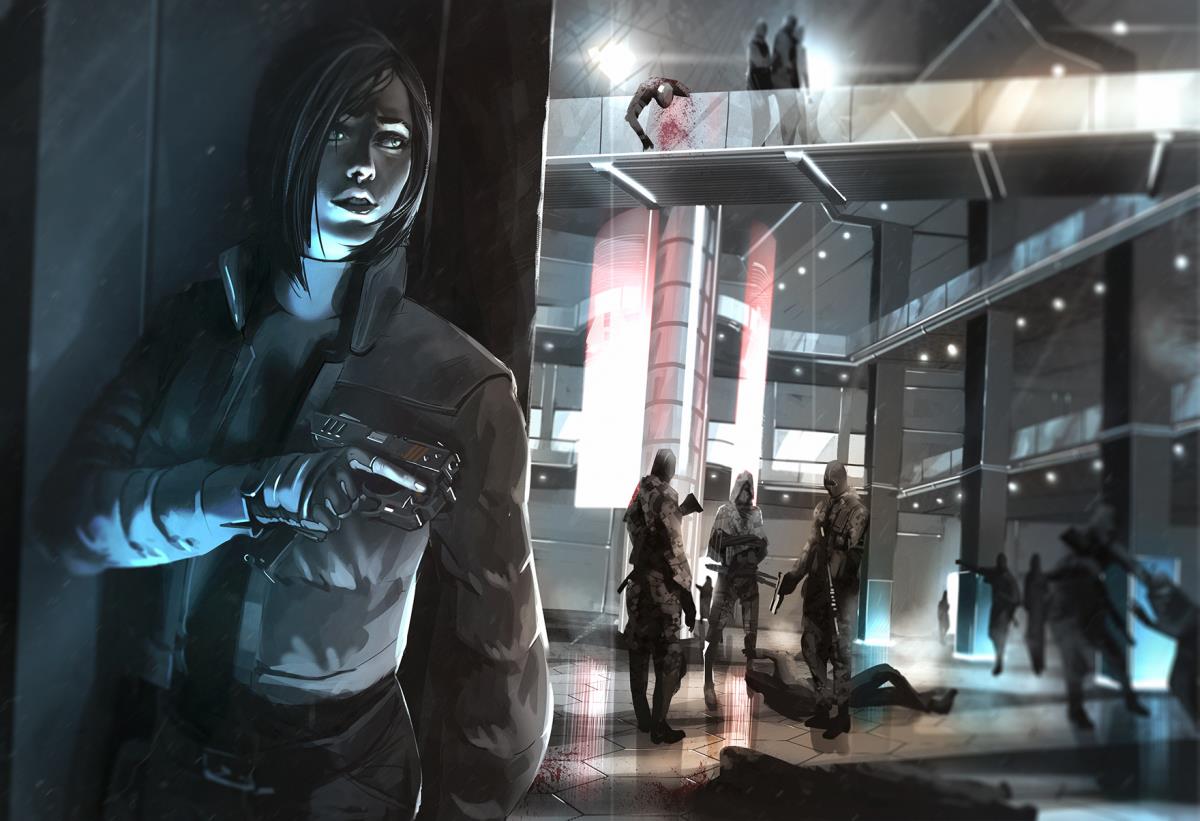 Name Change:

Officially as of today we're going with Shatterpoint Eos Rising. Over the next 72 hours you'll see of all pages change to reflect this change. "Dark Storm" has been a fun internal name but its just too congested for us in terms of how many games use it currently.
---
Center Area Adjustments

At Fenrir Studios we pride ourselves on transparency and self reflection to ensure we are always going about things the best way possible. In some cases we've had to completely stop and change/rethink how we approach certain things to ensure we learned from previous mistakes or just were doing it as efficiently as possible. When we've had to we will tear down entire systems and ensure they are functioning the best they possibly can. Over the next few months into April and May we will wrap up internal testing and transition to gathering applications for external playtesters as with honoring any previous playtesters we already have on our Public Discord and our Private one for developers.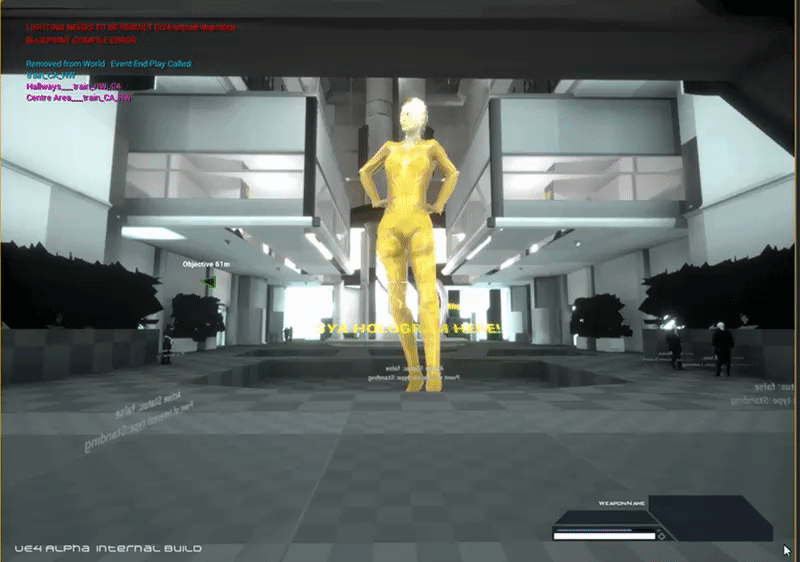 We wrote a "Job's" system for basically just processing tasks that the Irving staff might do during the early stages I.E patrolling sections of the base, talking,sittings and eating to help populate the facility. We also are in the middle of implementing a method of have a transporting Sya info AI that walks around that talks to NPC's and the player and relays world information at times when the player requests it.
---
Play-testing/Internal Playtesting:

Over the past few months since our last post in January we've been focusing on improving some base systems that our system is comprised of I.E better helper tools for level designers and game designers and better error checking. I.E The process of how new patrols are added to the levels from how doors operate and check the players current quest progress. We've been learning from our mistakes and pushing forwards to improve the tools our artists work with on a daily basis and take their feedback and criticism to improve them.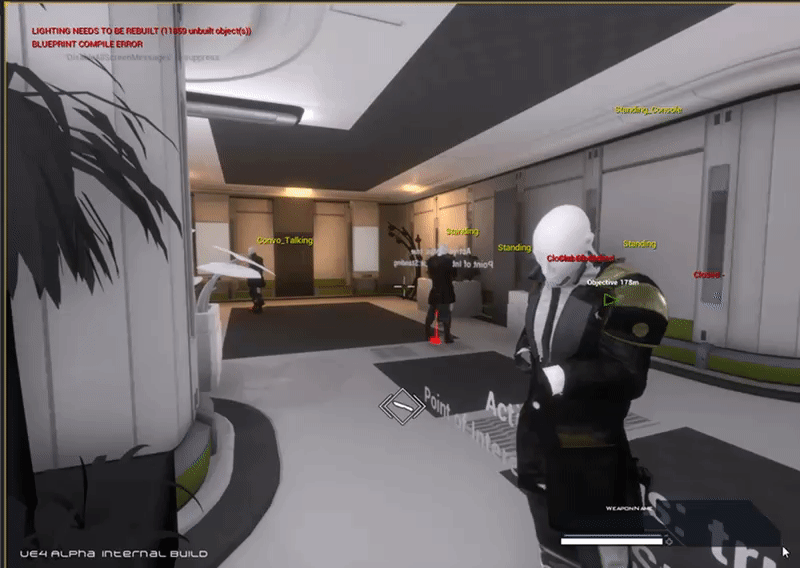 We've also taken to breaking up the prop modelers into separate groups processing over some problematic assets attempting to squeeze every frame back to the play sessions. We finally have a steam internal build and we can safety say we can now play through the first hour of the game with a few problematic sections still occurring causing instability/crashes we are addressing in the last 2 hours of chapter 1.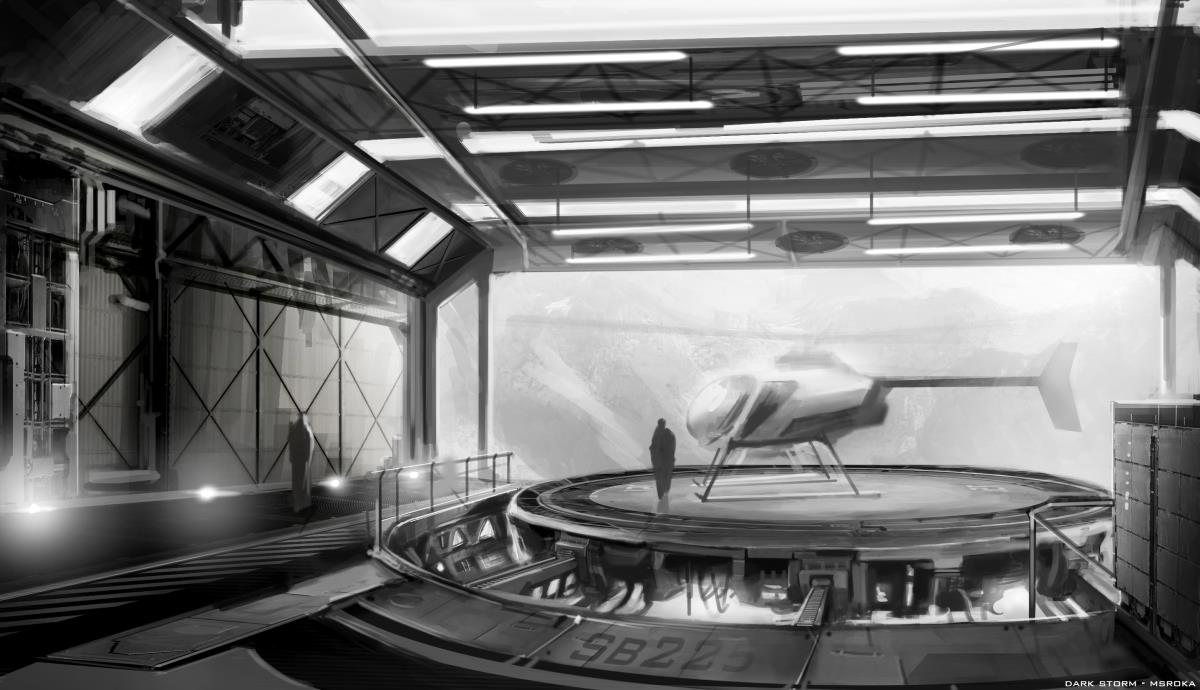 We've have a renewed focus to ensure we are playtesting and debugging the games to resolve dozens of crashes and issues we've encountered.
A crash one of our level designers was encountering via stack overflow in their failed move logic. We've been extensively testing all paths of gameplay and looking for issues such as this. Obviously we cant catch them all ourselves but we'll certainly try and bring in external testers around July-June to help us polish and work with the team give us feedback on how they feel about all aspects of the game.
We've also been working to get our final character creator system finalized by the 30th internally to make sure all characters look unique and to remove odd things such as skinning errors as seen with the characters hair randomly flipping around in the screenshot above. Heck we've even taken to updating and improving out quest objective tracker to ensure you know at all times where to go for your currently tracked quest.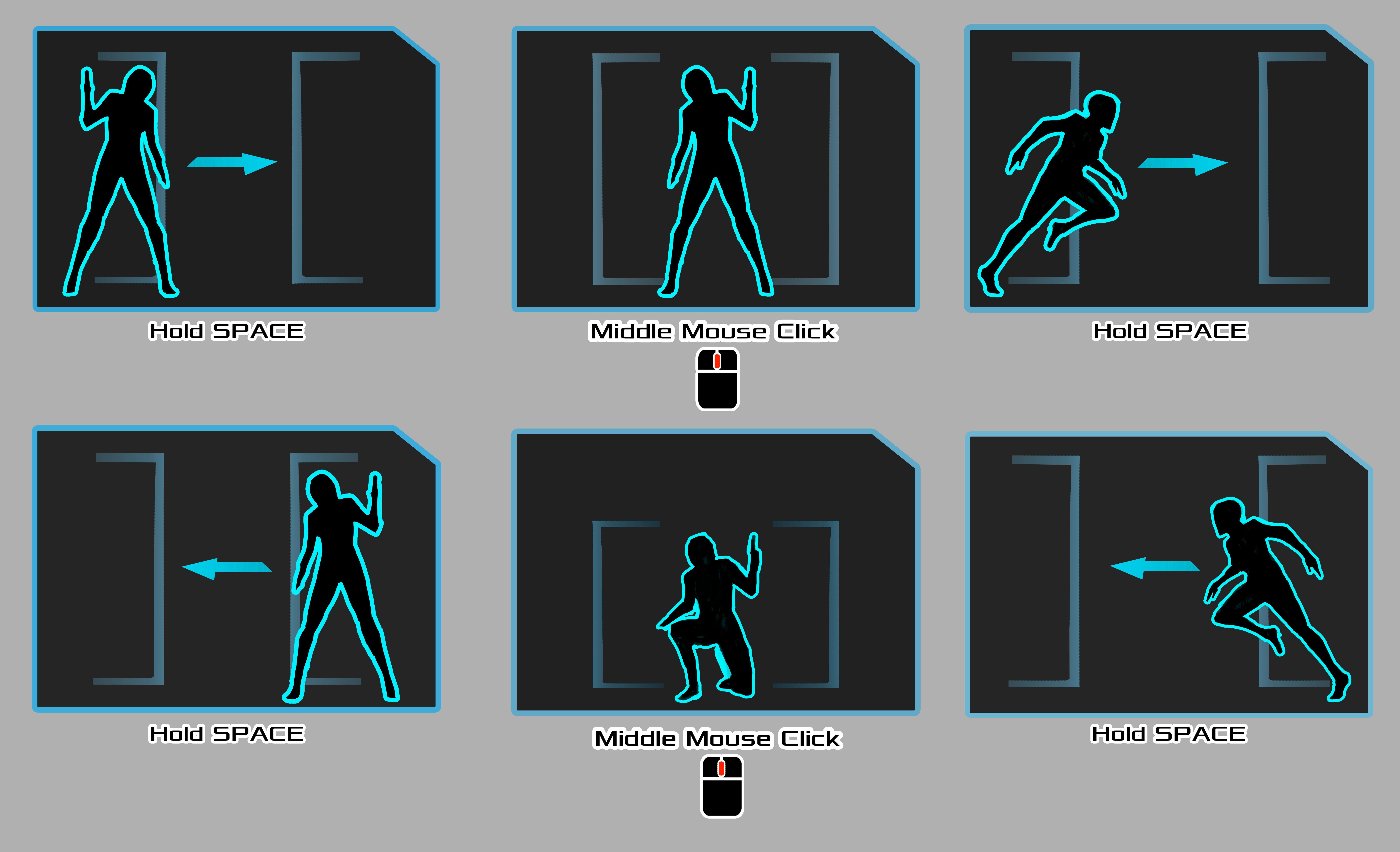 We've also taken to developing some UI elements for the cover system to give better visual feedback to players on what is currently avaible to them action wise and we're hoping to implement them in the internal builds on steam over the next few weeks.
We've had some issues with relying on AI not having the proper logic so we've been working on an Ancile AI to enable the two sides to fight a bit more without relying on cheap tricks. Derek worked on them briefly but im sure they will require more attention for sure as we work closer to polish to ensure they are working properly
I think over time the center area will get a lot better to really being an amazing first vista with the music and final edits. Heres a quick preview!
Not to mention we've also had some sillyness related to AI and the various AI that have "Jobs" in the starting stages of the game. Spawning in various wrong directions and just our correcting and ensure they always work.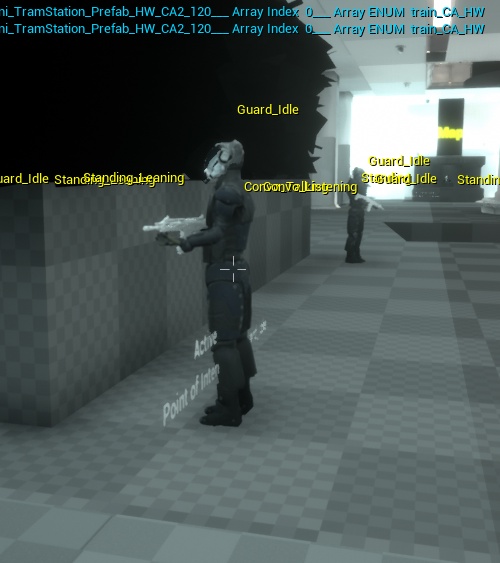 If i had to sum up some of the errors we run into as we work to polish things up i think this video would perfectly sum that up
---
---
Concept Art

Ashley our brilliant Concept art lead has been working on cutscene art you'll see on ambers personal background on her PC during the intro. Heres a quick W.I.P of that! Again these are works in progress and will be tweaked and worked on all the way up to release for the intro sequence.
---
Cut-scenes

Cut-scenes are progressing slowly but with great progress in respect to the level designers as they key and setup all the various ones in the sequencer tool but we cant show any of that because well spoilers! =) We've been studying how cutscenes are created in various other triple A games and how lighting/cameras are composed and cuts created . Its still very much a work in progress but we cant wait to show you guys the finals for those that get in during playtesting and for the others at release.
Studies into other games and how they handle their cutscenes this is an example from Evil Within 2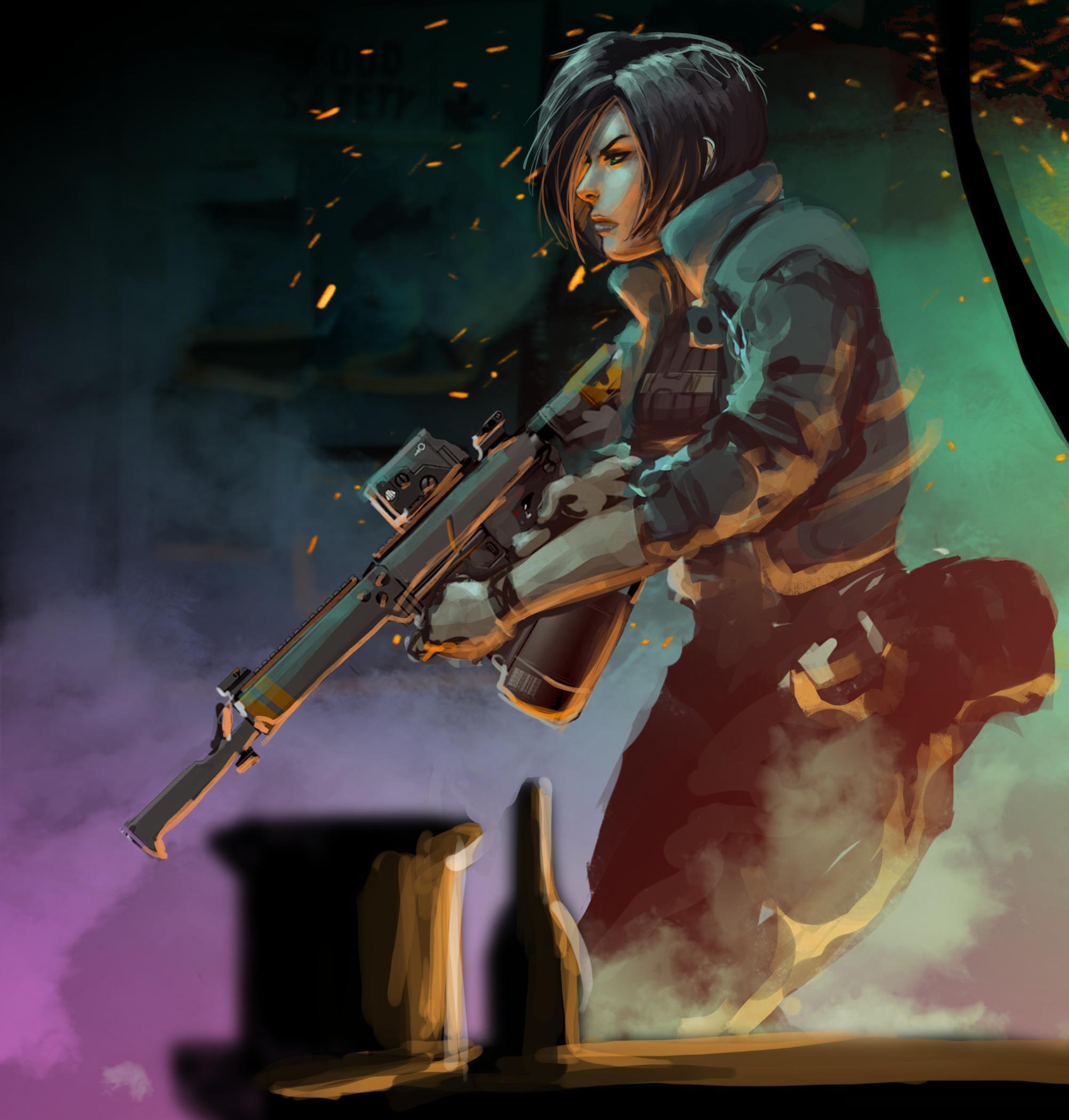 Discord and Dev Community Server (All are welcome!)
What we're trying to do by opening up a public discord for people that are interested in the game to talk to devs and follow news and to make a hub for our patreon to talk with us. If your supporter or patron message a dev or post in the chat so we can verify it and give you the proper tag.
Recruitment:
Due to our game being a royalty contract. (You get paid after the game is released based on how much time and work you put in), we often have people drop out randomly at random intervals as life demands. For this reason we are almost always looking for new people to bolster our ranks and join the Fenrir Team.
If you are interested, please check our post here for more details.
Other Ways to Support our team
O and remember, buying the VR Missions helps keep our server infrastructure up helps us keep developing the game. It makes our lives as indie developers that much easier. If your not interested in the VR or already have it check out our Patreon by clicking the image below. Thanks for following us and we hope to have a solid release soon next year! Also we'll be looking for QA testers to test performance and gameplay! So watch Indiedb closely!