Hi everyone!
I'm very excited to share with you my upcoming VR game! TWOBIT is a really unique VR puzzle-platform game - only using his or her sight, the player controls a little robot in a strange room and helps him approach problems and puzzles, and ultimately unravels the mysteries of this dark and enigmatic place.
TWOBIT will be first available for the Gear VR. Please visit Squidbeamgames.com for updates and news. Please don't hesitate to let me know what you think, be it positive or negative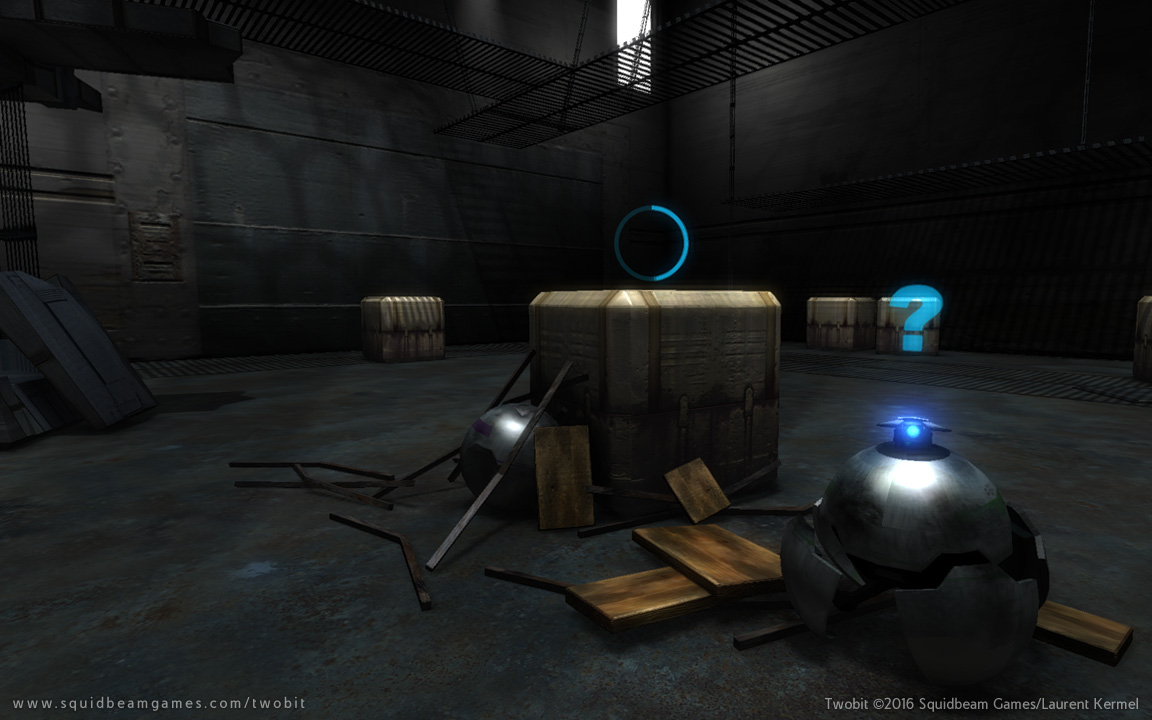 Gameplay
When Twobit asks for direction, a question mark appears above his head and a cursor allows the player to pick a location to explore. Once the robot has registered a new target, he then rolls into a ball and makes his way towards it. Some elements (such as buttons) can be activated by Twobit. When he reaches them, he asks the player if he/she would like him to proceed - the player can then confirm by nodding their head "Yes" in agreement or by shaking their head "No" in disagreement. The player can also look through Twobit's eyes at anytime during the game (this feature is called the 'Twobit Vision'). Finally, a mysterious countdown is visible on one side of the room and yes, indeed, something terrible happens when it reaches zero! Is there a way to prevent it to happen?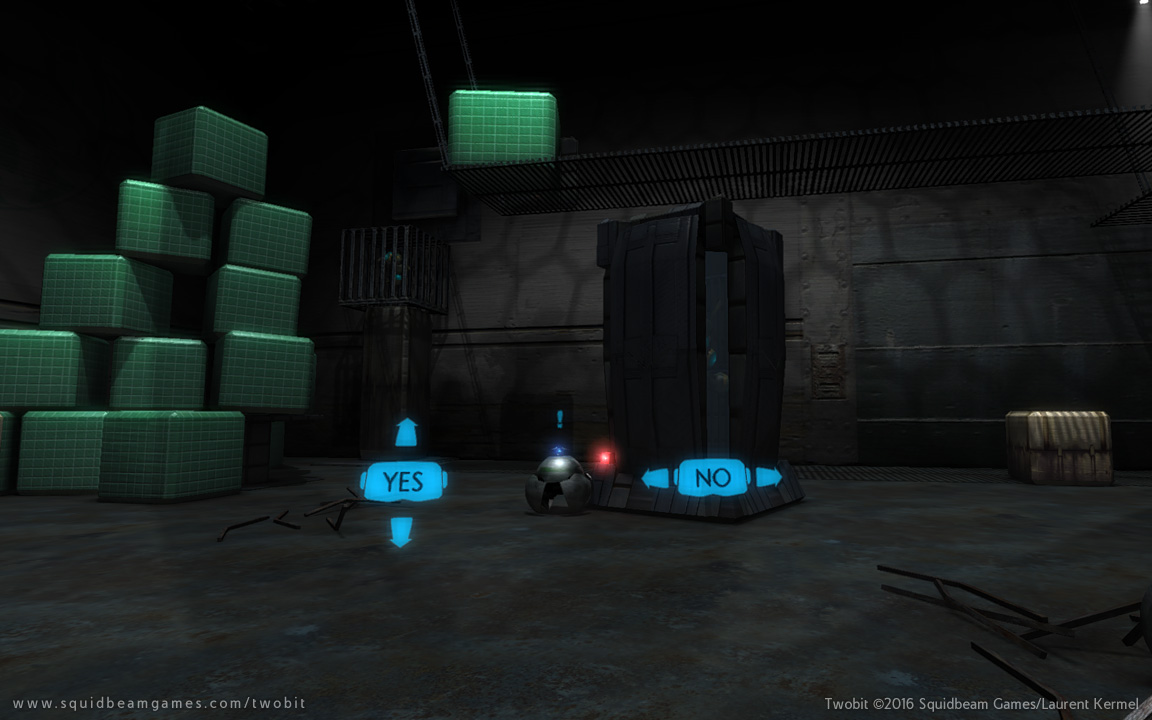 Features
Unique control system
Players control Twobit only using their sight and the VR headset. They can also make choices (by nodding their heads "Yes" in agreement, or by shaking their heads "No" in disagreement) without the need of a controller.
Designed to prevent motion sickness
Twobit was especially designed to prevent motion sickness, which is one of the main issues with first person VR games. Special attention was given to the motion system - for instance, the Twobit Vision is not available when Twobit is rolled into a ball and is therefore moving.
Immersive 3D sound
Sound design plays a major role in Twobit and allows players to know where Twobit and other events are located in space without looking at them. These techniques are especially important in adding a strong sense of immersion to the game.
Stay Connected
Squidbeamgames.com
Indiedb.com
Facebook.com
Twitter.com
Reddit.com
I am delighted to announce that the Gear VR version of Twobit has been approved for release on the Oculus Store! It will be available for free on October 19th 2016!
First a huge thanks to everyone who helped with the Beta testing! Your feedback was invaluable and very much appreciated! Second, even though being approved for release is exciting news, we are now very busy spreading the word about Twobit before it is out! No time to rest!

Edited by: squidbeam