"TapTap Heroes" is here! Tap your way to the top in this Idle RPG game with exciting battles, relaxing and rhythmic Celtic – style music, and powerful sound effects! The innovative Idle Mode allows player to increase their power without endless grinding!


The vibrant graphics of "TapTap Heroes" brings the game to life with a mix of cool character designs and flashy special effects. Compared to similar types of games, which display horizontally, "TapTap Heroes" uses a vertical display and clever UI design so that all game operations are easily accessible, Convenient for the players to just open up the game whenever a moment strikes!

Gameplay Systems – Easy to play & Full of strategic depth

"Taptap Heroes" is an idle game that combines elements of different genres such as strategy, cards, and RPGs.

Compared to traditional tapping games, "TapTap Heroes" doesn't require the player to spent hours grinding and instead focuses on strategy development. Heroes continue to fight and collect resources even when you're not playing, putting the focus on resource management and hero development with the goal of crafting a powerful team.
There are ton of gameplay systems to construct your strategy around. The game features nearly 200 heroes spread across six factions, each with weaknesses and advantages against other factions. Certain faction compositions activate Auras which further boost certain hero attributes and benefit different strategies. With five different hero classes, and 100s of skills and equipment- the strategies and team compositions are endless!

A Western-inspired visual style that incorporates magic and humor elements!

Exquisite graphic and a clean UI that makes the game visually striking but still simple to operate.
Character designs are simple, but don't sacrifice individuality for clarity. The Heroes express the features of both their faction and their own individual stories through their appearance!

No P2W here!

"Taptap Heroes" was designed to not force players to make in-app purchases to succeed. Part of that is in the Idle Mode, where players can still get items to develop their team even when they aren't playing. Additionally, a lot of the VIP features can be unlocked simply by leveling up your account. The biggest benefit to purchasing items from the store is for boosts to character development, but players who opt to take their time will still find themselves with a rich game experience!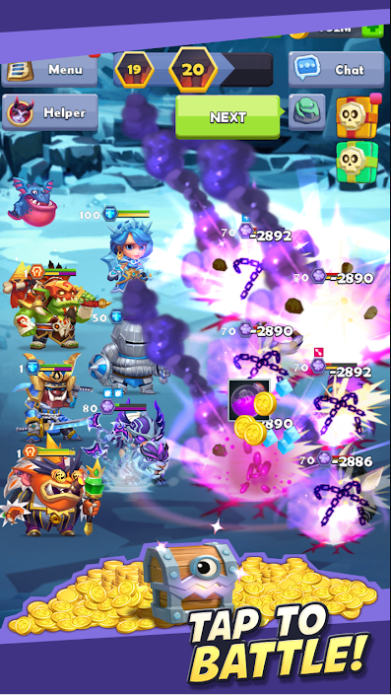 Join the battle! Tap your way to the top in this Idle RPG game!
The game is currently available on the Google Play Store and will be available on iOS soon!
Google Play link: M.onelink.me
Youtube: Youtube.comAttached Thumbnails