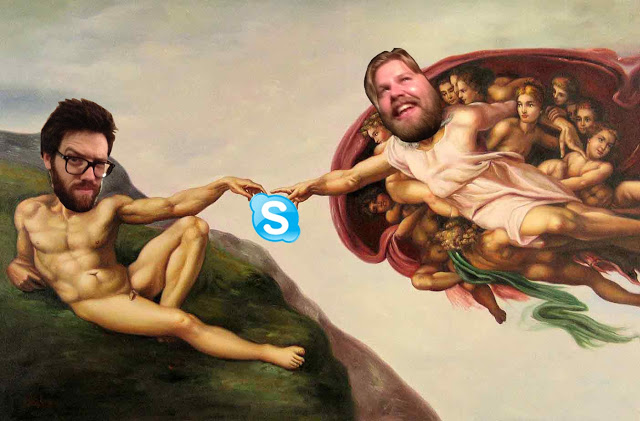 We have been hard at work on Forest of Suns for quite a while now, so it might come as a shock to some of you that we (Luke Rion and myself) don't live in the same city. We don't even live in the same state. We have been toiling away separated between Melbourne and Brisbane right from the games conception, only meeting in person once or twice throughout the entire process.
As you might expect, this has thrown us a few curve balls from time to time and it's made otherwise trivial problems seem insurmountable. It's the small things you miss the most, like being able to sketch a visual concept in 15 seconds instead of describing it for 15 minutes or being able to point to something on the screen with your finger or being able to deeply suck in the musk of his beard...
We have figured out a few workarounds for most of our limitations though. Basically, we have found that if you are going to work with someone remotely, the only word you need to know is Google. They have a whole bunch of apps for your PC and phones that you have probably never heard of and they can do things that you wouldn't necessarily expect.

Firstly there is Google hangouts (shit name!), which is pretty similar to Skype, but all of its features are free and it lets you share your desktop, allowing the other person to see exactly what you're looking at. Then there is Google docs and drawings, these let you create word or picture documents that you can both edit together in real time. Finally, there is Google drive which not only offers a very generous 15GB of cloud storage for free, it also lets you create and share folders so you can have the exact same files on both of your computers, these will also automatically update if either of you have made any changes.
So, if you are planning on working with someone online, don't cock around like we had to, just go to Google. You'll save yourself a whole bunch of time and mood swings.