A rather basic prototype of the game will be released in August! It will provide you a sense of the game play foundation but will not contain all of the planned features.

Networking:
A timed wave/pooling system is now 90% complete. Currently it allows multiple spawn points around the village, spawning enemies at different times with optional Boss spawns during each wave. The system will be completed in the next couple days so stay tuned for our August update!

Game Mechanics:
Killing enemies now rewards exp, health, and score.

Graphical User Interface:
The new GUI is now tied to exp, health, and score.

Steam Greenlight:
My primary focus. Development time heavily geared towards a demo for Greenlight release.

Character Renderings:
Here is a high quality rendering done by noted industry veteran Adam Sacco. His work has been also seen in Halo 5.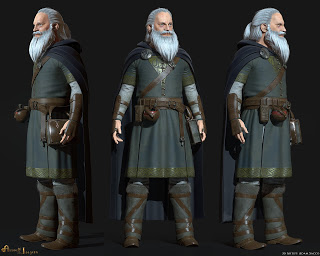 Website:

I've been adjusting AssaultOnIsegran.com to have a different look and feel, please keep in mind that it is still in development. Random project status updates and other AOI media can be found living there.

As always you can follow us on indiedb, Twitter, Facebook and Google+ to keep up to date with our latest developments. Also you can visit www.WetFireGames.com which currently is a bit outdated but will be updated before the Greenlight release.