Hey, my name is Tom. I want to talk about the development and evolution of the Antegods art style : going from an 8-bit pixel art style to a 3D style dubbed stonepunk. And it all started with our previous game Rocket Riot, which is Antegods predecessor.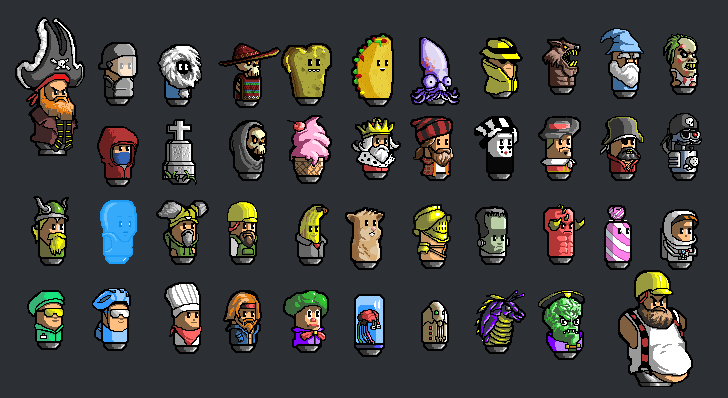 So, how did we start with these Rocket Riot characters....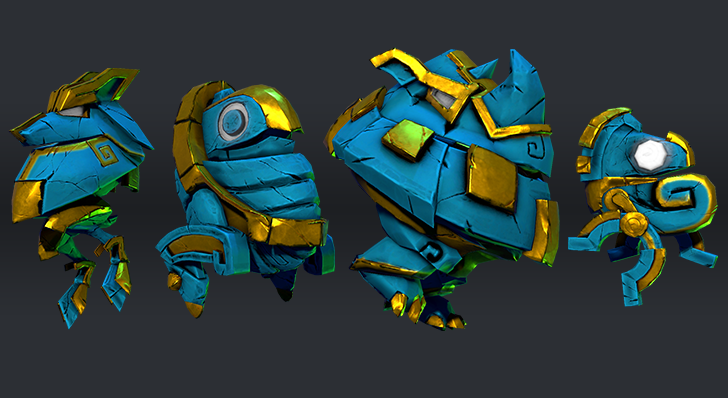 ... and end up with these stonepunk Antegods characters? I'll show you!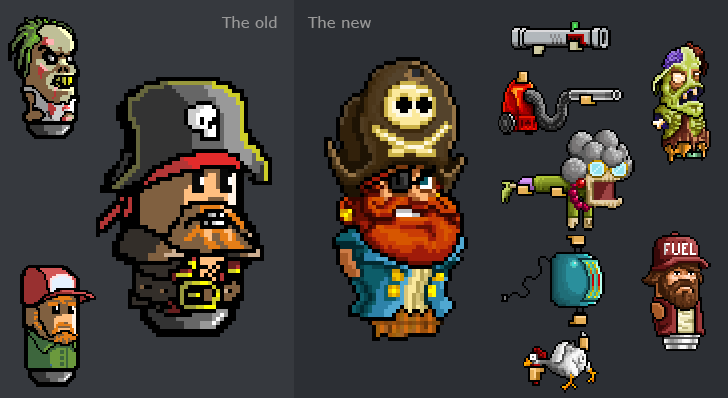 Let's start by saying it is really hard to take big steps, so we took a lot of little steps. The first thing we tried was to simply increase the detail on the characters without enlarging the graphics. We also wanted to experiment with customizable characters, so we separated the body, the head and the jetpack. On top of that you could pick your own (weird ass) gun. This was a fun process, but we felt the game did not look better as a result. It was all too detailed going from 8-bit to 16-bit (sort of) and was taking a lot of time to make the game readable in this style. We continued to search for something that we felt was right.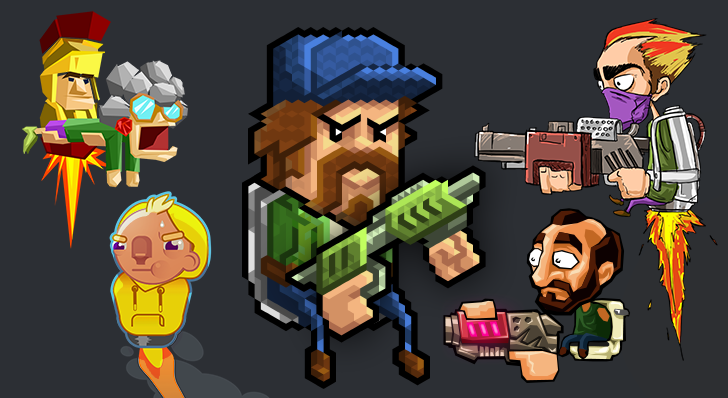 We tried a number of different approaches including vector art, cartoon-y art, cartoon-y vector art and what not... We even found this piece of software called Hexels which helps you create 'weird shaped pixelart'. This was an interesting process, but it felt like we weren't moving in the right direction and the style wasn't recognizable or interesting. Nonetheless we continued experimenting with it.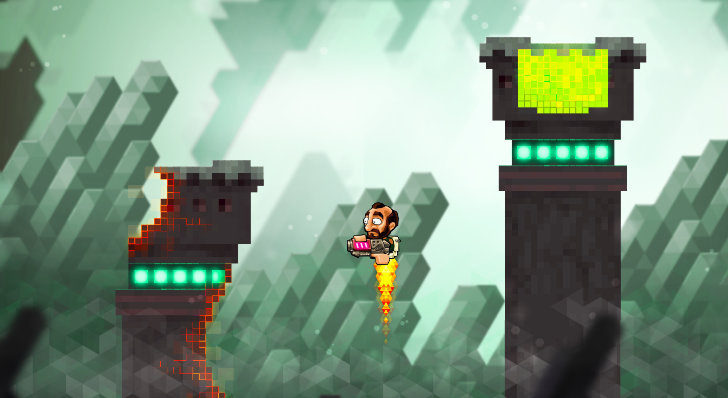 Wow ok, this is something! We were getting frustrated and started to just mix everything together hoping to get inspired. The image in the background is (heavily) inspired by artwork from @JoshuaEiten, his idea propelled us into a world of Ancient Technology. Working on environments usually helps me to get a feel for the world and generate new ideas for characters.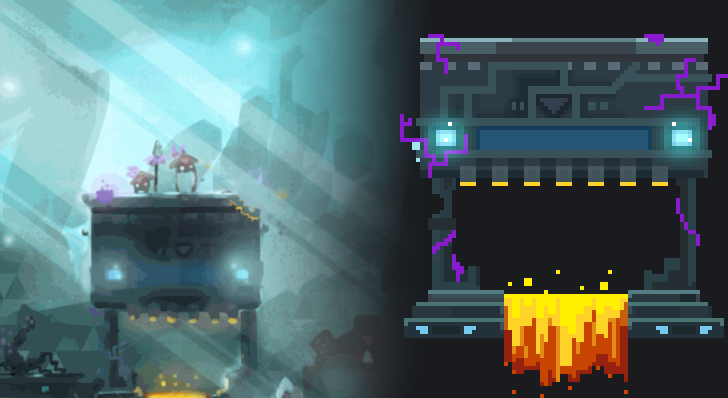 Ancient Futuristic Technology! This is a theme we liked and felt we needed to explore further. Now that we have an idea of what kind of world we're living in, it's easier to create the characters. Dark and strong silhouettes combined with glowy details would be the next thing to try.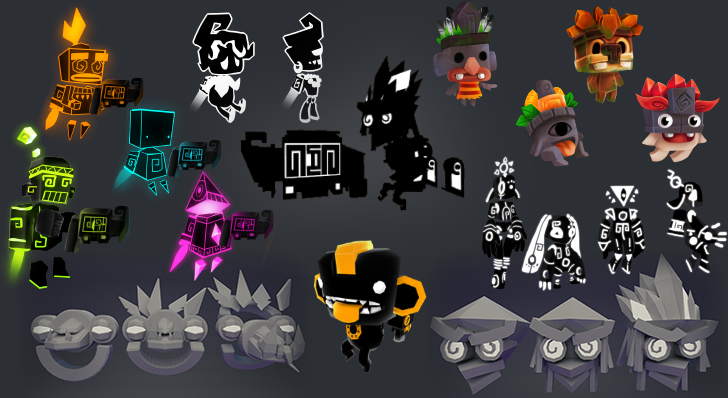 As we were approaching a deadline to show the game at an event to get public feedback, we picked the character style that best fit with our current environment style. This was the guy with the big gun in the middle.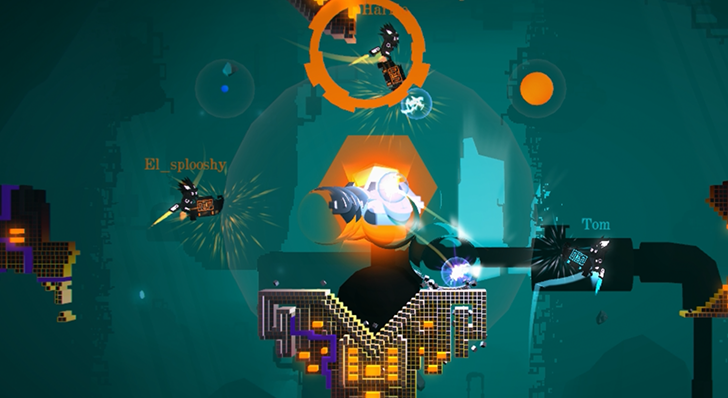 Here is a screenshot of the first playable version of the game. It played okay, the style was alright, but we weren't satisfied. There were too many limitations and the game was not readable and expandable. We were really digging the glowy details, but the overall darkness of the character didn't allow for much diversity.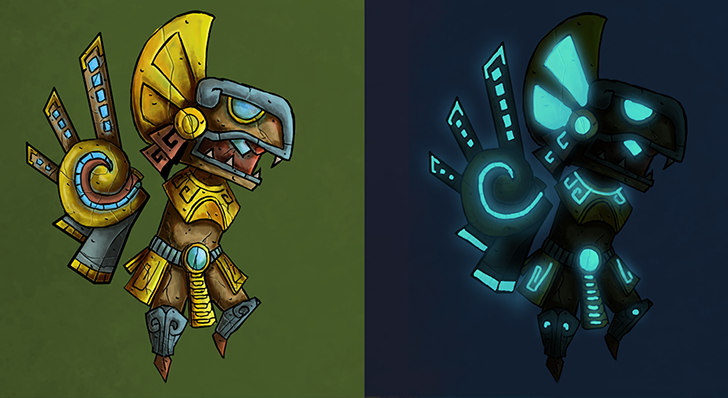 We created a character that in full daylight would look like a living stone statue, but when it would fly in the dark you'd only see its futuristic glowing lights. This made the character readable in every situation, as well as mysterious and iconic.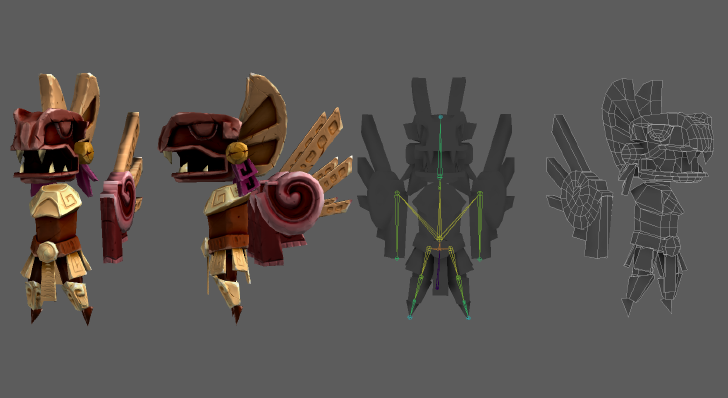 Here is the first actual 3D version that was playable in the first full 3D version of Antegods. This was cool, but we felt that it wasn't very clear when viewed at a distance. We also felt that we needed different types of bodies so we decided to create a beefy character, called the Bull, and a stealthy character, called the Panther.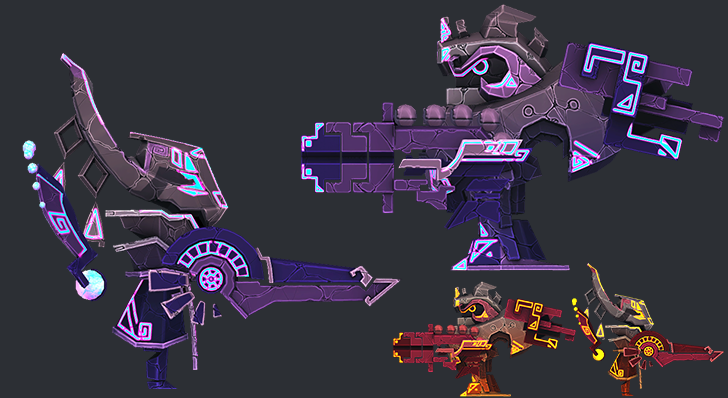 We made colored versions for each team. Both characters would have different playstyles so the silhouettes needed to show which character was which class. Another thought was that maybe our character wouldn't look like stone anymore. So we decided to make the top of the character more grey where the bottom area would be filled with color. Turns out, these characters are still way too detailed for the game. But, the shapes work!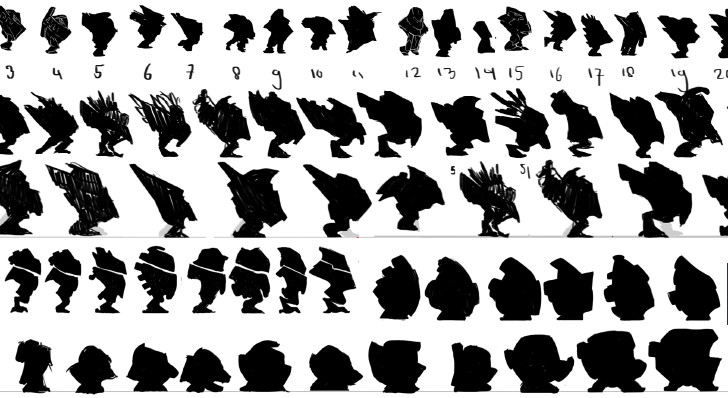 We created numerous silhouettes to find the perfect base for our character's classes. We looked at the position of the weight, the angle of the shape, the sizes of the bodies and even the types of legs. We eventually came up with these guys.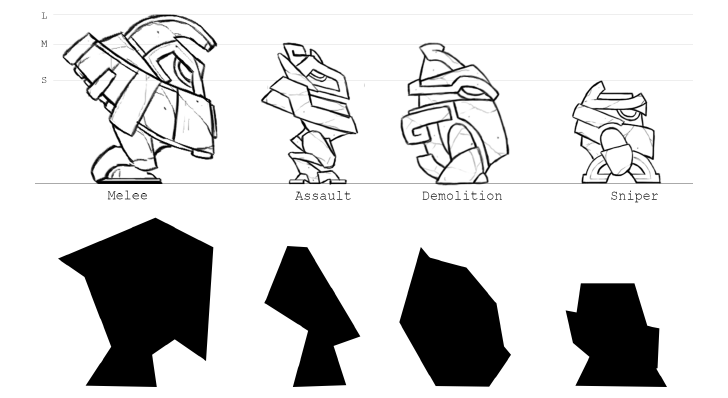 We used these shapes as a base for the creation of future characters. Now these guys are very generic, you can kinda see that it has Mayan influences, but it's still very hard to relate.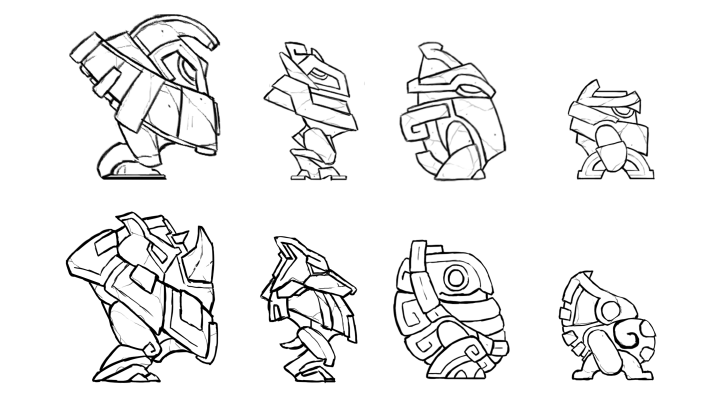 We decided to create characters based on animals you can find on earth. As if the builders of these big statues created them in resemblance of their favorite animal.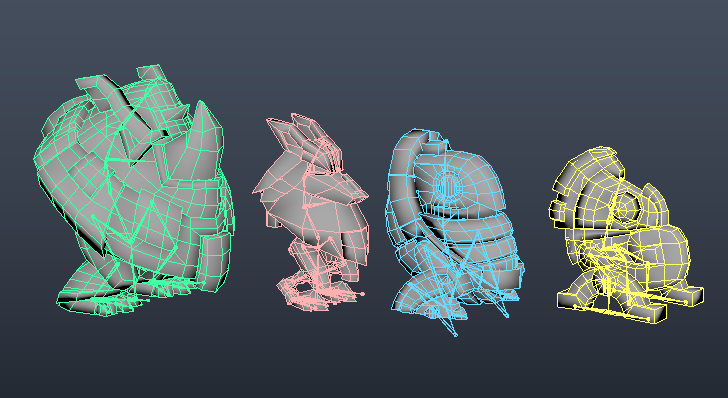 Once everyone in the team was OK with these characters we turned them into 3D models. We added a very basic, but functioning, rig and animations and placed them in Unity. In the end we had to create separate animations for each character because the transferring did not work as we hoped.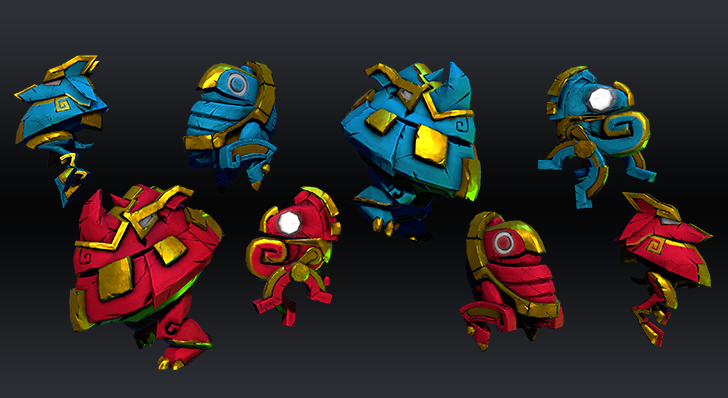 From here we created textures for each character in Substance Designer. With Substance Designer it's really easy to create new versions of a texture within Unity. Instead of the earlier fully glowing characters, we only kept a glow on the characters' eyes, because having too much glow only resulted in bad readability. We believe we found a good mix between ancient and futuristic, and we hope you all really like it as well ;)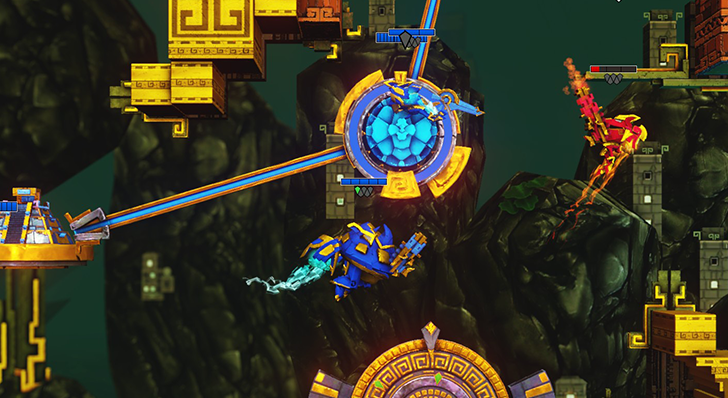 I hope you enjoyed this little overview of our game Antegods. If you want to help us complete the game, there's still a little time left before our Fig campaign ends Fig.co
We regularly post dev blogs here on IndieDB, so make sure to put Antegods on your watchlist if you are interested in this.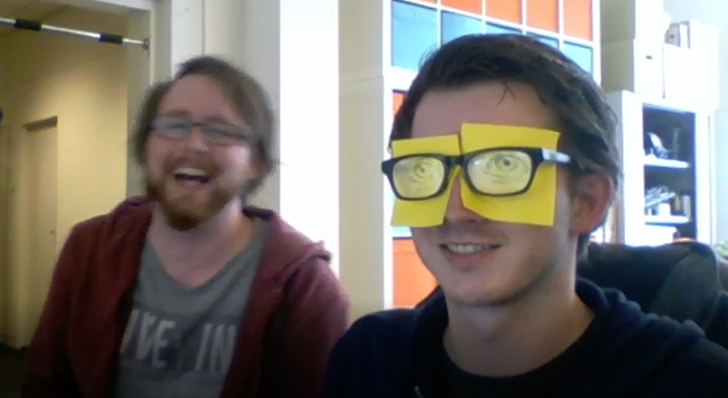 A bit about me: My name is Tom Rutjens. I've been working at Codeglue as the game artist for 10 years now. I'm married and expecting a little baby boy! I love art, Rome is my second home, I like to watch football and I adore Cristiano Ronaldo, haha. Another 'unique trait' of mine is listening to really bad music. I am also the proud owner of a sweet black cat called Caesar who is actually a girl.