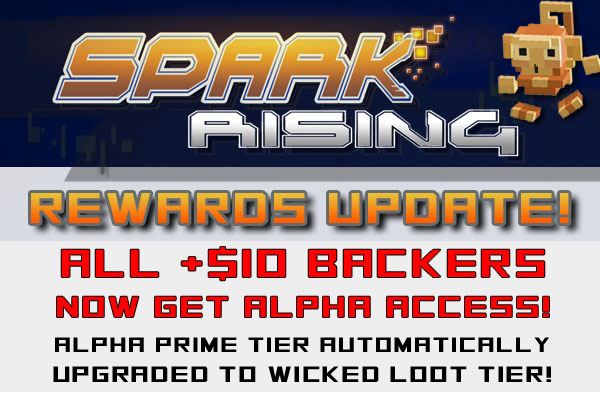 Support our Kickstarter today!
One of the things we debated long and hard when putting together our Kickstarter was how to structure our tiers. We initially set it up like most campaigns, where the beta and alpha access were much higher priced tiers. That just felt a bit backwards to us, since it doesn't properly reward all early supporters. But by the time we wanted to do something about it, we already pulled the trigger.
We ultimately decided to make it worthwhile for all Kickstarter backers. Today we're announcing that any +$10 backer will get access to the alpha version of the game, which is planned for launch later this year.
So what does that mean to the $35 ALPHA PRIME TIER backers? You still get all the exclusive stuff associated with that tier. In addition, you now are automatically upgraded to the WICKED LOOT TIER.
For all Wicked Loot tier backers, you can either decide to downgrade to the Alpha Prime tier and still get the same benefits, or if you feel like giving us your full support, you can stay at the same level! It can be bit confusing because we can't change the tiers once Kickstarter launches, but you can read more about it in our FAQ.
The best part is that if you ordered an additional copy of the game, that game also comes with alpha access. That's right, we heard your feedback about how you want to play with your buddies so we made it easy now to bring in them in early.
Thanks for everyone's support, and we appreciate if you could spread the word! We still got 2 weeks to go and still have over 50% to go to reach our goal!