I promised to do this for quite some time, but after weeks of researching mods, it's finally time. Based on several brackets, the best of the best C&C mods from the Westwood era, Generals era, C&C3 era and RA3 era will all square off each other. Countless efforts were made for so many great mods for two decades and it's time for you voters to decide which is the best overall C&C mod. Not all mods make the cut to this bracket because some of them have been released with little prominence. When voting in Pollcode or Strawpoll, make sure you enable pop-up blockers and plugins since they are highly recommended to prevent infested ads in your PC. The final two from each era will square off and be posted via the Strawpoll site. Voting results can be unpredictable so anything can happen.

Here is the bracket for the Best Overall C&C Mod: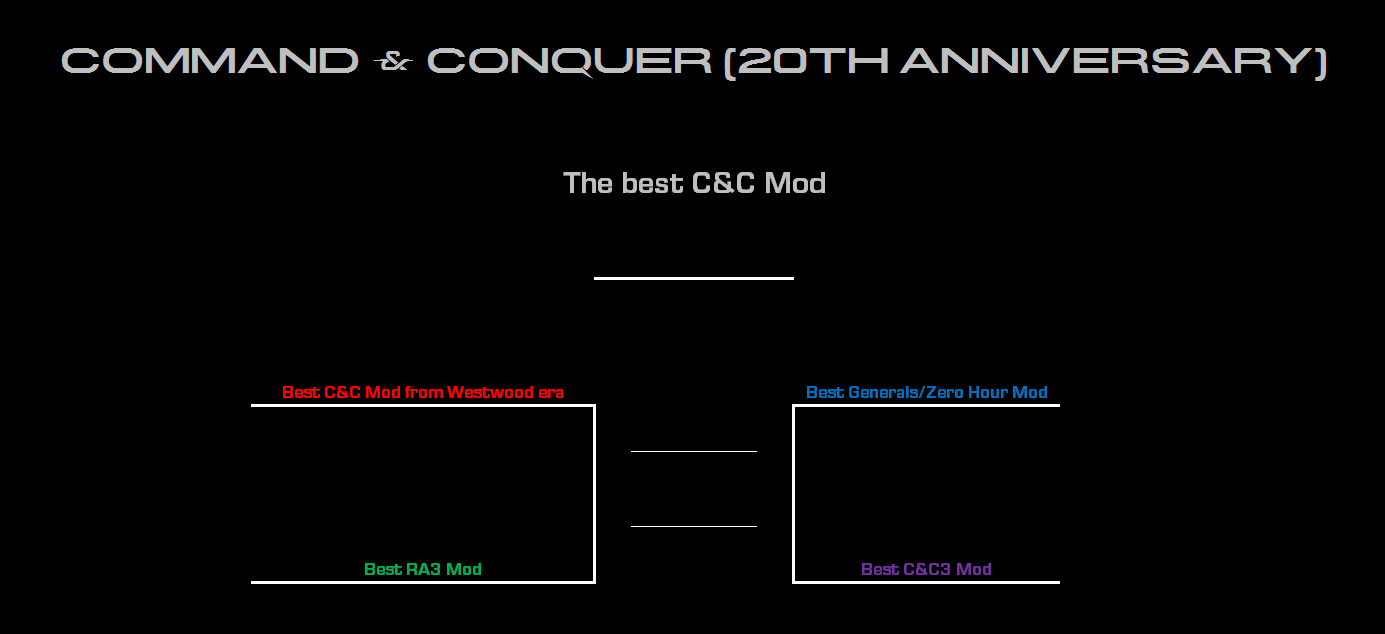 From as of today, C&C Shockwave is declared the winner of the Best C&C Generals/Zero Hour mod (by 76% of the vote) based from this last news: Moddb.com. That C&C Shockwave mod will go up against the best C&C3 mod in the final four.


Best C&C3 Mod: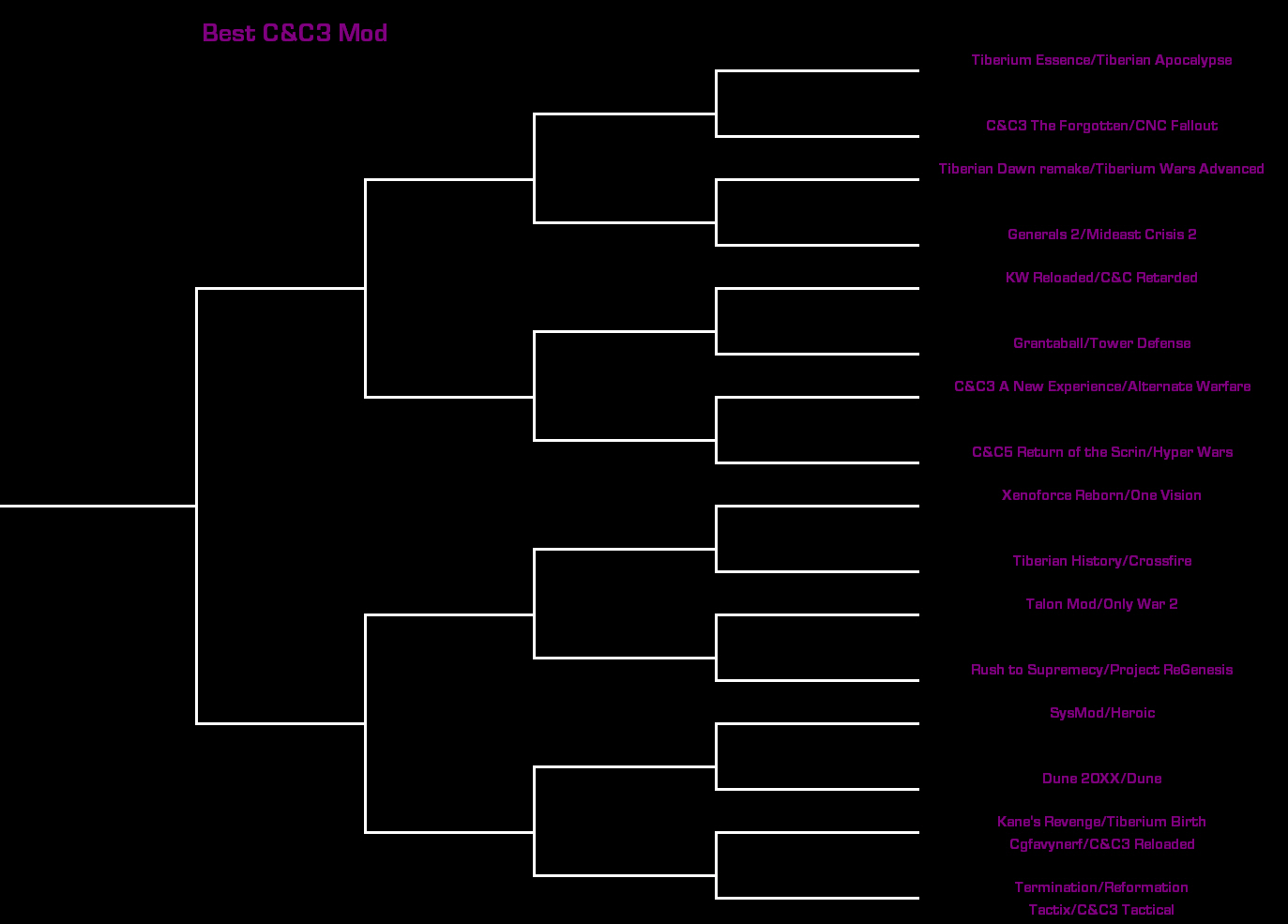 Tiberium Essence vs Tiberian Apocalypse Vote.pollcode.com
C&C3 The Forgotten vs CNC Fallout Vote.pollcode.com
Tiberian Dawn remake vs Tiberium Wars Advanced Vote.pollcode.com
Generals 2 vs Mideast Crisis 2 Vote.pollcode.com
KW Reloaded vs C&C Retarded Vote.pollcode.com
Grantaball vs Tower Defense Vote.pollcode.com
C&C3 A New Experience vs Alternate Warfare Vote.pollcode.com
C&C5 Return of the Scrin vs Hyper Wars Vote.pollcode.com
Xenoforce Reborn vs One Vision Vote.pollcode.com
Tiberian History vs Crossfire Vote.pollcode.com
Talon Mod vs Only War 2 Vote.pollcode.com
Rush to Supremacy vs Project ReGenesis Vote.pollcode.com
SysMod vs Heroic Vote.pollcode.com
Dune 20XX vs Dune Vote.pollcode.com
Kane's Revenge vs Tiberium Birth vs Cgfavynerf vs C&C3 Reloaded Vote.pollcode.com
Termination vs Reformation vs Tactix vs C&C3 Tactical Vote.pollcode.com


Best RA3 Mod: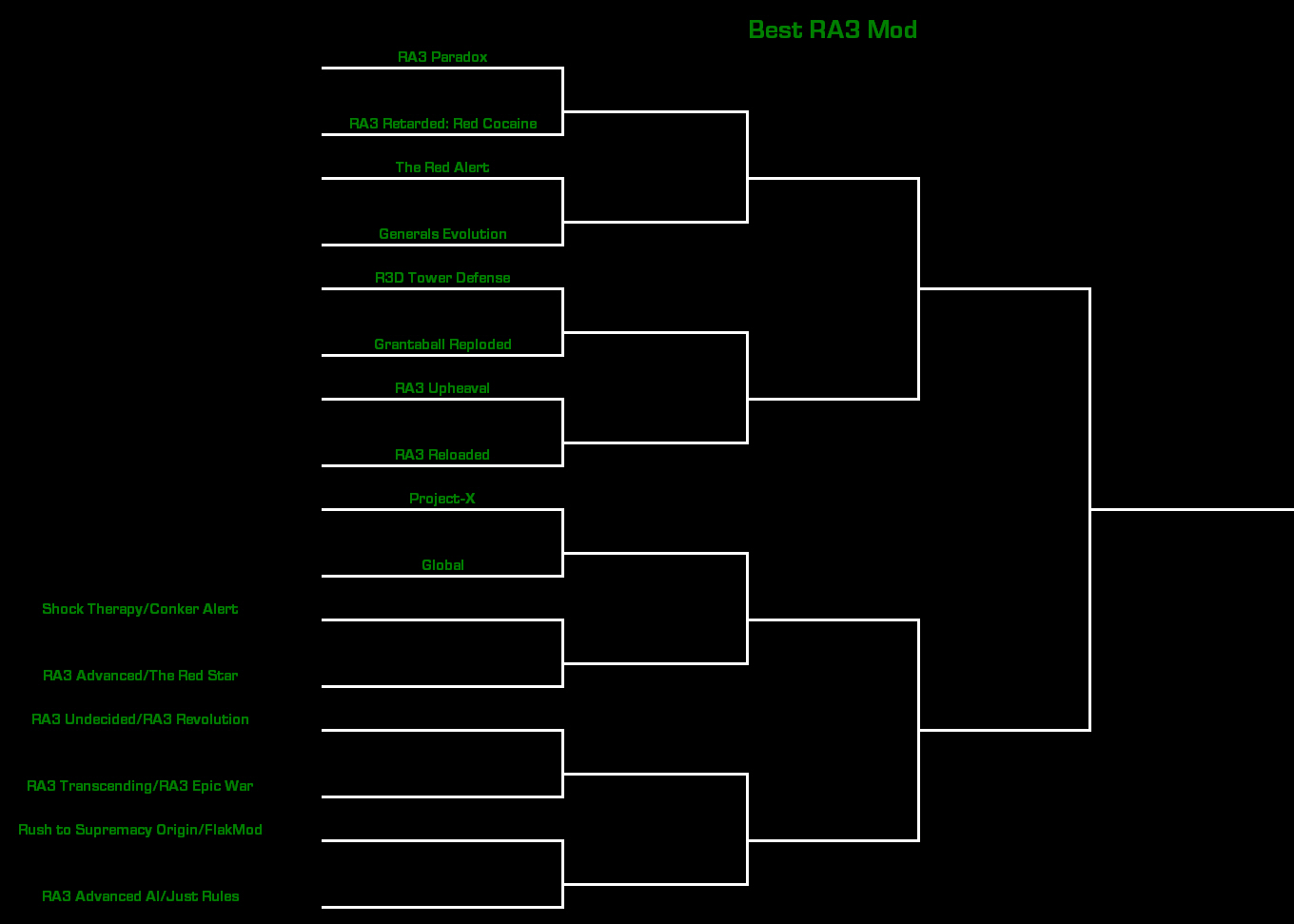 Shock Therapy vs Conker Alert Vote.pollcode.com
RA3 Advanced vs The Red Star Vote.pollcode.com
RA3 Undecided vs RA3 Revolution Vote.pollcode.com
RA3 Transcending vs RA3 Epic War Vote.pollcode.com
Rush to Supremacy Origin vs FlakMod Vote.pollcode.com
RA3 Advanced AI vs Just Rules Vote.pollcode.com


Best C&C Mod from the Westwood era (divided into game sections):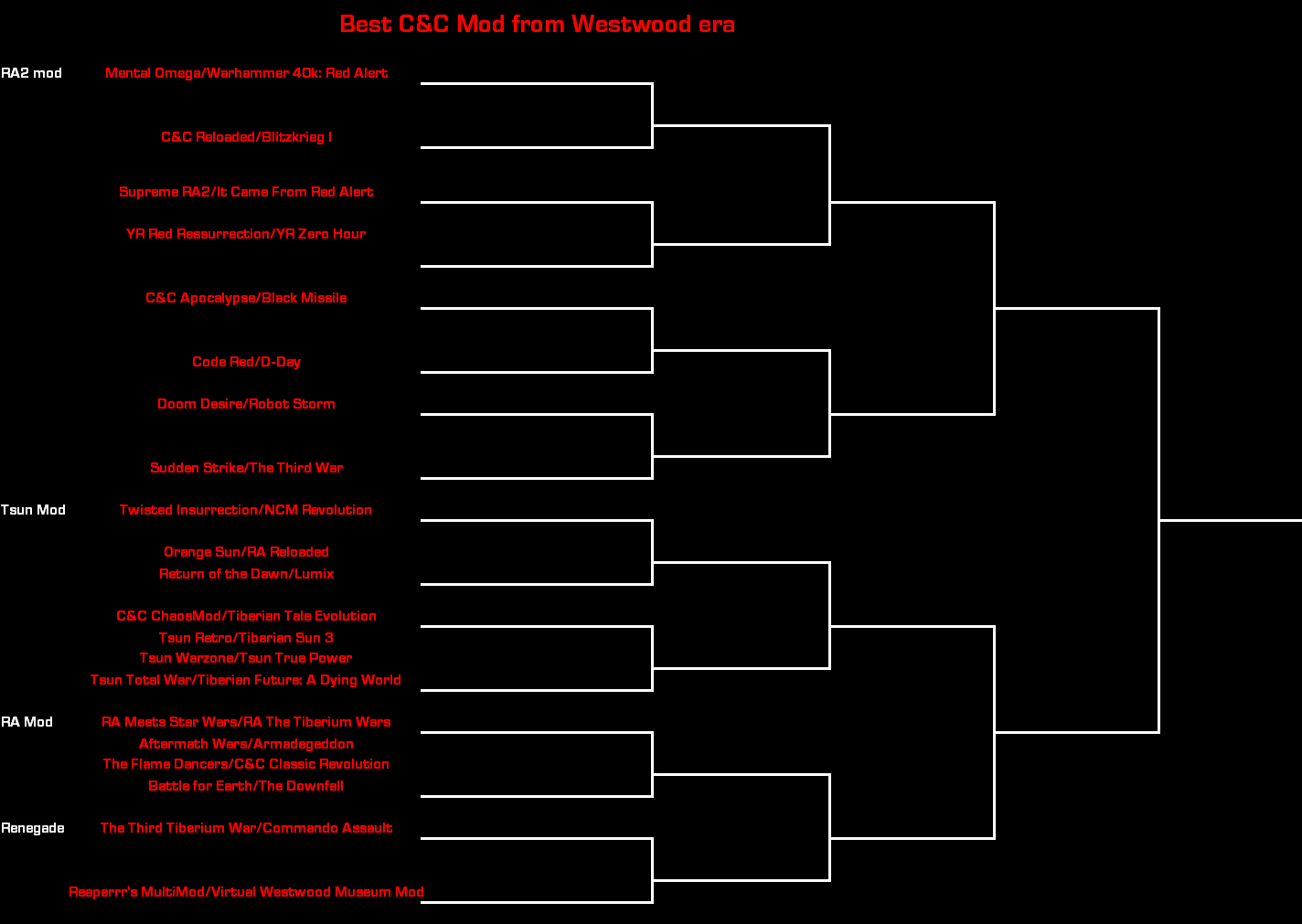 (note that neither C&C Reloaded and RA Reloaded were my mods and were created by two different authors)

I'll start with the Tiberian Sun group leaving the rest of them to be voted off against each other in round two.

Tiberian Sun Group:
Orange Sun vs RA Reloaded Vote.pollcode.com
Return of the Dawn vs Lumix Vote.pollcode.com
C&C ChaosMod vs Tiberian Tale Evolution Vote.pollcode.com
Tsun Retro vs Tiberian Sun 3 Vote.pollcode.com
Tsun Warzone vs Tsun True Power Vote.pollcode.com
Tsun Total War vs Tiberian Future: A Dying World Vote.pollcode.com


The next round will be posted in one week where the rest will be voted.