Today's article is a straight forward design process article. Even though I work as an artists for many years now, the specific task of designing wide selections of sci-fi guns and rifles has never come up. Until now. So it was time to create a proper workflow to come up with shooting irons in style.
In Nowhere Prophet you can gather plenty of resources and rewards. Amongst them are a wide range of guns to use in battle. An this is my process creating them.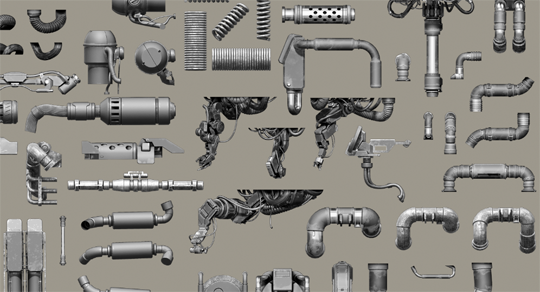 3D tech stock via
Alchemy is a free graphical software design by concept artists for concept artists, which uses an array of randomizers and generated fx to allow you to explore and create shapes and silhouettes really quick. …like super quick. A key feature of Alchemy is the ability to spray custom vector shapes on the canvas, making them overlap and scale in unexpected ways, generating interesting new shapes to build upon. Editing 3D stock assets into vector shapes, I was able to conjured up around a 100 basic gun shapes in very little time. Most of the shapes were kinda useless, but plenty of them turned out to be really interesting results.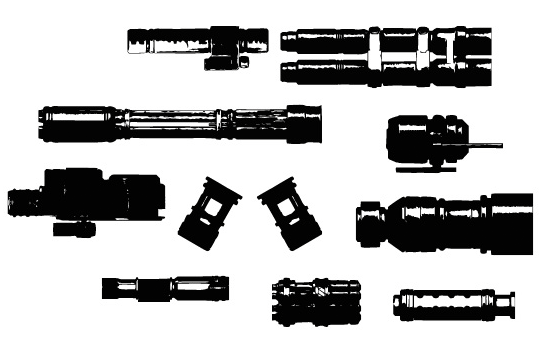 Custom made shapes used in Alchemy.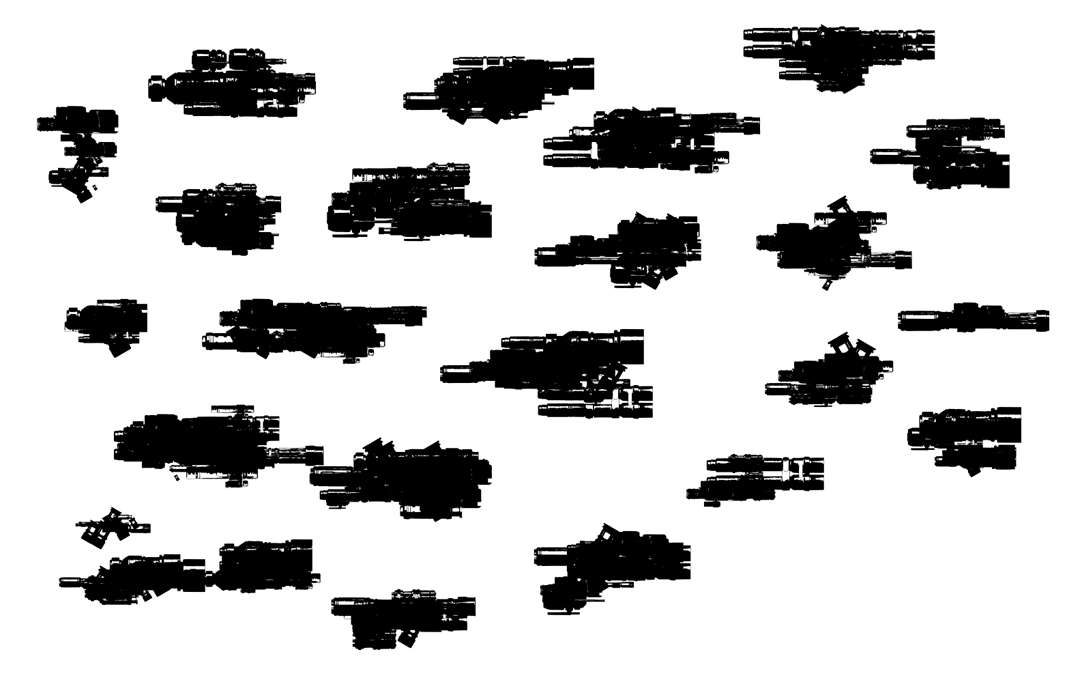 A small sample of shapes created with Alchemy's Pull Shapes feature.
A few gun parts have not been added to the pool of vector parts, since Alchemy's randomizer might have added too many of them in weird places and the resulting guns would have not made much sense. Muzzles, ammo clips, grips and triggers have been added manually to a selection of my favorite shapes.

The manually applied gun parts have been taken from stock photos.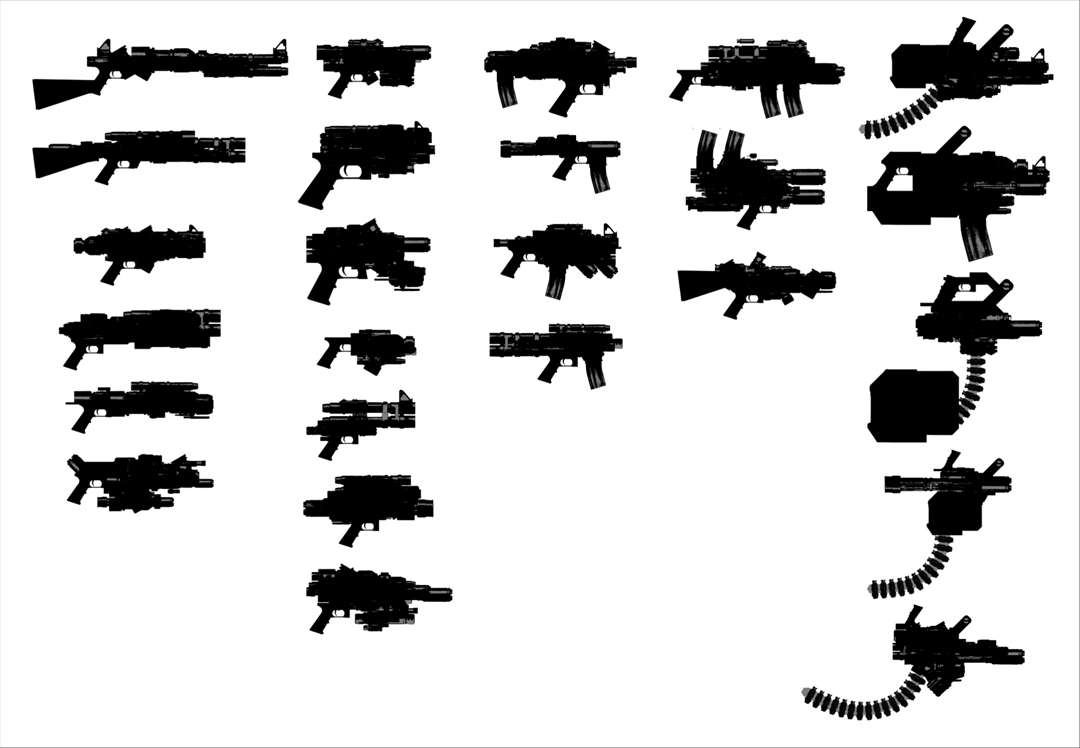 Yield of the first 90 minutes of gun building.
So far so good. The pipe-like feeling of the guns and rifles was interesting for one type of fabrication but as a general look for the arsenal it felt too rugged and kinda plump. I need better vector shapes to start with.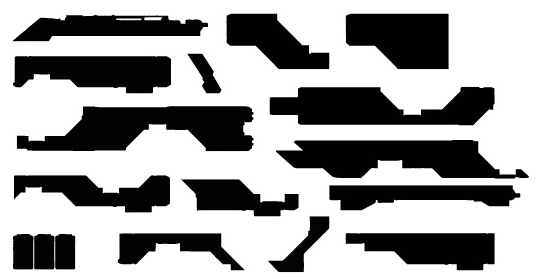 Handmade hard surface style shapes used in Alchemy for gun building session two.
The combination of the pipes and barrels of the first shapes package together with the mechanical angular lines of the second package enabled me to generate plenty of cool gun-like bodies to be completed with my manually applied gun parts from earlier.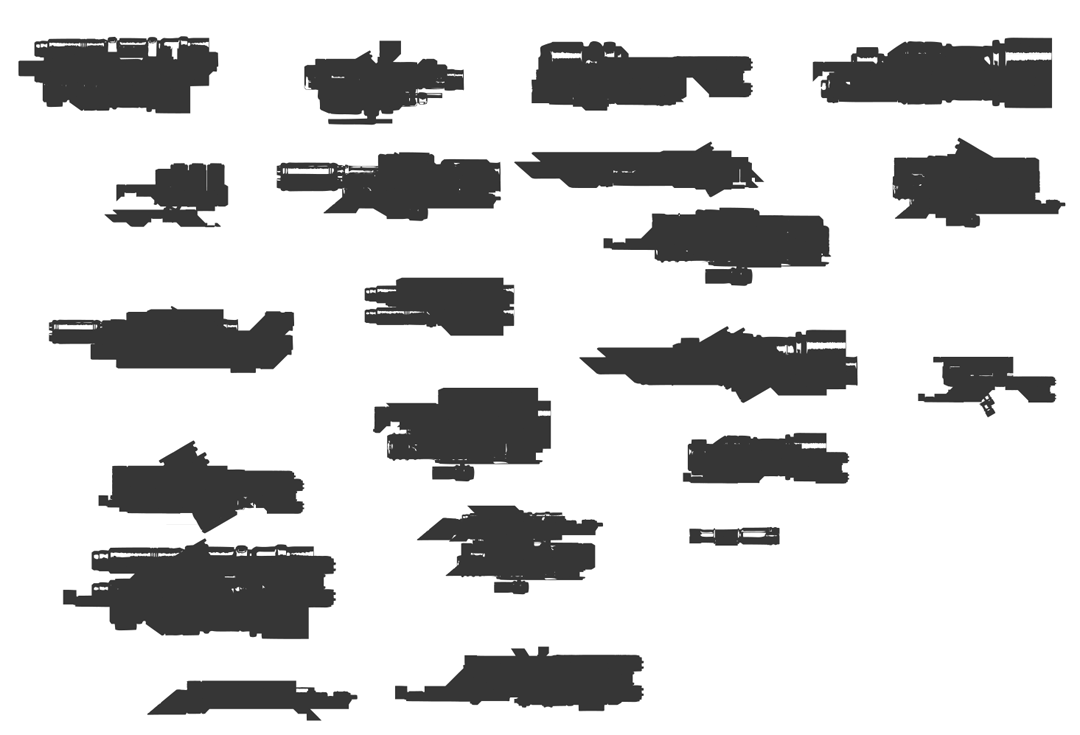 Small sample of gun bodies created with both shape packages in Alchemy, currently without manual parts.
Enough with the randomizers and generated art. Let's get some control going. To enhance silhouettes, I love to use the smudge tool in Photoshop. Using solid brush presets and a 100% strength, the smudge tool becomes a displacement tool, which lets you grab elements of the image with your brush and move them elsewhere.

These are the settings to use the smudge tool with.
Note the hexagon brush preset for nice angular displacement effects.
Pushing into the silhouette, drawing stuff out, shuffling things together, pulling elements apart… stroke by stroke the gun bodies became more complex and interesting.

This is how that displacements process looks in action.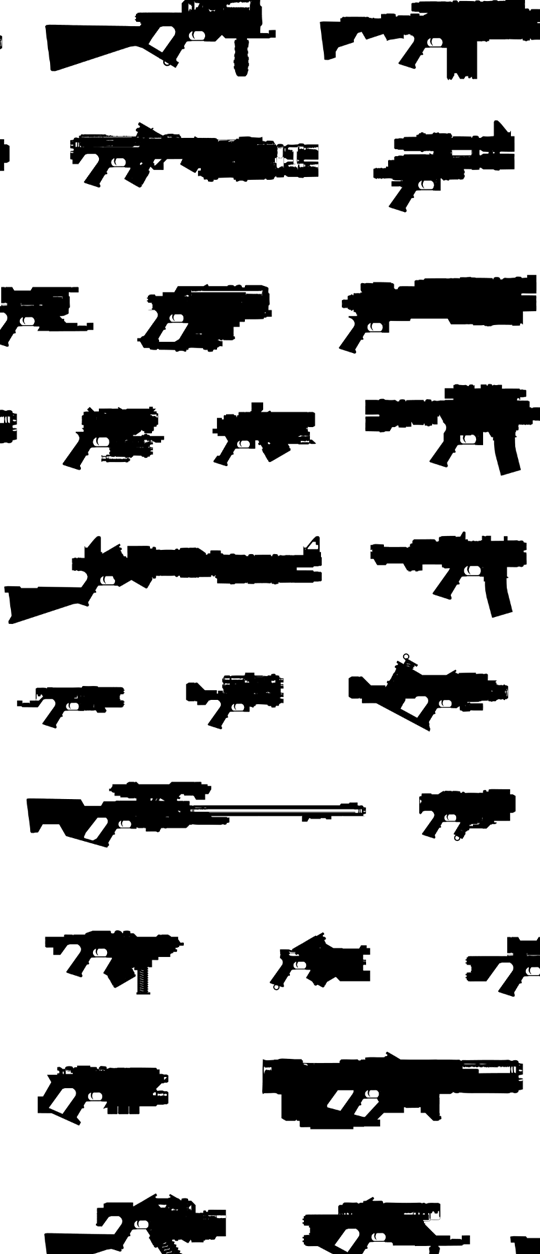 Excerpts of the second yield of gun silhouettes.
Next step is to select a neat package of diverse shapes to paint over and enhance. Once you have the silhouette down, adding detail is not as tricky.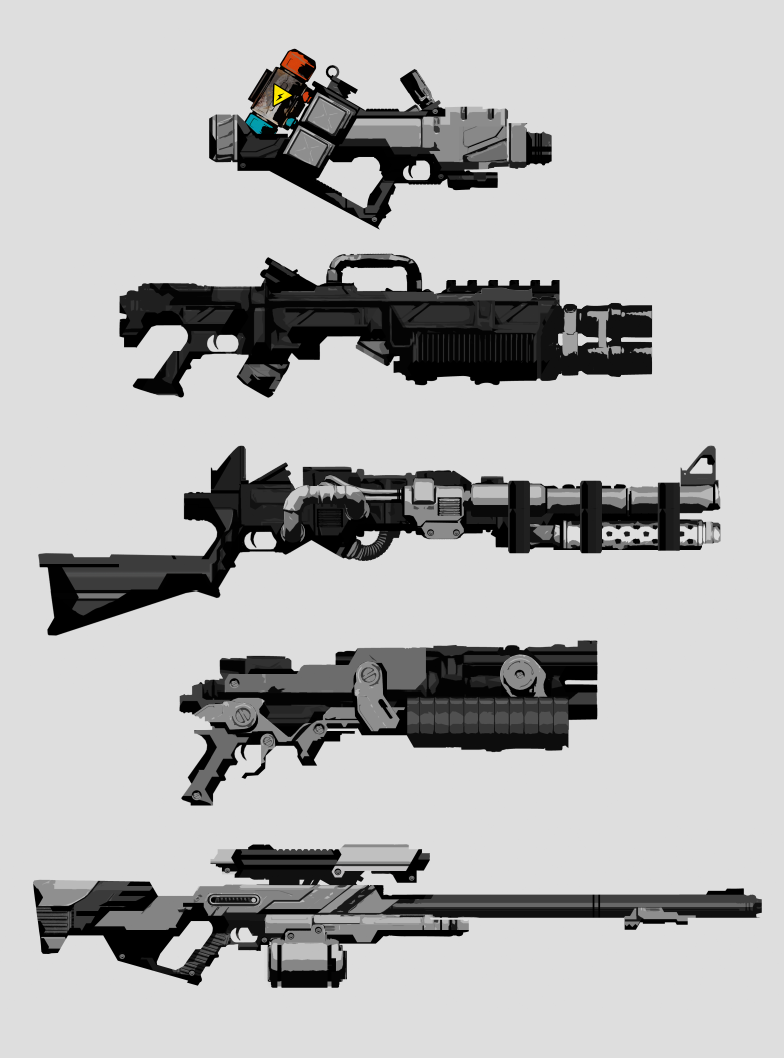 Details are painted by hand and partly added using graphically reduced parts of the same 3D stock used to created the original shapes.
Finally, coloring the greyscale guns and mounting them on their reward card backgrounds brings the process to its satisfying end. Ready to ship.
Anjin Anhut signing off.