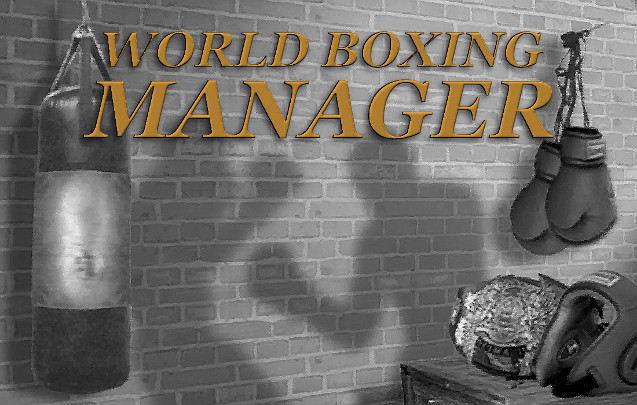 Just to elaborate on the match engine a bit, I figured I'd describe the styles that each fighter can be generated with in the game.

Boxer
Boxers are fighters that stay on the outside, using their jabs and crosses to pick their opponents apart while avoiding damage as much as possible on defense. This, however, does not mean that boxers are overly defensive or timid in the ring; it simply means that they prefer to control the pace of the match and keep it at a distance. They are perfectly capable of throwing fast and power combinations when the opportunity arises.

Boxers tend to struggle against swarmers. Swarmers are good at crowding boxers and preventing them from fighting the way they want.

Boxer Training Plan: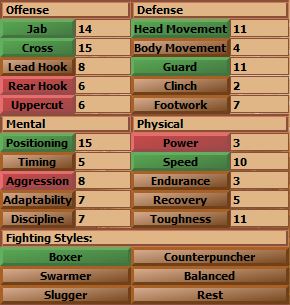 Swarmer
Swarmers like to move in close using slick body movement and footwork, where they can unload combinations of power punches to both the head and the body. They excel at cutting off the ring and cornering their opponent. The punches of a swarmer, however, are not sloppy or uncoordinated. On the contrary, a swarmer's greatest strength is his ability to throw power punches with great skill and timing once the opponent is trapped.

Swarmers tend to struggle against sluggers. Sluggers can usually punish the swarmers with heavy punches as they attempt to work their way inside.

Swarmer Training Plan: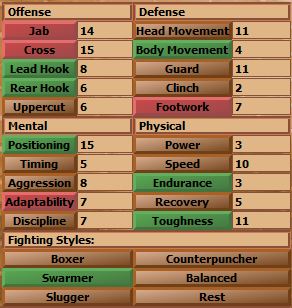 Slugger
Sluggers are aggressive and tough fighters who enjoy throwing down and trading blows with their opponents. Their punches are neither smooth nor well-timed; sluggers rely on raw power and physical prowess to win the day. They are strong, fast, and are generally willing to take a punch in order to throw one back. Unlike the swarmer, the slugger will unleash a single massive power punch rather than stringing his hooks and uppercuts into combinations, hoping to simply knock his opponent silly instead of crowding them.

Sluggers tend to struggle against counterpunchers. Counterpunchers can avoid the powerful but clumsy punches of a slugger and exploit the resulting openings.

Slugger Training Plan: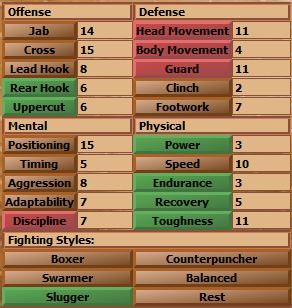 Counterpuncher
Counterpunchers are defensive-minded fighters that prefer to sit back and exploit whatever openings their opponents leave. They use their expert timing and movement to avoid attacks, then punish the attacker with heavy counters. The counterpuncher does not rely on his power to knock his opponent out - he instead times his punches to catch his opponent at the perfect moment.

Counterpunchers tend to struggle against boxers. Boxers generally possess the technique and speed to prevent mistakes for the counterpuncher to exploit.

Counterpuncher Traininer Plan: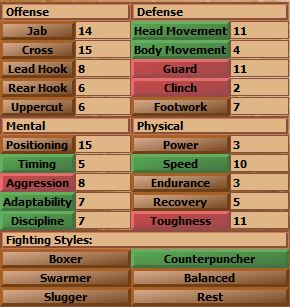 Balanced
Balanced fighters possess no glaring strengths or weaknesses, allowing them to be paired against any opponent with no real handicap. This does, however, mean that the balanced fighter is not able to focus on a core set of skills during training, which may hurt him against an opponent with a strong tendency towards a specific style.

Balanced Training Plan: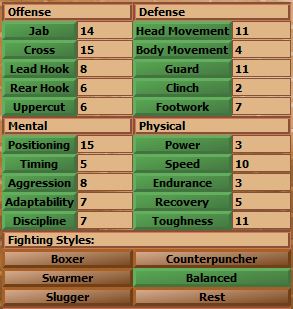 Hope this helps shed some light on a few of the things that I implemented into the match engine to make it a more strategic experience!
Link to the Greenlight page for more information:
Please upvote if you're interested!