Over on our Kickstarter, we're revealing new info each day about Spark Rising. We're finally getting to one of my favorite things: exo-suits!
Sure, building fantastical fortresses, and creating creatures is inspiring. But in Spark Rising, you live for the battles. All that creation is wasted unless you can destroy things, right? All the defenses you create, traps you lay, and troops you command are nothing in comparison to the firepower of your exo-suits.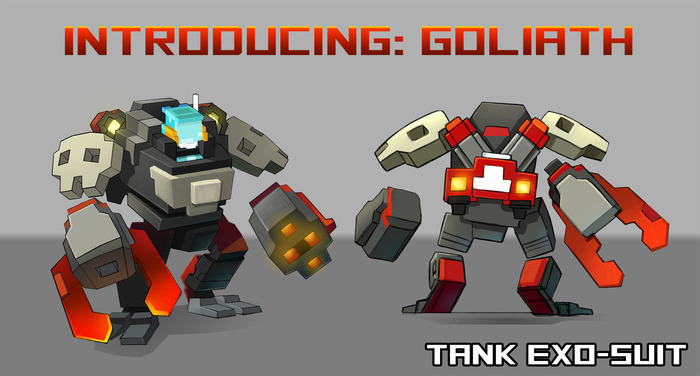 Think of exo-suits as giant mech outfits you jump into. They instantly increase your size, speed, firepower, and more. Each exo-suit has distinct class-based abilities, which have certain strengths and weaknesses depending on how you tackle a skirmish.
PICK YOUR EXO-SUIT LINE UP
You can bring several exo-suits with you into battle from a collection of many. Unlike other class-based games, where you are locked into one role, you can switch out of your exo-suit while in battle. This isn't instant though, you have to jump out of one suit to get into another, sort of like taking control of a vehicle. During that transition timeframe, you are vulnerable, so you have to be smart about how and when you want to switch up suits.
EACH EXO-SUIT CLASS IS UNIQUE
Each suit has unique stats, and attributes. We'll go into more detail about this later, but here are some of the basics in this sample stats card: