Type: Infantry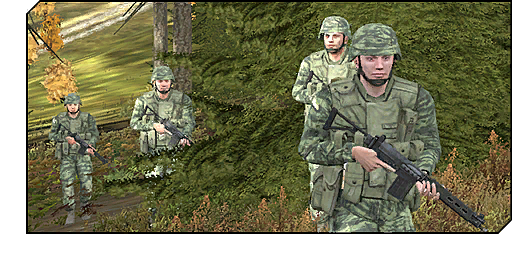 Difficulty: Easy/Moderate
Released in: v2.00
Description:
After the drop out from the chopper near the village of Guglovo, find the officer at the checkpoint with assigned call sign BADU.
There you will receive current information about today's mission.
Lead a patrol with your unit in the area code-named Black ForestBe careful, because this territory isn't fully under the control of AFMC troops. Therefore, it's assumed that you will make contact with FIA rebels.
Get your boys right back to the base.
During the patrol in the locality of Black Forest you may localize all available traces which can tell us something about the presence of FIA rebels.
They should particularly be hidden camps with ammo, but also random rebel patrols.
According to some yet unverified information from the locals, somewhere in the area with call sign Black Forest is the old entrance to the underground complex. It remained there after the former Red Army that this area was likely used as an ammo depot.
Localize this entry.
Try to keep your team together and cover each other's backs. Rebels may surprise you anywhere.
Save your ammo, because the closest AFMC checkpoint is the position BADU.
So far, our units have reached Guglovo in their fight against the FIA rebels. But this is only a small dent into the uncontrolled area.