Type: Stealth/Infantry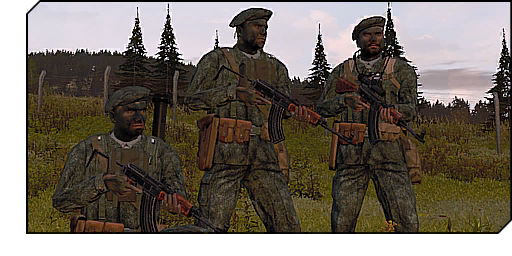 Difficulty: Hard
Released in: v2.00
Description:The primary task of this mission is to stealthily infiltrate the village of Dubrovka, find an insurgent officer and eliminate him.
Our informers identified him as the commander of this area.
The second primary task is to destroy a hidden armory at the Devil's Castle.
This will annihilate a large reserve of the insurgent's weapons and ammunition.
The other two tasks are optional, but their completion will deal more devastating blows to the insurgents in Chernarus.
If the entire team is be dead, the mission ends with failure. Throughout the mission, try to behave cautiously and stealthily.
Don't stay too long in one place, the game will generate more enemies.
Selection of the evacuation position can be provided by anyone from the team, not just the commander. Just one team member is needed at the evacuation point to succesfully complete the mission.
Note that this mission is also MP compatible - you can find it in MP missions under the same name.